Slowly Melting by Camila Zamora | Starting in Year 12 2023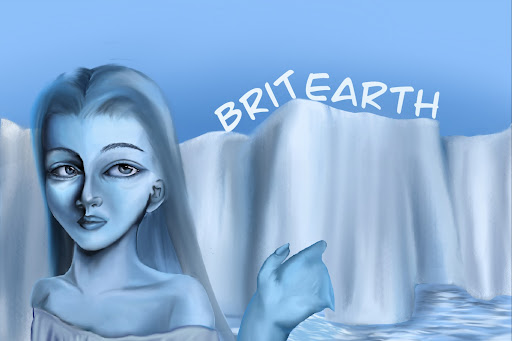 This shows a personified iceberg slowly melting, this is due to global warming. However, the damage done to her is quite small, showing that there is hope to preserve the rest of her as long as we act quickly.
Save Our Earth by Ethan Dale | Year 10
Its a 3D Render of the Earth, it then slowly fades, showing what the Earth could look like if we don't step in to fix the problems killing our Earth.
Out Of Touch (Undici X BRIT Dance Strand) Year 10
For this year's edition of BRIT Earth, we decided to switch things up a little. The underlying theme of collaboration sparked the idea of a joint project between Undici and members of the year 10 BRIT school dance strand.
Instigated and organised by Charlie Griffith and Aria Norman, the expressive choreography and meaningful song lyrics bring attention to one of planet Earth's major issues, climate change. The central message of the chorus is that we are running out of time to halt the effects of climate change - we have to make a choice now before it's too late.

Those involved in this collaborative project include:

Music:
Charlie Griffith - Lead vocals, rhythm guitar |Jesse Garwood - Lead guitar, backing vocals |Lars Nunns - Keys, backing vocals | Elliot Francis - Drums |Campbell Carson - Bass

Dance:
Aria Norman - Choreography |Lauren Hames |Shania Nembhard |Isa Islam |Louie Lavers |Niamh Day |Freya Adams |Stanley Stiff

Video:
Charlie Griffith - Video editing |Ava Faragher - Videography
Special thanks to: Nigel Read at Tweeters Studios for recording and mixing.


Slipping Through Our Fingers by Ami Stewart | Starting in Year 10 2023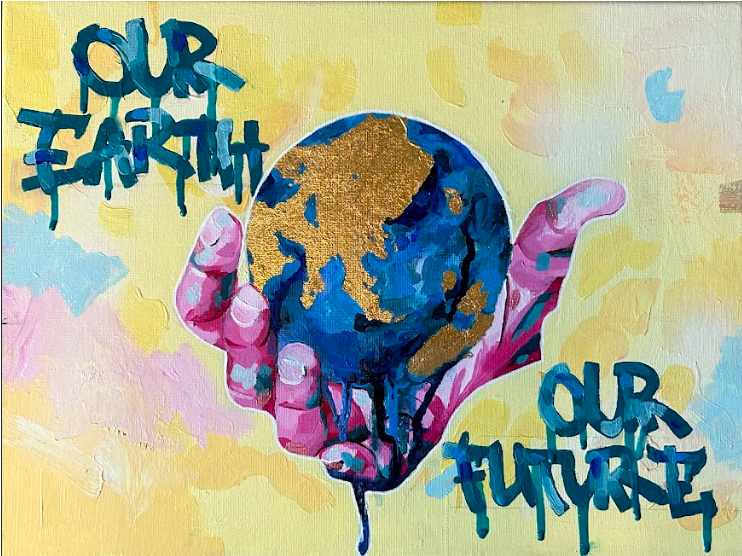 My piece represents our responsibility to look after the planet and treat it as valuable as we do materialistic things. The hand represents our responsibility as human kind to nurture earth and I have painted the drips to illustrate the damage we have caused.
Before Our Very Eyes by Rae Roach | Starting in Year 12 2023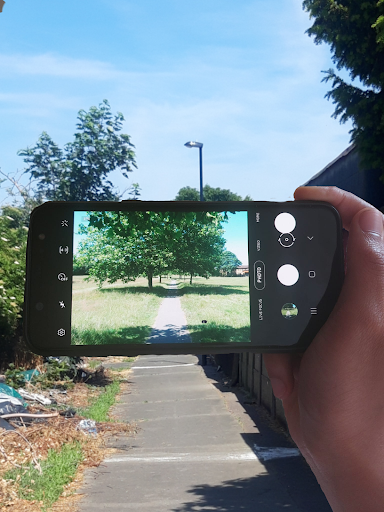 My piece is a photograph of a combination of an urban and rural landscape layered over each other. The premise is that the organic pathway is being removed and turned into a more urban setting.
Becoming the Green by Molly Macada | Year 12
I am uploading a series of images which explore how we as humans interact with planet earth. The photographs are supposed to almost battle our modern day world which is over alter-mated and so overly consumed by technology and material possession, that we forget to embrace the resources nature has already provides us with. We forget to take a look around us and appreciate the beauty of the nature around us. The photographs are a metaphorical message, protesting that we as a species, need to wake up and start connecting with the world around us and additionally provide it with a source of protection by not being destructive and doing things that are eco-friendly.
---
For Those Who Listen by Erin O'Callaghan | Year 12
My submission showcases a small glimpse of the beauty of our earth, pushing the message that if we treat our earth well, we will be able to hear the natural music it plays for us.
Life on Earth by Pixie Rachon | Year 12
In November of 2022 I decided to take the ultimate challenge of climbing to Everest Base Camp whilst discovering a beautiful way of life in Nepal, capturing real life on Earth not the western hemisphere. This inspired me to make my own music to accompany my film that I recorded while walking to really explore beauty of the Earth.
---
Sea Sky Earth by Oscar Lythcott | Starting in Year 12 2023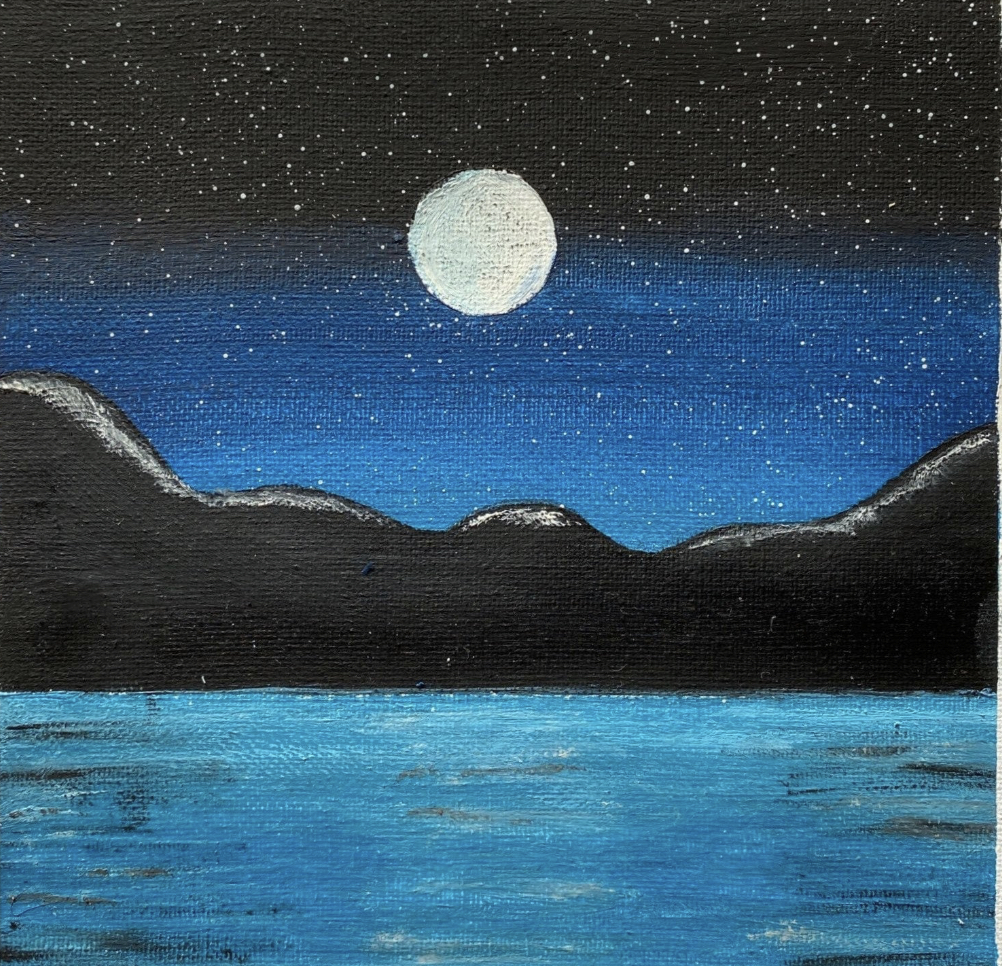 It is to showcase how the sea and the sky can all link together to the world in itself.
Wonky Anthotypes by Olivia Harris | Year 13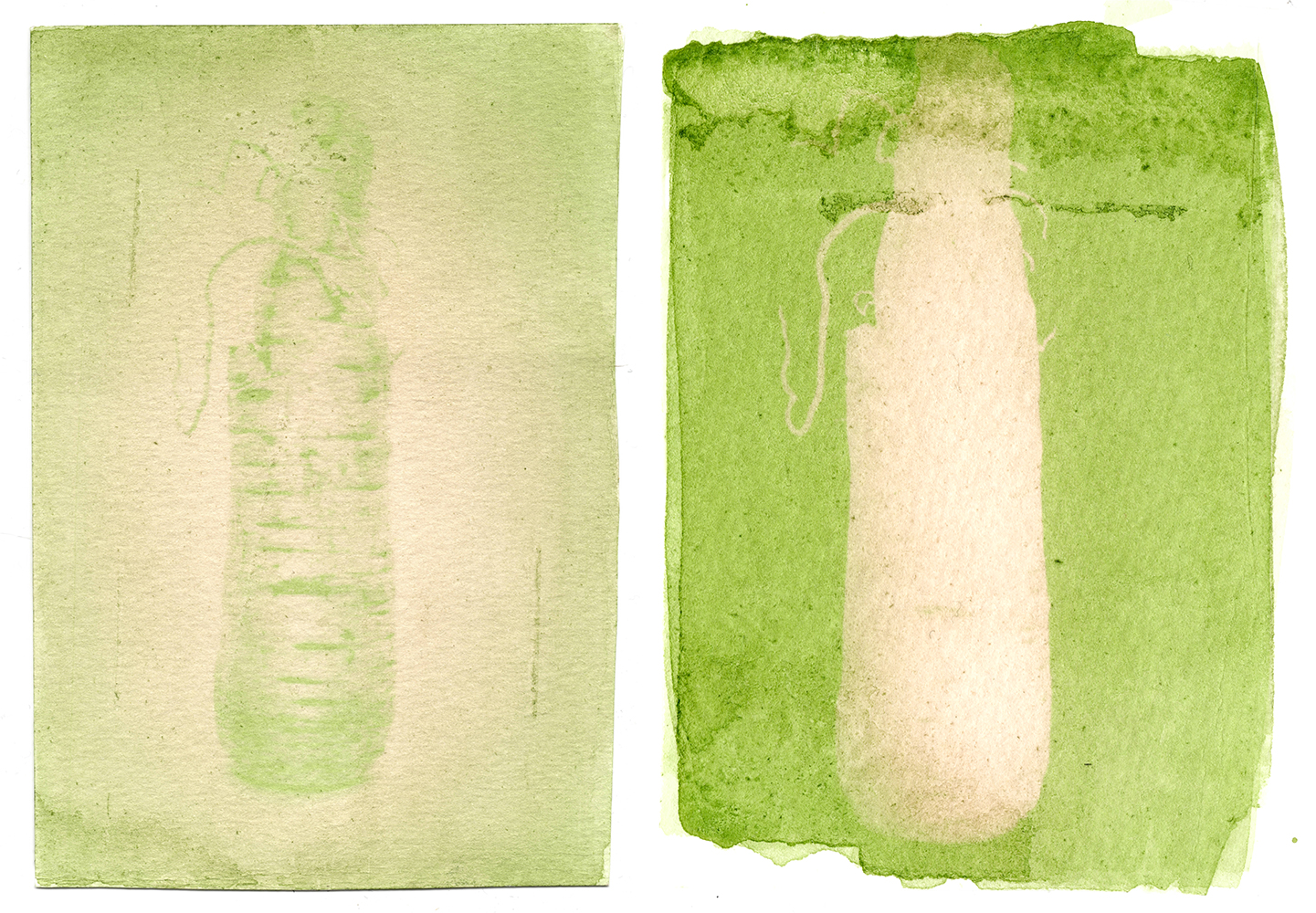 These images are from a recent project where I discovered my interest in experimental photography, especially anthotype prints (similar to cyanotype but using emulsion from plants). I have used anthotypes of wonky vegetables to highlight the absurd beauty standards pushed by social media, through the use of imperfect fruit and veg in an ironic way.

Environmental conservation is very important in my work and I have recently been focusing on experimental photography techniques that aim to be less harmful to the natural world.
Don't be Trapped by Nikolai Giampietro | Year 11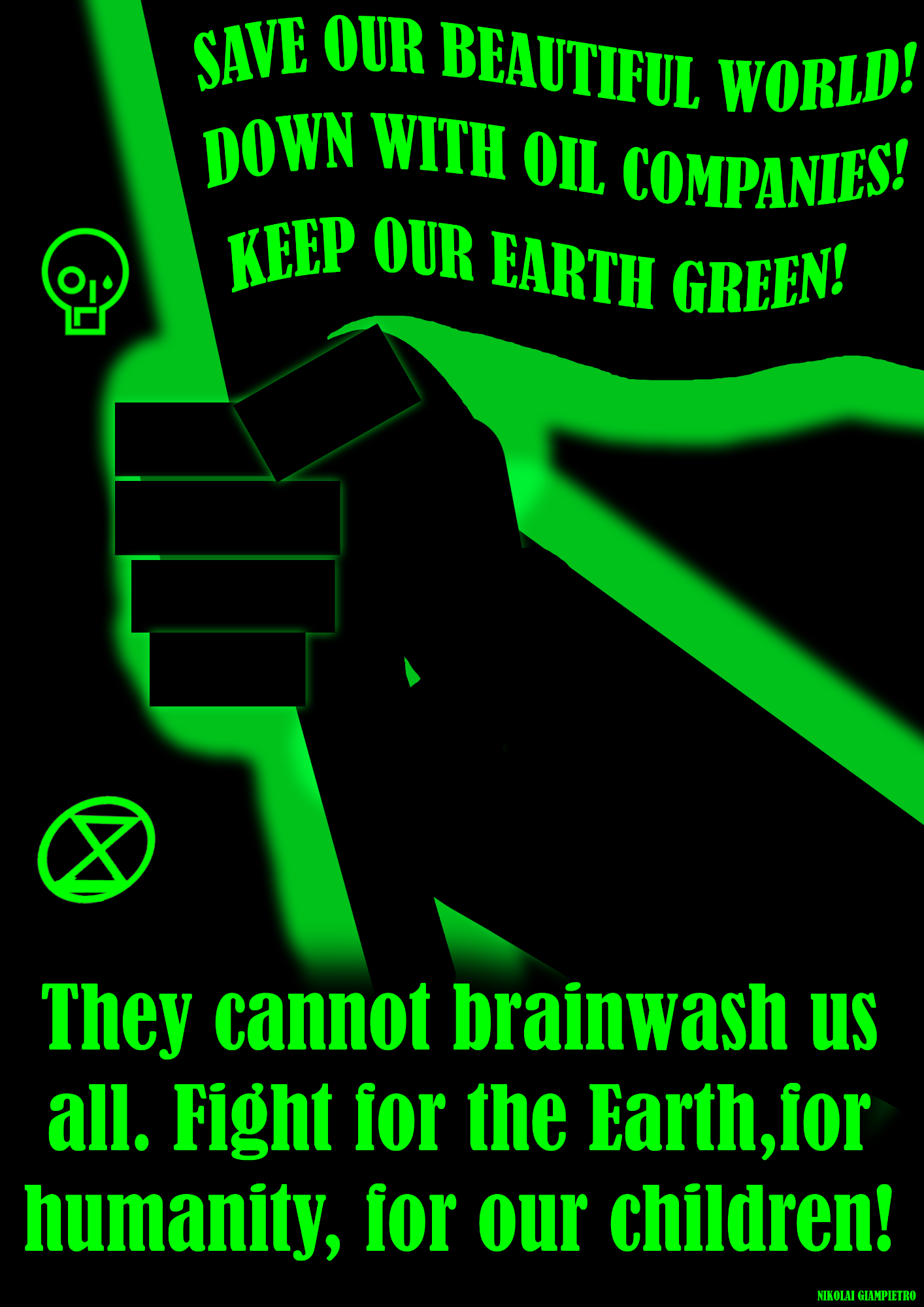 My piece is about the fac that social media, the media, the world, the government, are all brainwashing us to fulfil capitalistic profits and aid giant oil companies, and that the largest majority of us are stuck trapped in their 'propaganda', including our children. So this is to illustrate how we must fight back and defend our climate, the sacred holy animals of this Earth and the future of our children with all our heart. So i went for the style of a propaganda/soviet type design to seem like a wake up call to humanity to start doing something urgently!
Bees and Trees by Nicholas Duncan | Year 12
Cyanotype Garden by Mabel Bygraves | Starting in Year 12 2023
I was introduced to cyanotypes by a friend I stayed with over the summer and enjoyed the process of watching the colour change as they were developed in the sun. I continued to experiment with different objects and materials where some didn't work out but I have chosen to submit some of my favourite pieces made with plants found in my garden and papers I already owned to keep the project sustainable and follow the theme of BRIT Earth.
Home by Abi Binge | Starting in Year 12 2023
This animation takes a tour through our world, allowing you to meet different animals in their homes. I aimed to encapsulate different environments to portray the beauty of our planet, ending with a final message to 'save our home'. This emphasise that, while at the moment our planet is a beautiful place, if we continue being as careless as we are now, that beauty will soon disappear, leaving species at risk of extinction.
The Earth is No More by Alice Harper | Starting in Year 12 2023
A poem about the harm done to the earth and its effects with a video background.
Mother Natures Plea by Ashley Coussens | Starting in Year 12 2023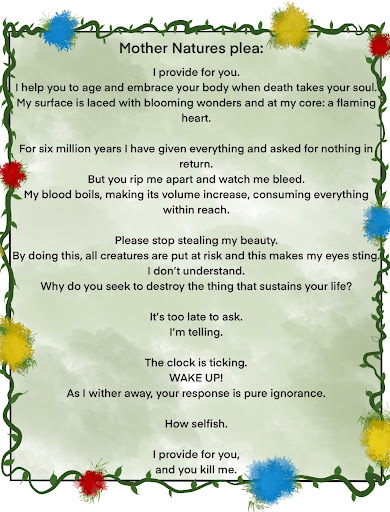 It's a poem from the point of view of Mother Nature and she's describing how humans are destroying her
The Earth's Lens by Rupert Fineston-Robertson | Starting in Year 12 2023
The protagonist discovers a lens which allows them to see what used to be there before the mistreatment of earth.
Cowboy by Sophie Khan | Starting in Year 12 2023
The song is written from the perspective of a corrupt businessman who doesn't truly grasp the volume of damage he's inflicting on Earth. He's following this childish dream he has in which he's a cowboy-like figure, using a lasso to conquer (and simultaneously destroy) celestial bodies, our Earth included. I was inspired to write this song after reading an article about the possible sale of land on the moon. I felt like the concept of the moon being sold perfectly encapsulates the main reason for climate change - the top 1% don't know when to stop capitalising and when to start caring. The visuals I shot on an old camera are short clips of central London, showcasing a polluted urban landscape.
Nature's Beauty by Levi Cansdale | Starting in Year 12 2023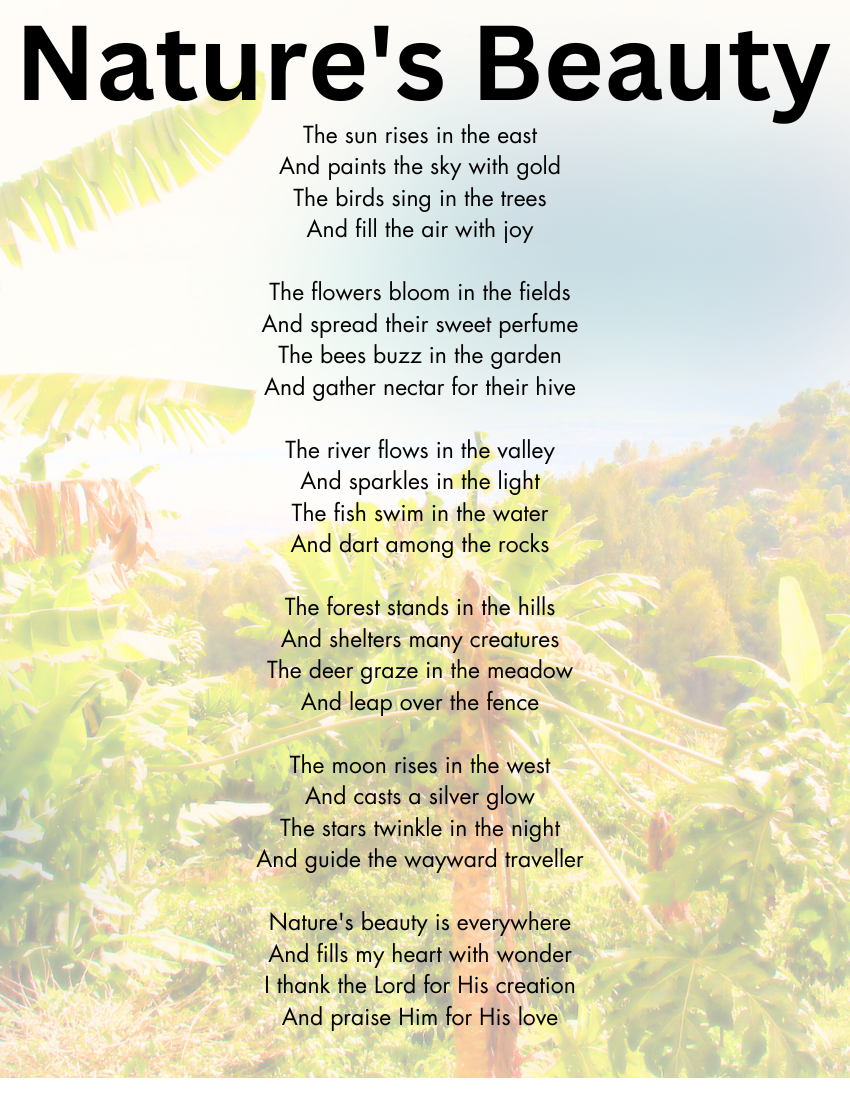 This poem is about nature and how beautiful it is
Our Earth by Rosa Pracy | Starting in Year 10 2023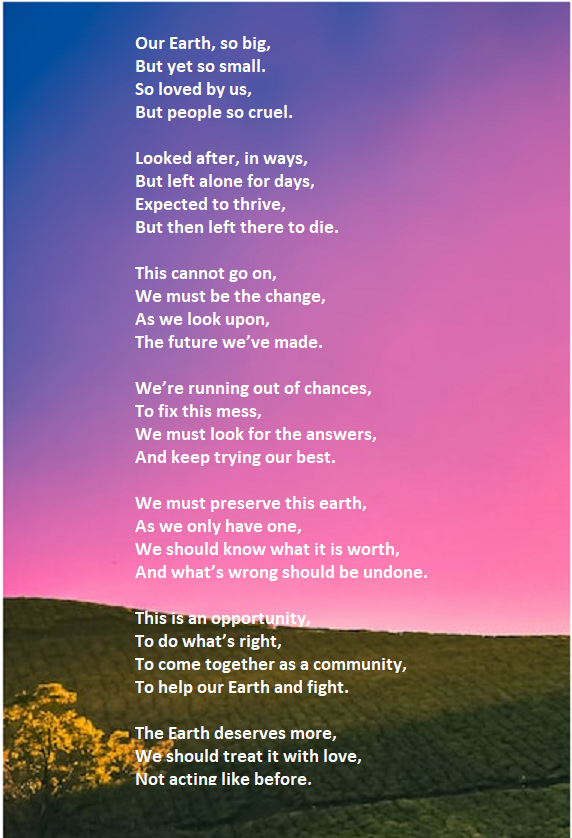 My poem is called Our Earth and explains how our Earth is dying and we should be doing more to protect it.
Where has the beauty gone? by Miami Holness | Starting in Year 12 2023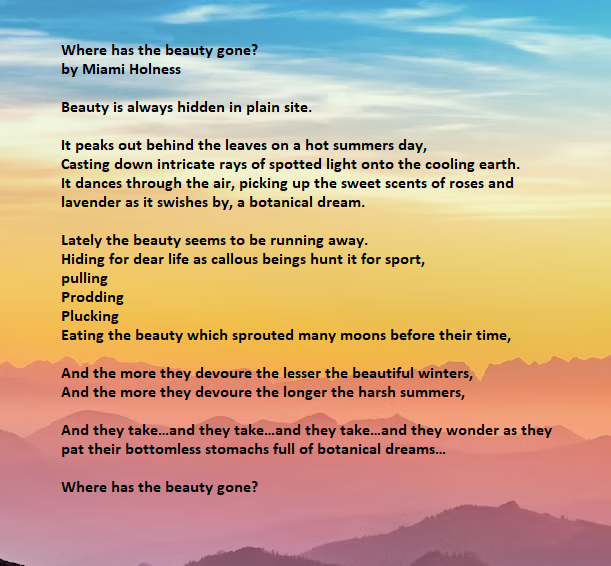 I have written a poem about how humans take the earth's beauty for granted and how their carelessness affects them.