Coming Soon BRIT Summer- Bookings open January 2024!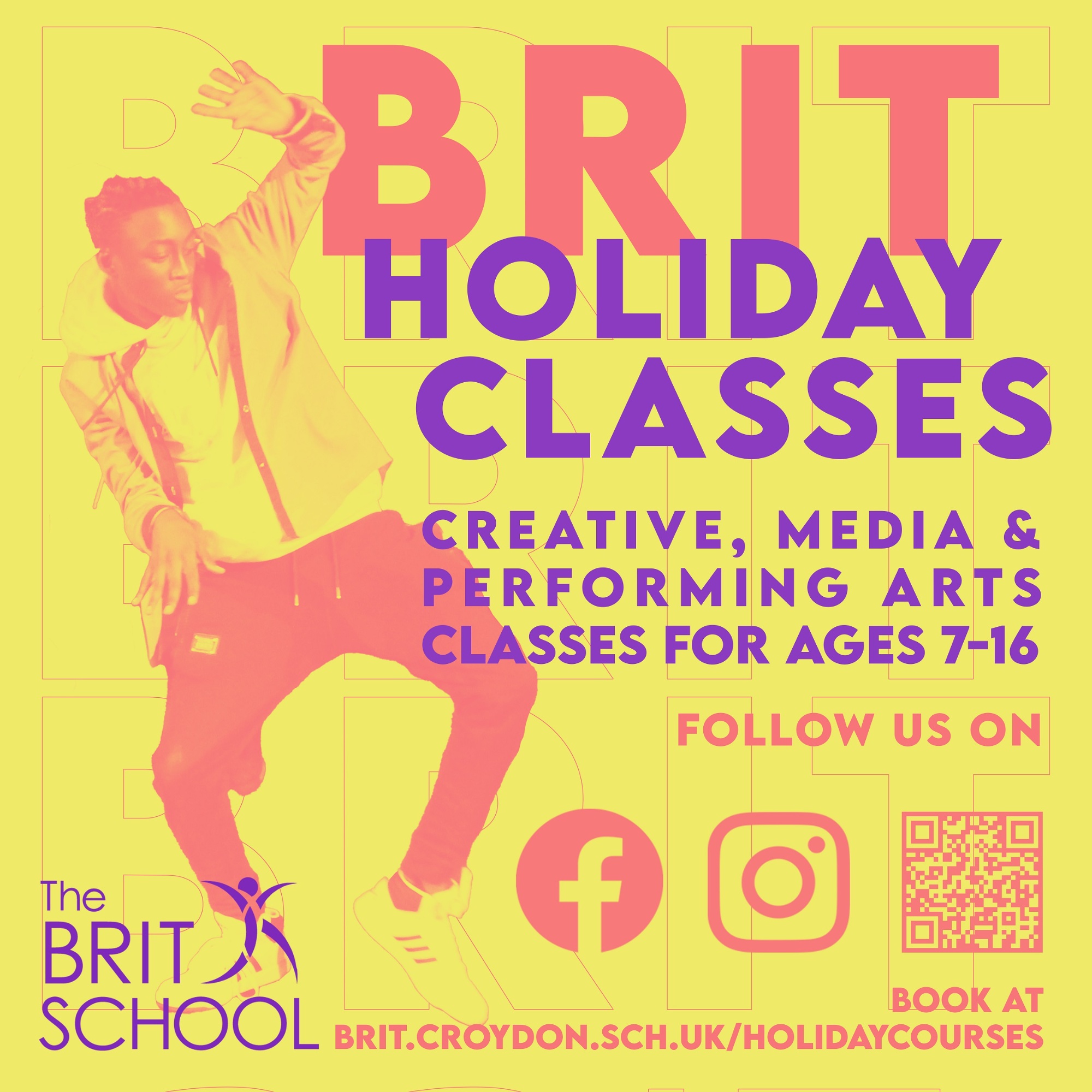 We open for bookings on the 1st January 2024!
| | | |
| --- | --- | --- |
| School | Location | Dates |
| Summer | Croydon | 29th July - 2nd August |
| | | 5th August - 9th August |
WHAT'S ON OFFER?
Creative and Media Arts Pathway. This consists of Photography, Art, Digital Design and Film Making:
PHOTOGRAPHY
BRIT Autumn school offers an exciting Photography course that will explore Digital SLR photography. Alongside this, students can use one of our Mac suites to digitally enhance their work in Photoshop. Every lesson is practical in nature, giving students the practical knowledge to follow their own creative vision. With Digital SLRs, students will learn how to compose their shot, work with both natural light and studio set-ups, and develop their creative thinking by responding to briefs and reworking their pieces in Photoshop.
ART
Art offers a space for students to explore their creative potential and express themselves visually. Students will be introduced to a wide range of materials, from developing their observational and imaginative drawing skills to experimenting with digital image-making. They will explore both 2D and 3D work.Over the course of a week, students will produce a collection of works, both finished pieces and experimental works.
DIGITAL DESIGN
Digital Design has been designed to offer a wide selection of creative computing disciplines to students interested in creative and digital technology. Students will develop their computer skills and explore digital ways of expressing their creative ideas.
This is a very practical class with regular briefs, where the teacher works 1:1 and collaboratively with the students. Students will be set a task, develop ideas, experiment, and produce an outcome.
FILM
Film Making is a creative, fun and contemporary subject. It enables students to embrace their imagination and enter a place where their dreams and ideas can become reality. Students will develop their skills in storytelling, planning, filming, directing and producing before finally experiencing editing their footage using Final Cut Pro/Adobe Premiere Pro in the Mac suite. We promote teamwork, a particular strength that filmmaking provides, ensuring students gain long-term friendships with their peers.


Performing Arts Pathway. This consists of Dance, Singing, Theatre and Screen Acting:
DANCE
During the BRIT autumn school Dance classes, we will work on strength, flexibility and coordination through warm-ups and technical exercises. Dance offers students the opportunity to learn about posture, coordination and placement. Classes will encourage children to lose inhibitions and gain confidence while developing greater balance, flexibility, strength and musicality. We will cover several genres of dance including street/commercial, contemporary/lyrical and technical jazz.
SINGING
In the younger classes children are introduced to a varied repertoire consisting of musical theatre, pop and jazz, so that they are able to develop their individual musical ears and learn to pick up new melodies quickly. There is focus on vocal expression, phrasing, breathing and dynamics to convey the right mood. General vocal technique areas are covered to gain a broad understanding, with an emphasis on breathing and articulation. Classes with older students are encouraged to aim for a high standard of work, and to be more explorative in their listening outside of class. Attention is given to finer details to help achieve a more precise result with focus on phrasing and rhythmic awareness.
At the end of each week, there will be an informal sharing day in a BRIT theatre to the other Performing arts students.
THEATRE
The theatre classes at BRIT autumn school allow students to be creative and develop work that they might not get the chance to create at school. The removal of grades and written work allows them to explore their own imaginations in an uninhibited way, which produces some very interesting work and allows each student to better understand their own strengths, weaknesses and passions when it comes to acting. Our theatre classes are not about working to a tight script; instead, children are encouraged to improvise, work on physical theatre and develop their own characters. At the end of each week, there will be an informal sharing day in a BRIT theatre to the other Performing arts students.
Screen Acting
Acting for screen is a beginner course that aims to prepare young performers for the world of TV & Film whilst building up their confidence in front of the camera. We cover all the basic acting skills needed to be natural and convincing, as well as the technical jargon that one might hear on set. Each student will be given a toolkit to analyse text, putting what they have learnt into practice through performing monologues/ duologue to camera.
WHEN?
Week 1: 29th July - 2nd August
Week 2: 5th August - 9th August
WHO SHOULD APPLY?
Anyone aged 7 to 16 (sorry, we cannot make any exceptions to this). We will not accept applications for children under 7 years of age, but will accept a child up to their 17th birthday.
COST
SIGN UP
Register via the Clubs Buddy link. Once you have registered yourself and your child/children you will be given the option to select the week or weeks you would like your child to attend. Please note that second week discounts will be applied after you have made your selection and paid your 50% deposit. This needs to be actioned by our finance team and will be reflected in your wallet within 3 working days.
FAQs
Should I have any previous experience before applying?
No, there are no requirements other than an interest and an open mind. Please note this is a full week program and connot be booked for single days.
What should we do for snacks and lunch?
Food and drink is NOT provided and students MUST bring a packed lunch/snack with them as well as a water bottle. There are water fountains on site and these will be able to be used. Please ensure that their packed lunches are NUT-FREE.
What is the daily timetable?
Children will arrive between 8.30am and 9am Classes will start at 9am. Each lesson is 1 ½ hours long. For our younger students there will be break times at the end of each lesson. All students will have a one hour lunch break, in our canteen, or outside in our canteen area weather permitting. Pick up time is 4pm. Should you be required to drop off your child late or pick up early, this must be done by prior arrangement with the manager in person or via email.
What should I bring?
A healthy packed lunch (nut-free please) with 2 healthy snacks.

A water bottle — don't worry if children drink it all, we have water fountains. Please no energy/fizzy drinks.

In warm weather a sun hat and suncream

Some might wish to bring a change of clothes, but this is not necessary.

You will not need to bring any specific equipment. This will be made available at the school.
What should I wear?
For the Performing Arts pathway, comfortable & suitable shoes for activities that they will be moving about in. Such as loose fitting clothing (e.g. a tracksuit, t-shirt, top). Ideally no jeans or skirts. Some sessions may require bare feet.
For the Creative Arts and Media pathway, this can be messy so comfortable clothing that is not special should they get paint or like on their clothing.
How can I let you know if my child has an AEN need or Medical condition?
When you complete the registration form you will be asked these questions. Please answer them fully and accurately so we can best accommodate your child.
Should your child require an Epi Pen or inhaler, they will need to show it to the manager at the beginning of each day that they have them on their person. This is for their safety.
What is BRIT Kids?
BRIT Kids is The BRIT School's Saturday programme that runs 36 Saturdays a year. Can't wait till October? No need. Join BRIT Kids Autumn term and enjoy a bit of BRIT every Saturday! Simply use the Apply link to join.
Getting Here
BRIT Summer Schoolis held at The BRIT School.
The BRIT School
60 The Crescent
Croydon
CR0 2HN