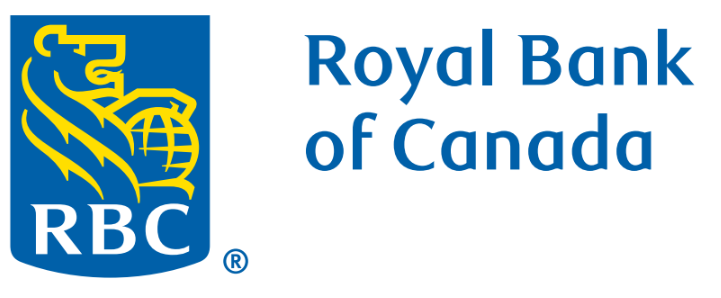 Stephanie Lupinacci
Senior Manager Social Impact, RBC
As a major supporter of the arts, we're often asked: "Why are the arts important?" Well, there's no short answer, which speaks volumes about their significance. The arts are transcendent. They're a medium in which culture, identity, and values can be expressed to form bonds between people, regardless of ethnicity, religion, sex or age. They are our very own time capsule, preserving our history and offering a glimpse into our pasts. Creativity and innovation are products of the arts, two skills fundamental to our own well-being and success. In fact, research has shown that communities with strong art scenes have high civic engagement levels, more social cohesion, better child welfare, and lower poverty rates. That's why we're committed to the RBC Emerging Artists programme. It enables emerging talent to access training and professional networks while providing exposure to new and diverse audiences, so the artistic community remains alive and thriving.
---
Fairytale by Ruby Bergin Yr 12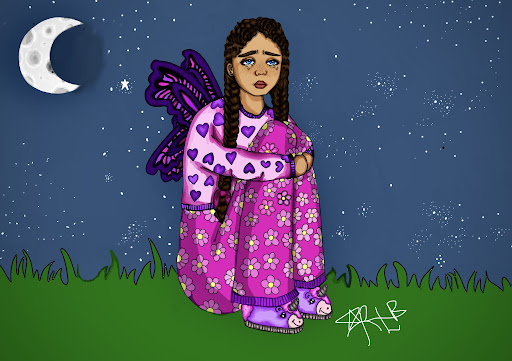 A mythical creature that is deeper than it appears to be
---
I Am King of My Own World by William Richards Yr 13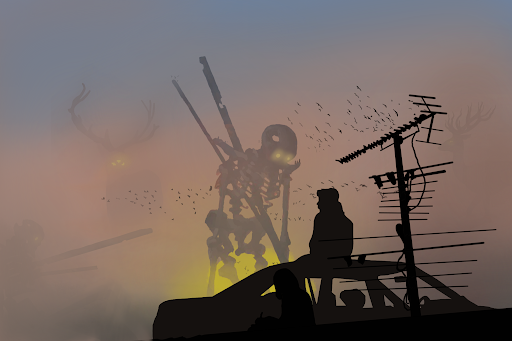 Originally inspired by an Abba song, I wanted to explain how on days that I don't feel my best self, I remember that I am King of my own world; one that I like to keep to myself and this is a snippet of what it's like there.

I would like to think that one day I would share more about my world, perhaps in a novel or in a film and hopeful inspire others to create their own "Happy place".

The inspiration came from the beautiful song Eagle - by Abba
---
Sides of Me by Noa Burtt Yr 10
My piece is a spoken word about the struggles and challenges of figuring out who you are in a world that can sometimes feel overwhelming. It links to how as young people we should be less self critical - there is light and darkness in everyone. We just have to accept who we are and accept that we are still only just a work in progress.
Growth by Naomi Shodimu Yr 10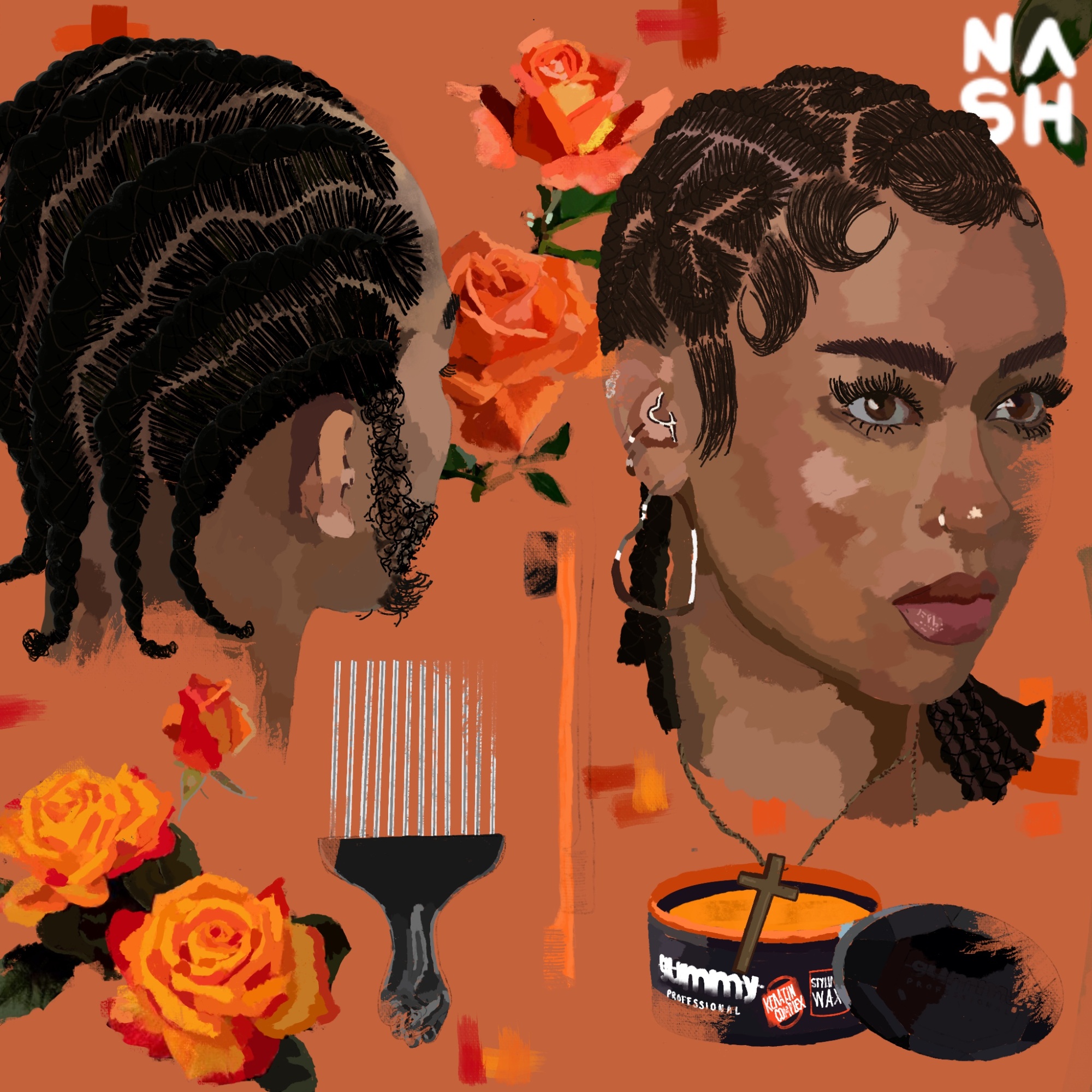 This digital painting is called Growth. It explores the concept of growth and beauty by highlighting the parallel between the organic growth of hair and the blooming of a flower. My artwork captures the intricate details and vibrant colors of both hair and roses, creating a visual metaphor that invites the viewer to reflect on the natural beauty of these two elements. My artwork celebrates the unique beauty of protective hairstyles for Afro hair, and the way it can inspire and evolve over time.
---
Creations and Chaos by Sukhneet Cheema Yr 12
My submission is based off of my experience with digital art and how my style is always changing, and how I am always experimenting wherever I can, be it with anatomy, colouring, shading, diversity or whatever you can think of!
---
Mr Independent by Nathaniel Sandi Yr 12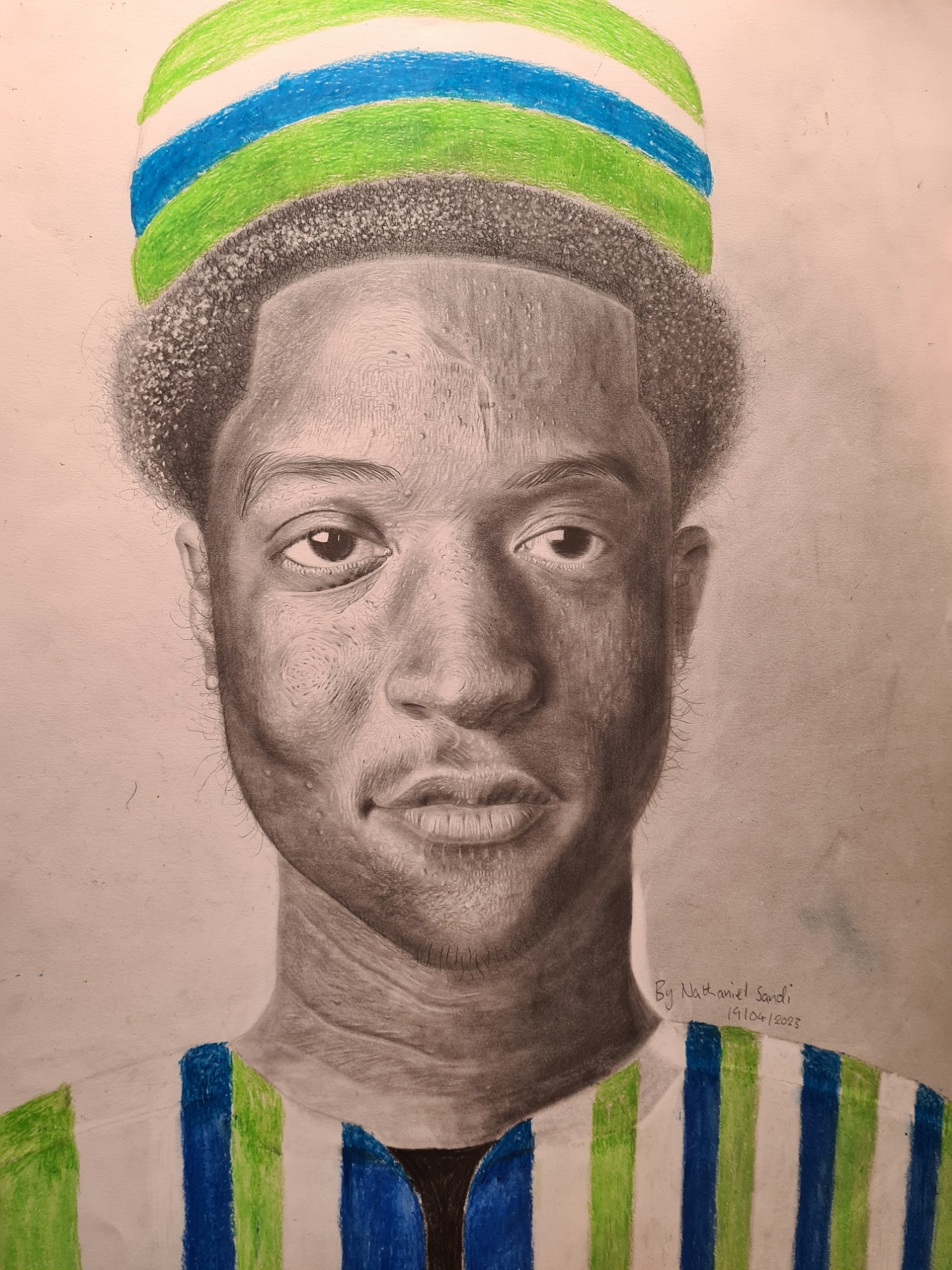 I drew this self-portrait to mark Sierra Leone's 62nd Independence Day. This coincides with me being at the age where I am taking more control of my life and what I'm doing, where I'm going, and the way I'm living. I feel that this is a chapter in my life that is quite important as I'm not going to have as much support as I would have at a younger age, my readiness for this is something I have had to prove to my family as I have always been the baby of the family.
Wish I Had Known by George Cassidy Yr 10
This is an original song called 'Wish I Had Known' It is recorded at home where I learned to play the piano and compose many of my songs - 'I am' home.
---
Mind Map of Me by Ethan Dale Yr 10
It's a 3D render of myself standing before a mind map of words that I feel describe me
---
I am a character designer by Tia Campbell Yr 10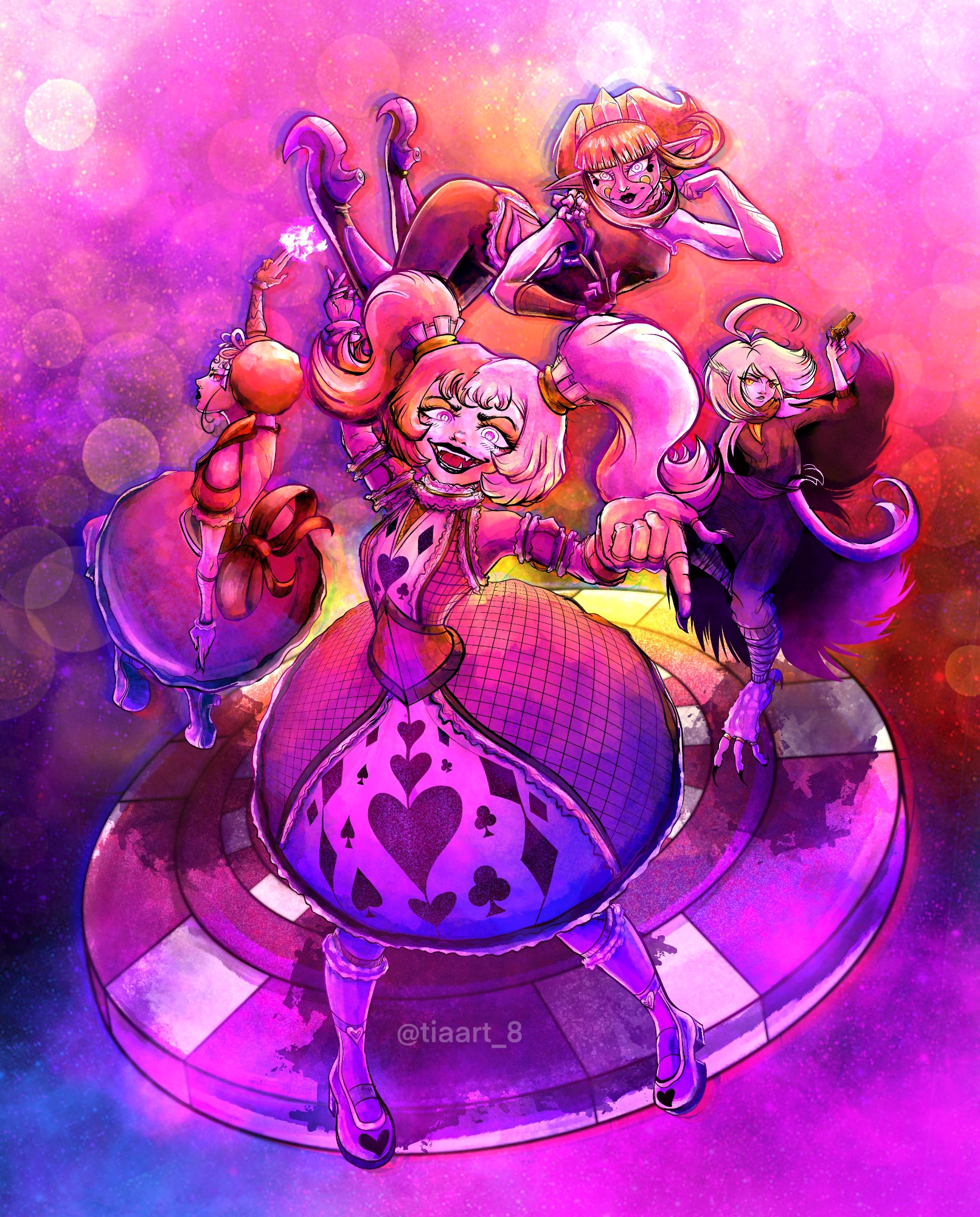 In this picture, I've drawn my characters Aria (in the front), Jewelz (at the top), Cherry (on the left) and Griffin (on the right). These are only a handful of many others I have created and am working on; my dream is to publish a story using these characters in the form of a comic/manga. Character creation allows me to broaden my horizons plus help me understand what makes a person who they are, and I'm always making knew details to flesh them out further, be it small habits to full backstories.
Nappy Birds by Leo Sioufi Yr 12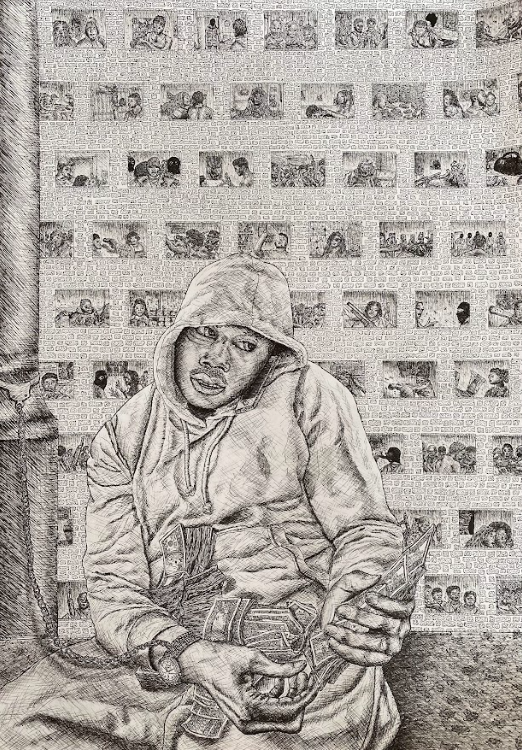 This art piece is about my personal and individual perspective on my area and issues within my community. Lots of the scenes drawn in this piece are from media such as films and Music videos which have influenced me to be the unique person and artist I am. I wanted to visually depict these scenes in my drawing because they have impacted me so much and perfectly show who I am individually.
---
Consumable by Olivia Nugent Yr 11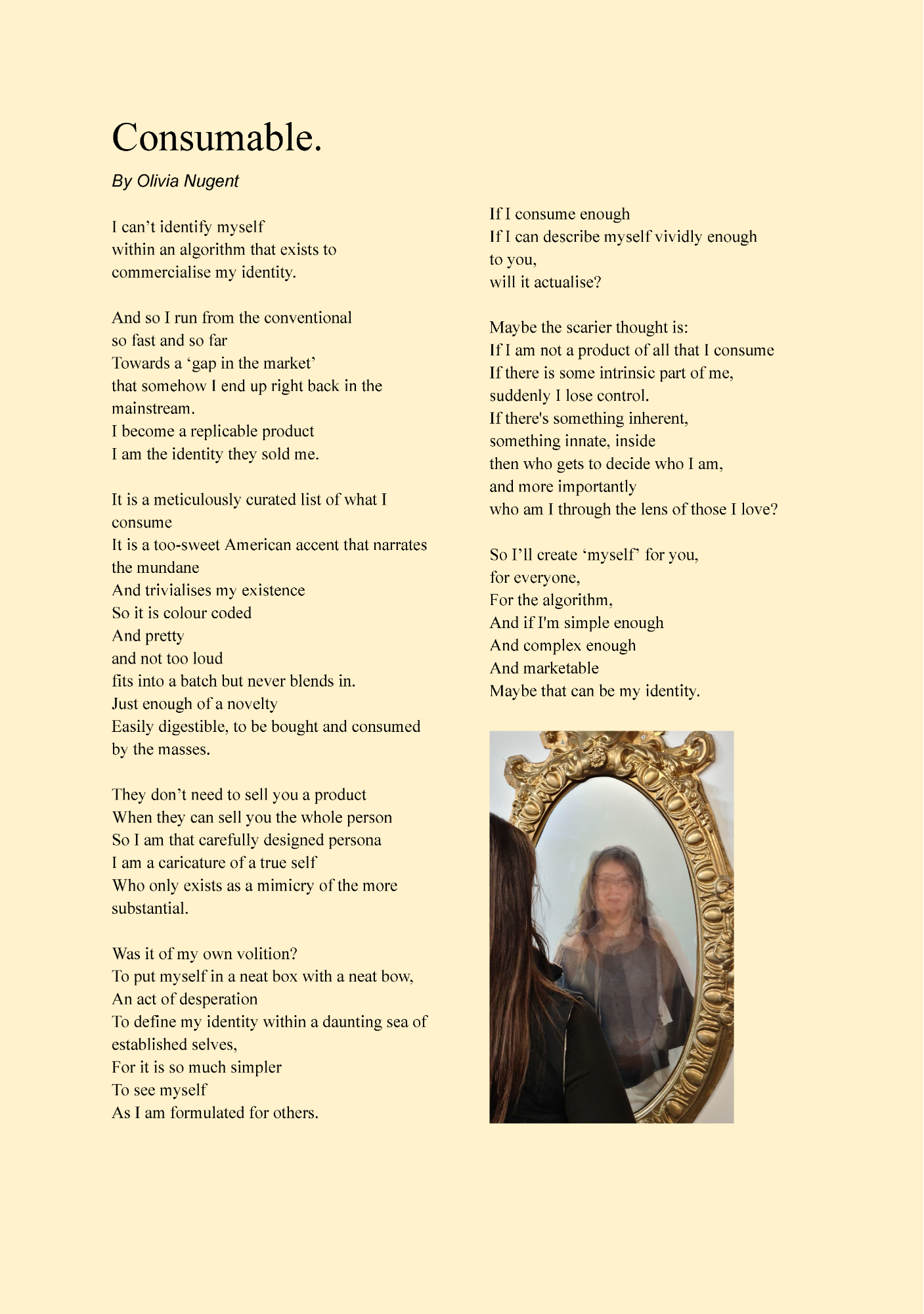 I was inspired to write this poem after reading this quote: "I am not sure that I exist, actually. I am all the writers that I have read, all the people that I have met, all the women that I have loved; all the cities I have visited." - Jorge Luis Borges.
I couldn't help but reimagine it in the age of social media, the age of constant consumption of perfectly constructed personalities; where identities have become something to be bought and sold. Social media influencers, aesthetics and curated feeds have all become what we know as 'identity'. The poem gives a more sinister interpretation of what it means to be a product of all that we consume.

I also created an image of someone looking in the mirror, only to find a blur of many different faces, unable to decipher a true self.
---
Damage Relief by Lola Kastner Yr 13
This is a song from my forthcoming EP about identity and how our sense of self is influenced by our relationships with others, which I have written and produced as part of my unit 13 final major project. I am most proud of this work because it represents a culmination of everything I have learnt through my time at BRIT and uses the many skills and production techniques I've developed, while staying true to my love of narrative songwriting.
Frozen by Elena Agostinelly Yr 11
This song reflects recent experiences in my life- with life spiralling out of control and feeling frozen- unable to do anything about it, when really I want to move and feel freedom again- because I don't think this is really who I am at the moment, and I'm trying to find that person- a version of myself that doesn't feel trapped or restricted physically and mentally, but liberated in all forms.
---
Meet Puffy by Sabrina Lindridge Yr 10
Puffy is a 2D interactive virtual model created to primarily do streaming with. VTuber models face track to your body movements, allowing them to be "your" digital face! I decided to embark on creating my own VTuber model, hence, puffy now exists! She's created to make people laugh, and have lots of fun with a new community of friends and followers!
---
Falling Through by Taylor Jenkins Yr 13
A song I wrote about a relationship falling apart and music video with animated visuals to go along with it.
I Am (We Are) by Undici
This song reflects the beauty of individuality. It talks to the experiences of people who sometimes feel like they are alone, that they don't have a voice and struggle to be themselves. The hope is that the lyrics are a message of reassurance that every one of us is different and special in our own way and, despite the challenges we often face, we have every right to be our true selves. This theme was partly inspired by a conversation with a member of the band's younger brother who said: "the chances of being born - the chances of a person being who they are - are one in 400 trillion - so we're all miracles". I am, we are, you are a miracle …
Charlie Griffith - Rhythm Guitar and Lead Vox
Jesse Garwood - Lead Guitar
Campbell Carson - Bass Guitar
Elliot Francis - Drums
Lars Nunns - Keys and Backing Vox
Mathilda Bourne - Video direction and stills photography
Charlie Griffith - Video Editing
With thanks to Nigel Reed (Tweeters Studios) for recording, mixing and mastering.
---
Temptation by Pixie Rachon Yr 10
I AM... A MUSICIAN. Music is my tool to express myself.
I Am... by Astro Moutou Yr 11
This is my first full animation project so please be kind!! The idea behind it is that social labels shouldn't define you for who you are as being a person is more complex than that. Special thanks to Jayden Battantou-Campbell for the music.
---
Liska Alone by Amae Scott Yr 12
The slow acceptance of loneliness.
Mystery by Tallulah Gill-Ces Yr 10
I wrote this song to show that even if you have tonnes of confidence you can still cry and have weaknesses.
Recorded and engineered by Quincy Wareham. Mixed by Pete Wareham