"Pride is about embracing every person's individuality; recognising every person has the right to be their authentic self and simultaneously command respect and dignity. At RBC, we recognise that to create a safe and productive work environment, all staff should feel comfortable bringing their whole selves to work. I am a member of RBC's LGBTQ+ Employee Resource Group, through which we're increasingly cultivating proactive allies who are visible and who use their voice and their actions to challenge discrimination all year long. We always have more to do, but it's brilliant to be part of the efforts for true equality at RBC and in our communities through local partnerships with places like The BRIT School."

Fiona Malins, Associate Director, Client Coverage, RBC Investor & Treasury Services
---
Frida Kalho by Erin Keyes Yr 11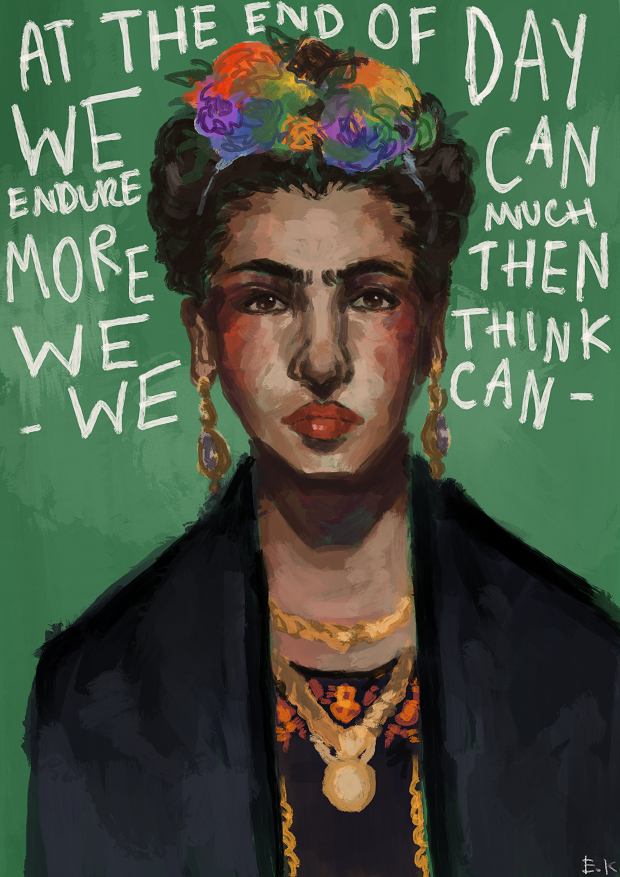 I chose to do a digital portrait of Frida Kahlo, a famous Mexican artist celebrated for her work that often examines race, class, sexuality and gender in Mexican society. She is rightly celebrated not only as a recognised figure in art history but also as a queer feminist icon who fought for what she believed in.
Dylan Mulvaney by Tia Campbell Yr 10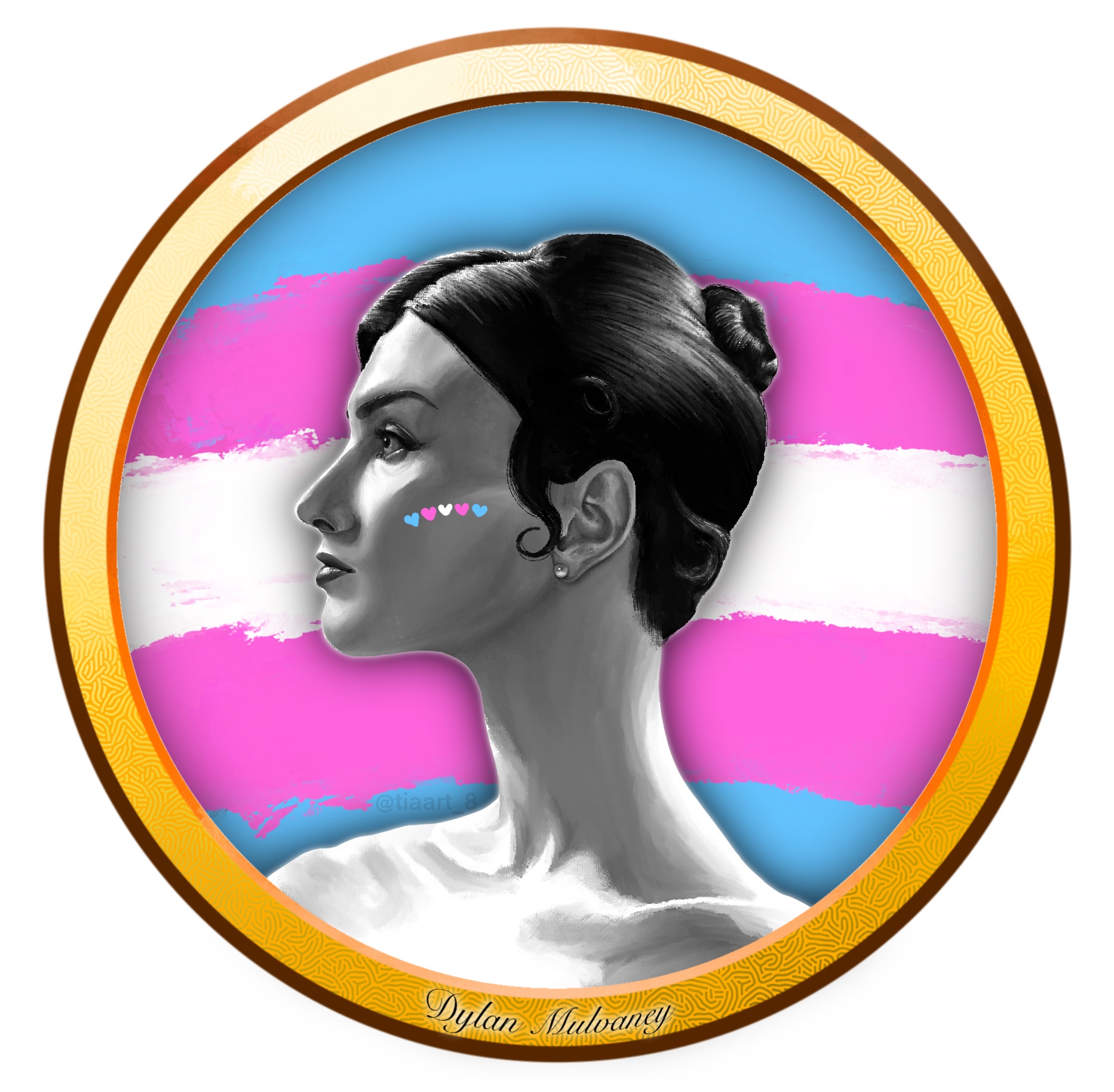 Dylan Mulvaney is an amazing trans woman who has shown her transition journey to the world through her Days of Girlhood series. I chose to draw her for this Brit Now because her courage and her outlook on life is inspiring - she is an inspiration for trans youth and adults alike, talking about her struggles, her hopes and her dreams. She is an inspirational figure to me as she strives to be true to herself. The picture I referenced is amongst the pictures she posted during her face reveal after her facial feminisation surgery, and is a personal favourite of mine as it really emphasises her beauty.
---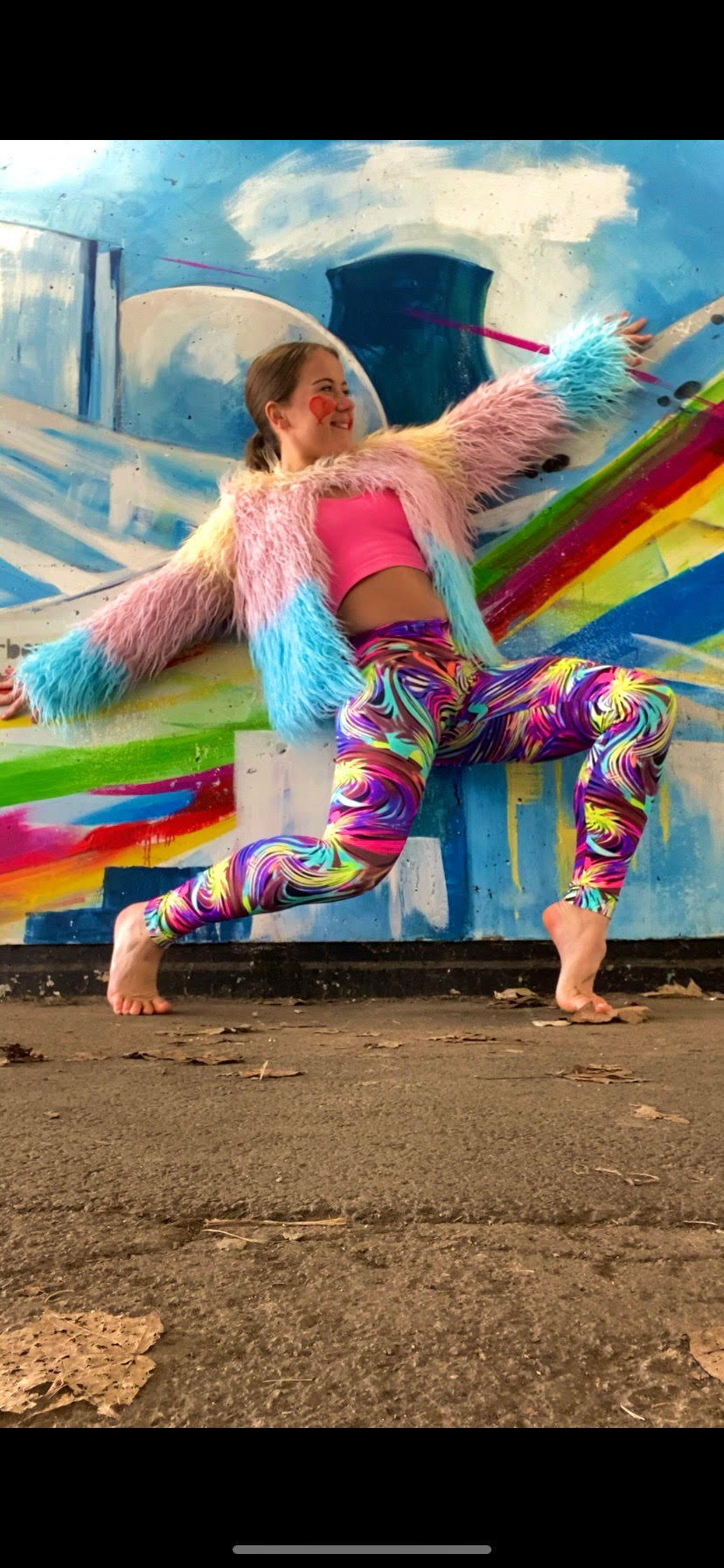 Anyone Can Dance! by Lauren Hames Yr 10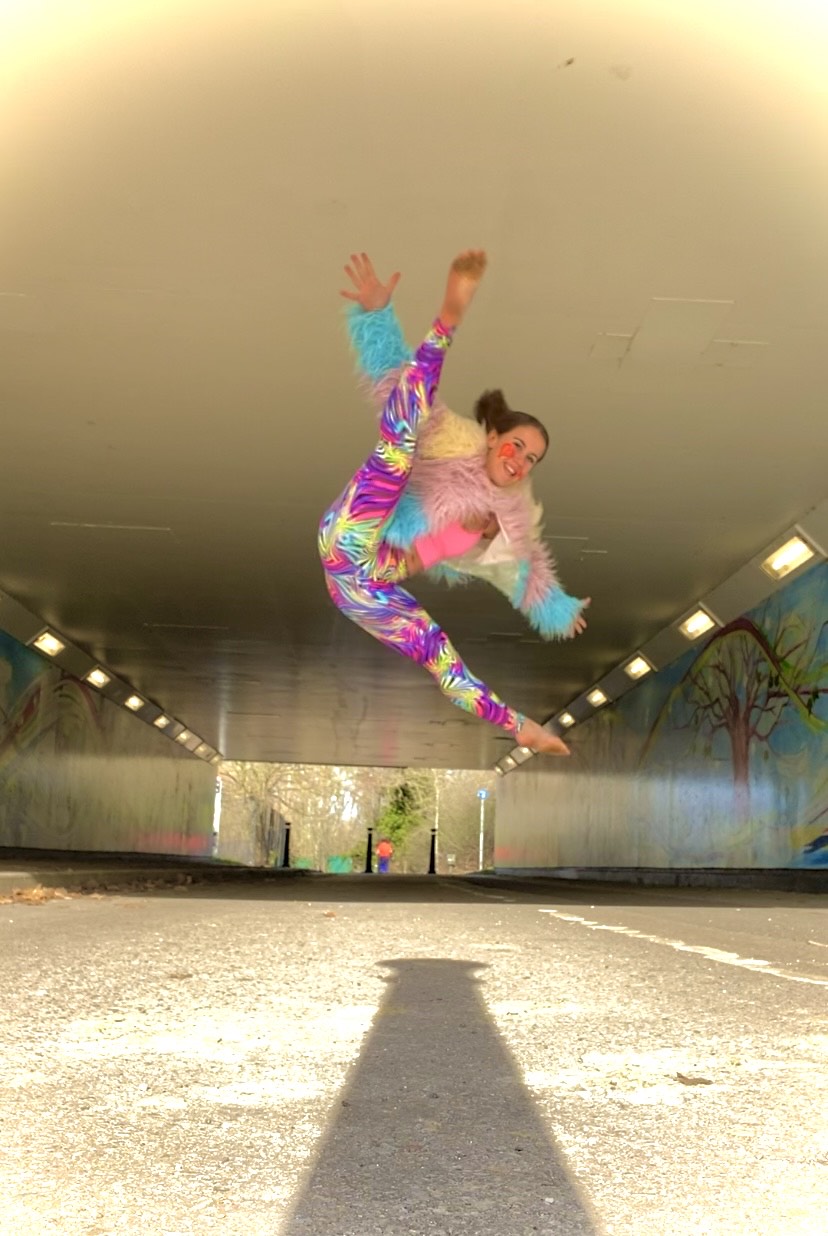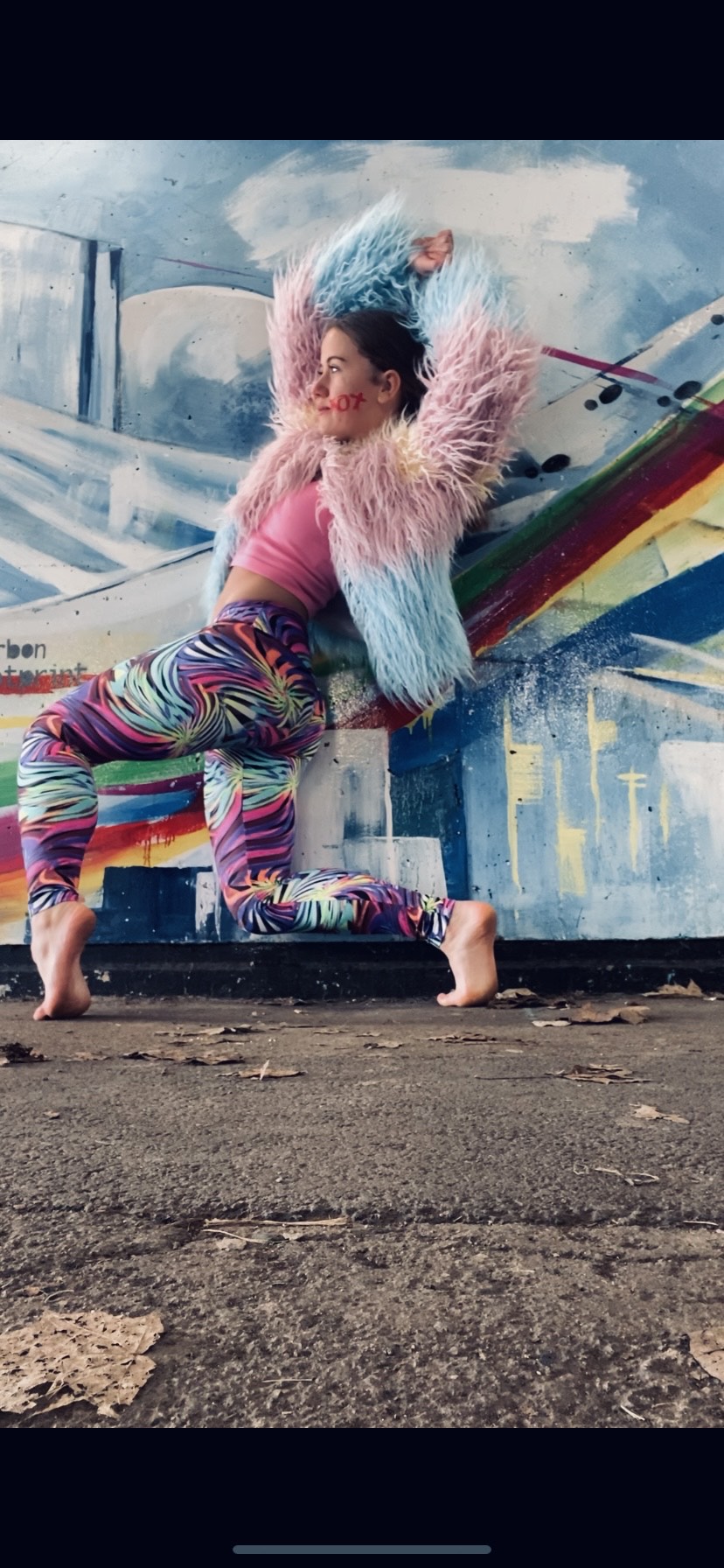 I believe that no matter who you are everyone can dance, dance is such a beautiful art and allows me to express my crazy self and show my true personality through bright colours!
---
Trans Rights Now! by Stefan Sheppard Yr 12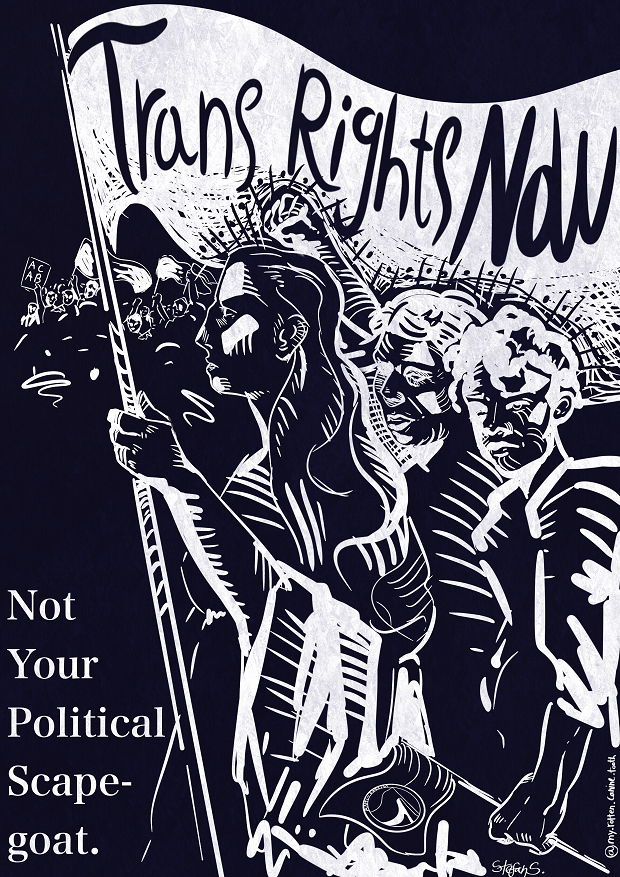 This artwork is a response to the Tories recent decision to use Transgender people and our rights as a political distraction from the cost of living crisis that they have caused. The move to block the Scottish Gender Recognition Reform Bill is a vicious undemocratic attempt to stoke even more hate and bigotry that puts the lives of trans people in danger.
TRANS RIGHTS ARE HUMAN RIGHTS! DON'T LET HATE WIN!
'Girls in Pink' by Poppy Davies Yr 12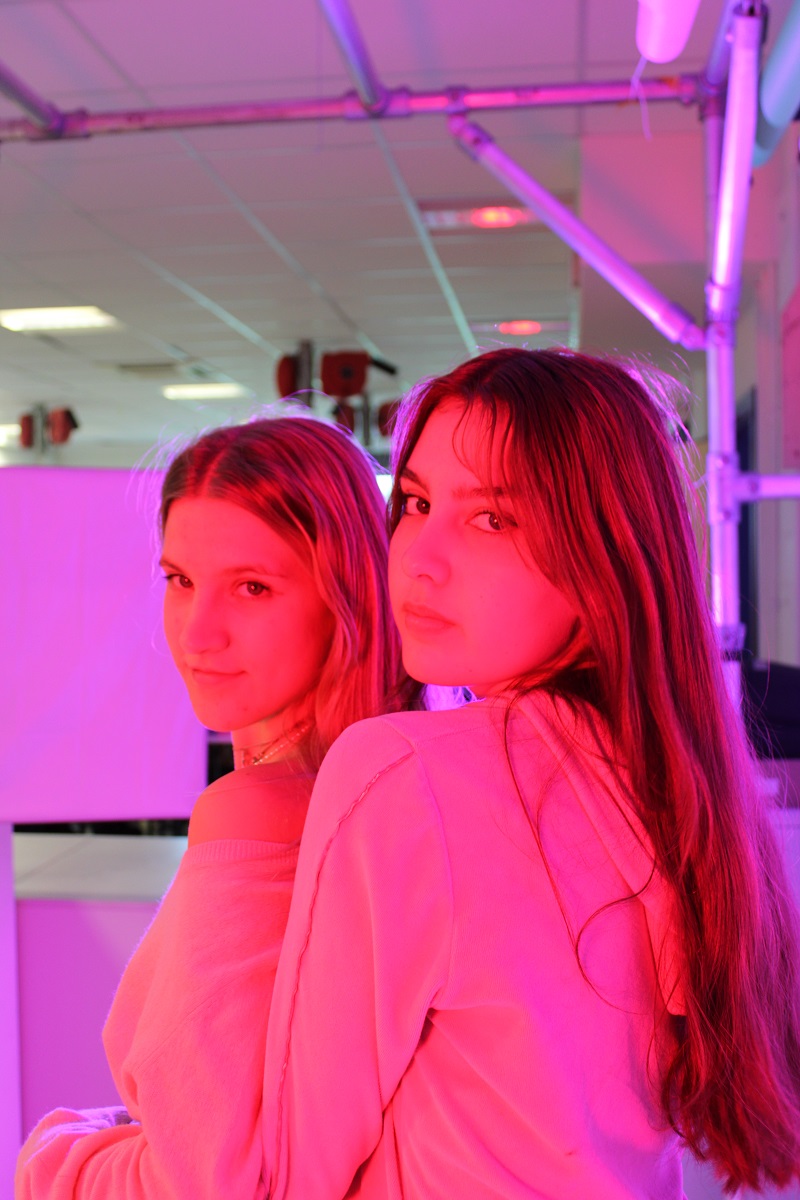 This piece reflects the fluidity of femininity, and beauty through my use of purple lighting. As a bisexual woman myself, I wanted to reflect the colours of the bisexual flag as a blend of colours, instead of the separate block colours to convey the fluidity of being bisexual. The title 'girls in pink' was inspired by the gay musician Girl in Red, as I wanted to create my own personal visual style that's inspired by her music, and the way that it makes me feel as a bisexual woman.
Special thanks to Karolina Valatka and Chloe Ingham (models)
---
Ingrown Love by Emre Gunes Yr 14
Queer love lives in a ingrown plane of existence. Queer love is ingrown love. Content warning: visual references to self harm.
Fly by Iggy Gill-Ces Yr 11 and Tallulah Gill-Ces Yr 10
We made this piece to tell people to be who they want to and encourage them to fly with pride. Special thanks to Quincy Wareham - Music engineer and co-producer, Tiger Wareham - Backing Vocals, Peter Wareham - Producer
Artwork by Iggy Gill-Ces, Y11 IDD strand
Original music by Tallulah Gill-Ces, Y10 Music Strand.
---
LGBTQ+ Crochet Top by Poppy Davies and Chloe Ingham Yr 12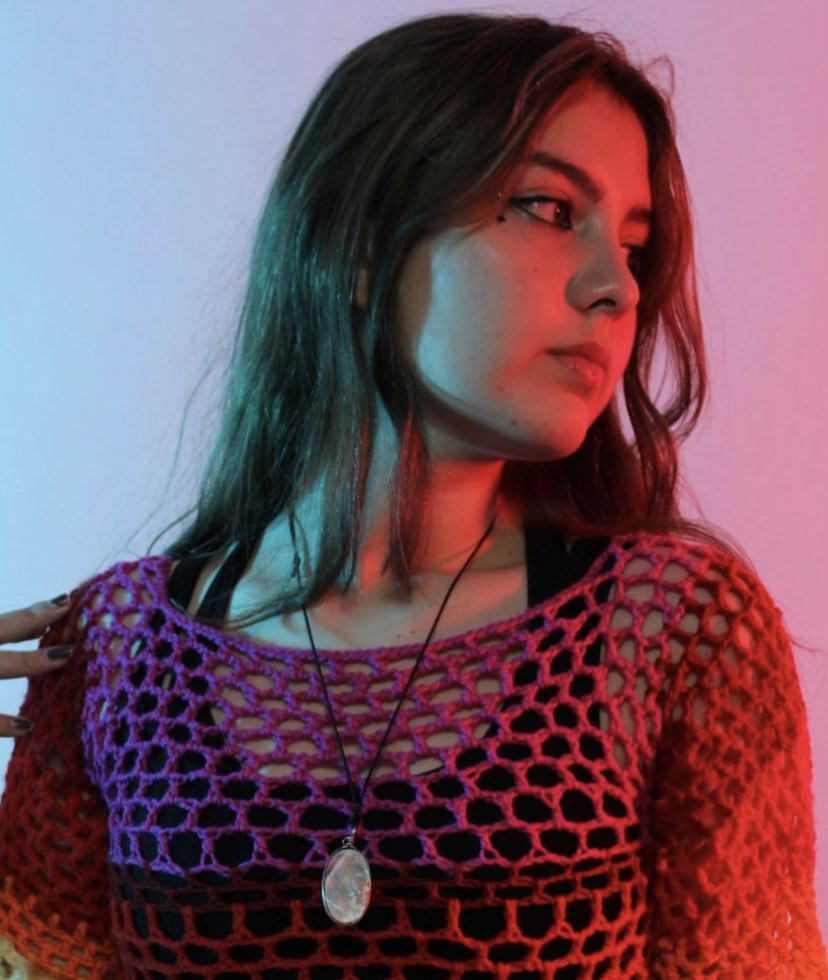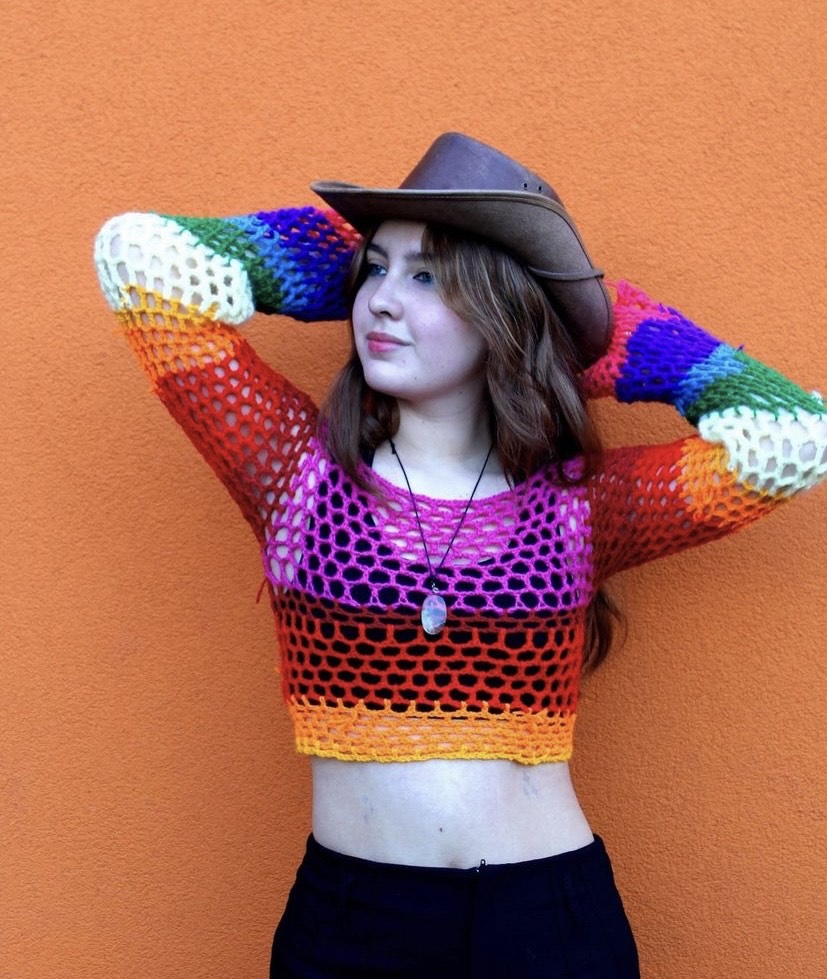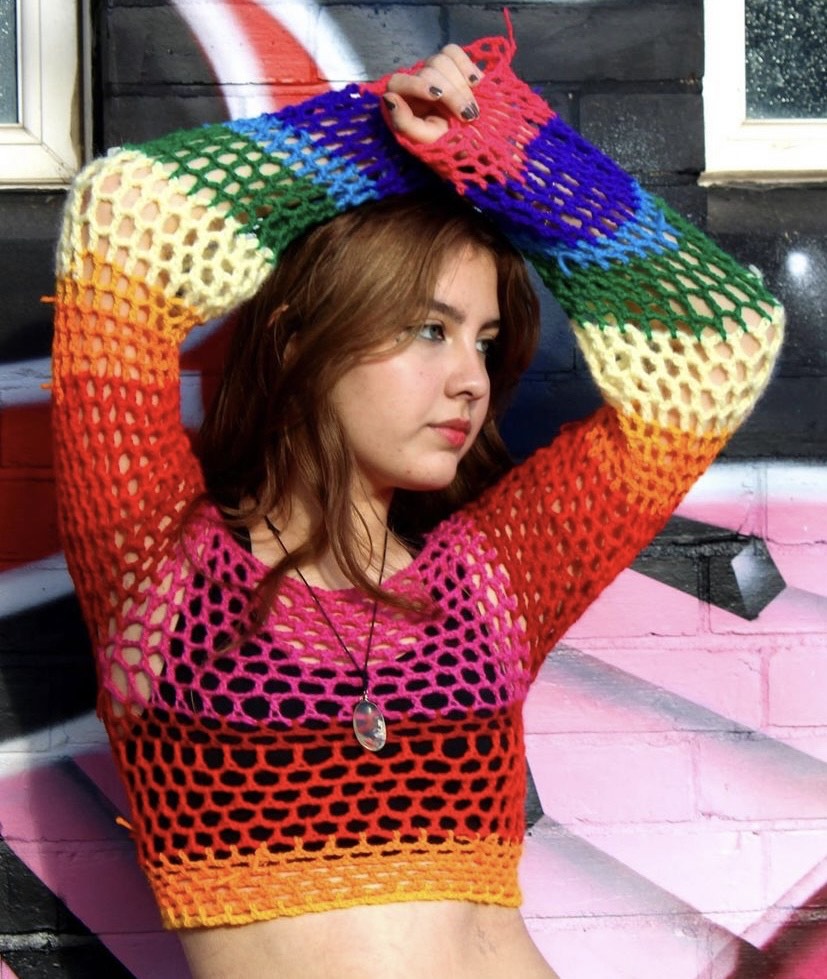 This design and images were produced as part of a styling task for our photography project. We crocheted this mesh long sleeved top in all of the colours of the rainbow as a form of expression and individuality. We wanted to showcase the beauty in self expression using the symbolic colours of the rainbow to express our sexuality through fashion (specifically through crocheting which is both of our preferred mediums in fashion design). By collaborating with bringing different elements to the project, we reflected the connection between sexuality and identity, as bisexual women.
Special thanks to Karolina Valatka and Liberty Wilson who helped with the photo shoot.
---
Angels of Love by Ashanti Wynter Yr 11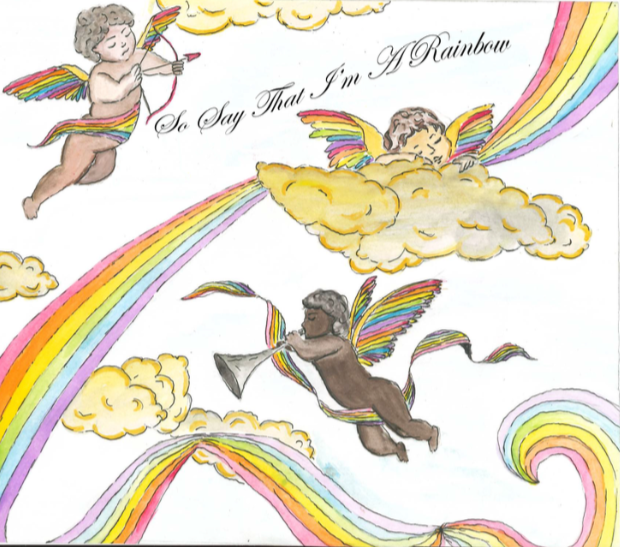 Representation of spreading love and joy and happiness
Look How Far You've Come by Charlie Griffith Yr 10
This song celebrates the bravery, determination and boldness of the LGBTQ+ community while also recognising the struggles and challenges that the community faces. The lyrics highlight the barriers put in place by society which prevent members of the community from being themselves. They also show optimism and hope, recognise the progress made by the LGBTQ+ community in challenging societal norms, and the power of ally-ship.

Written by Charlie Griffith (vocals/guitar) and performed with Jesse Garwood (lead guitar), Elliot Frances (drums), Lars Nunns (keyboard), Campbell Carlson (bass).
---
BRIT Awards: Digital Function Gown by Faolan Irwin Yr 12
My submission is a dress I made to attend an event associated with the BRIT Awards. As a boy, I've always felt constricted but always attracted to the idea of men wearing dresses or skirts. Personally I believe clothes are meant to be worn by people therefore anyone is entitled to wear what ever item of clothing they'd like, as it's the individual that should decide what to wear, not society. So by creating a slideshow of the process of how I created my dress, I wanted to demonstrate to the world, how determination and a love for a subject can take you to great places. I hope you enjoy.
---
A Kiss by Maisy Mitchell Yr 12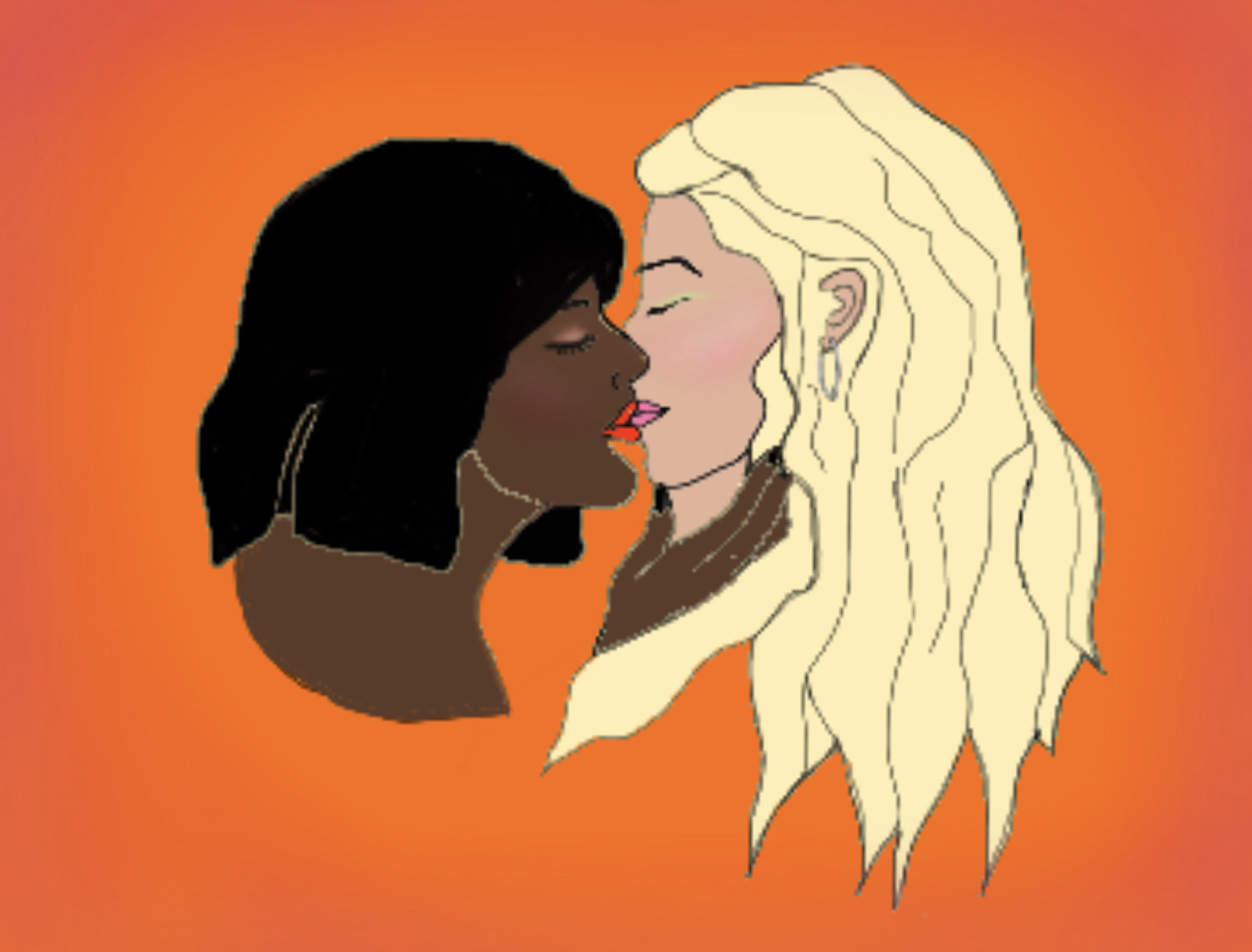 My work is a digital drawing of a kiss between two girls. I wanted to capture the first spark of how a kiss can change the perspective of what love can be.
My True Colours by Amelia Dyr Yr 10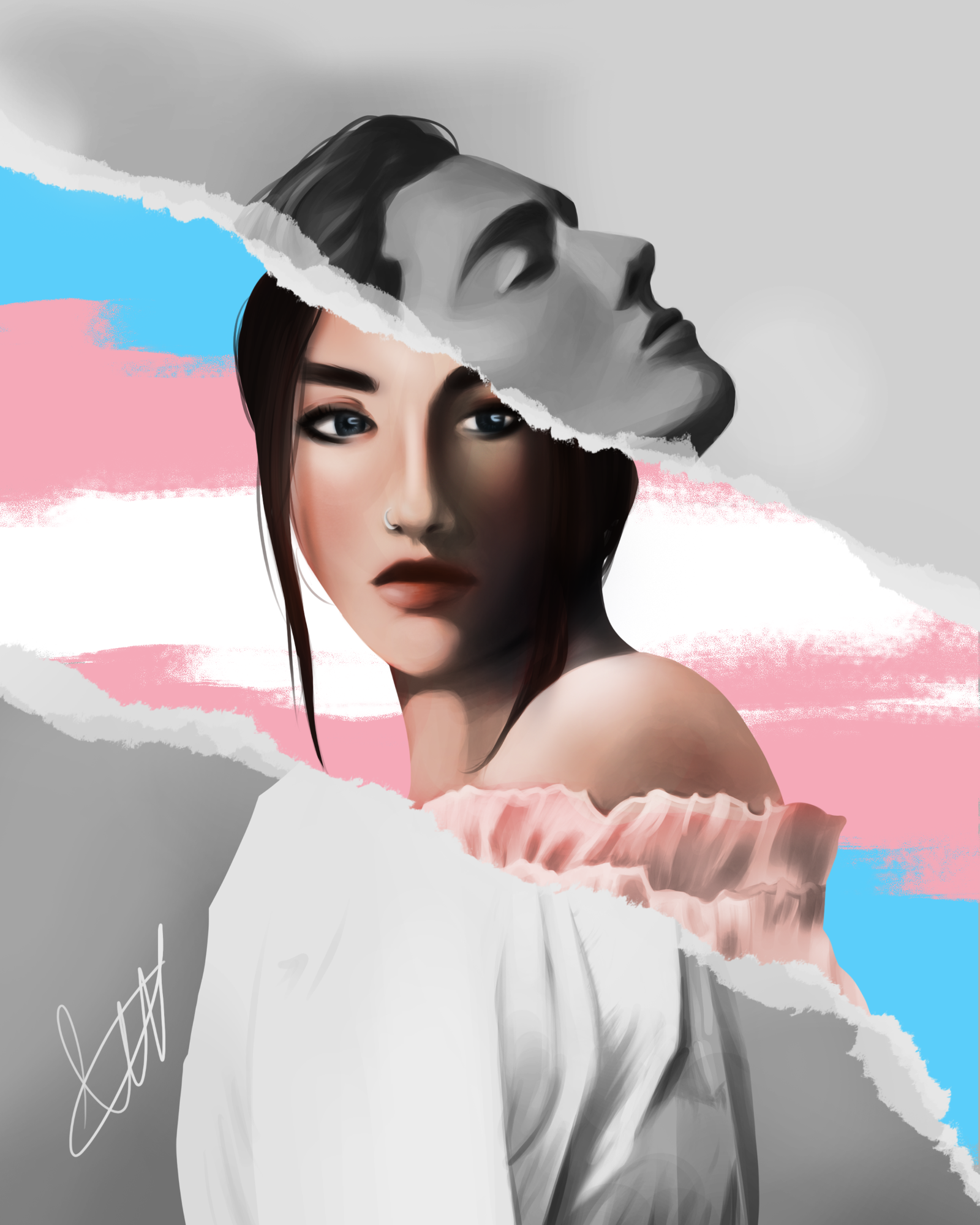 ---
Words About Transness by Eren Iusiumbeli Yr 12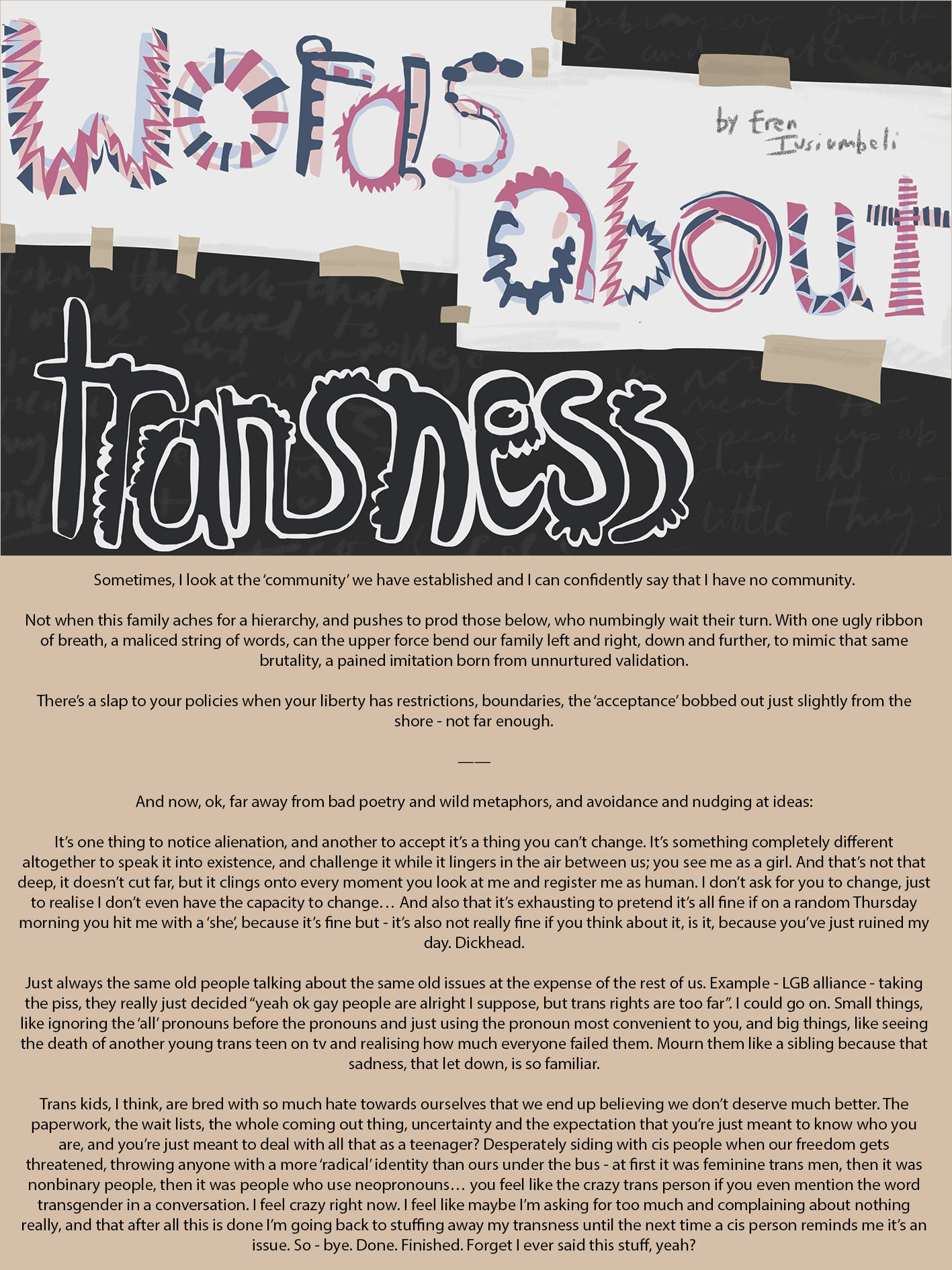 Not a poem, or a monologue, or a story - just a collection of words. What comes to mind when I give myself a pocket to let myself be the 'crazy trans person' persona that the world has taught me to avoid fitting into, and the realisation that it's not very crazy at all.
---
Bisexual Fairy by Ruby Bergin Yr 12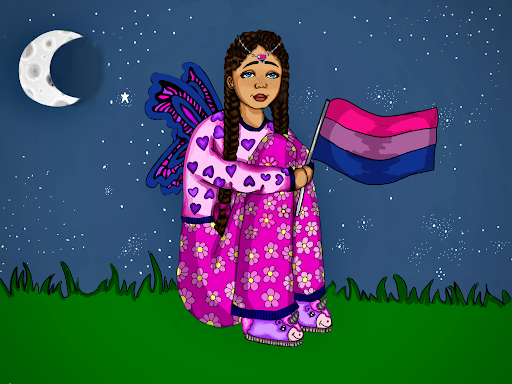 One of my characters I adapted her to match the bisexual flag
---
Joe Bernstein Yr 12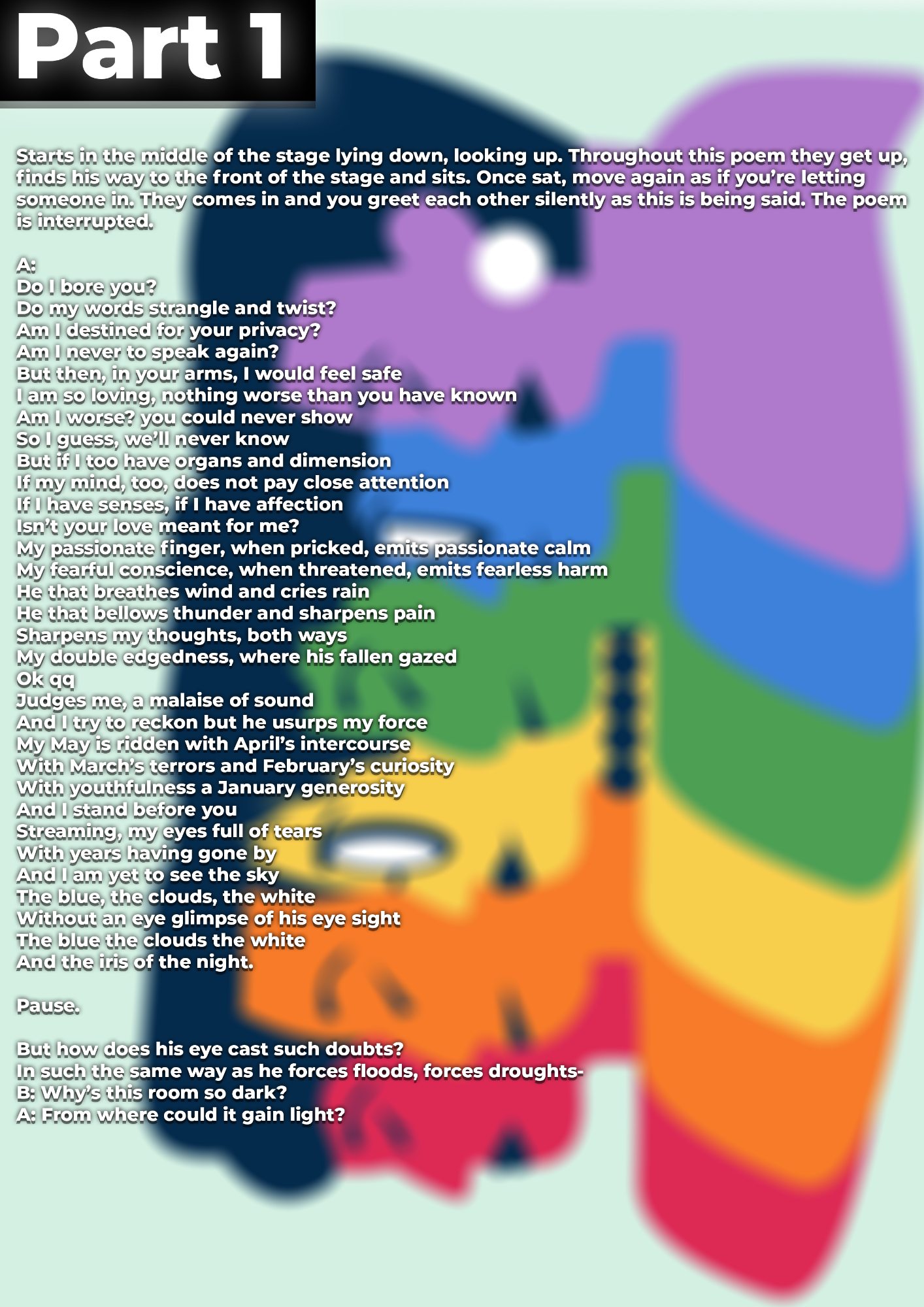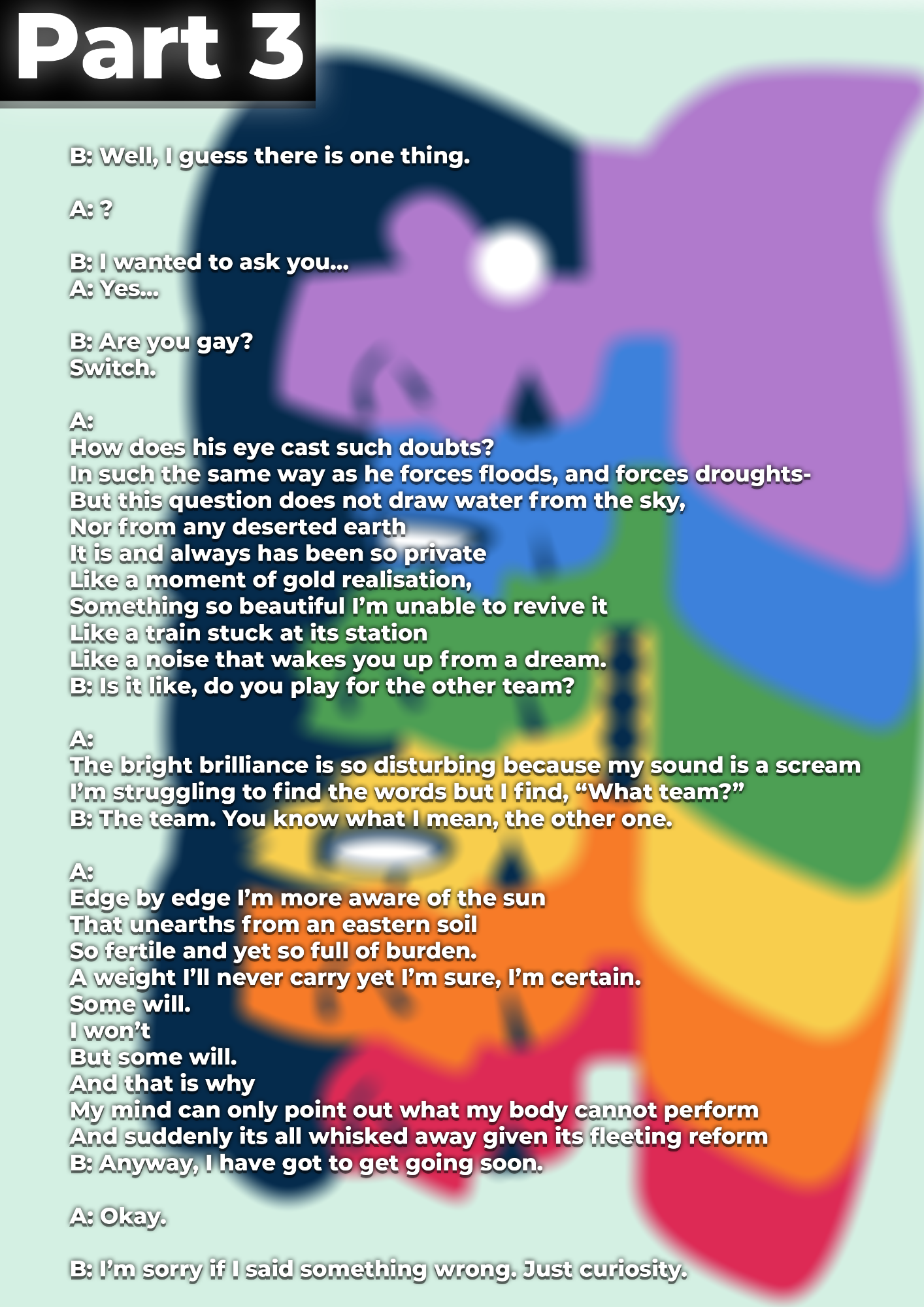 ---
Love is never wrong by Robyn Douglas Yr 11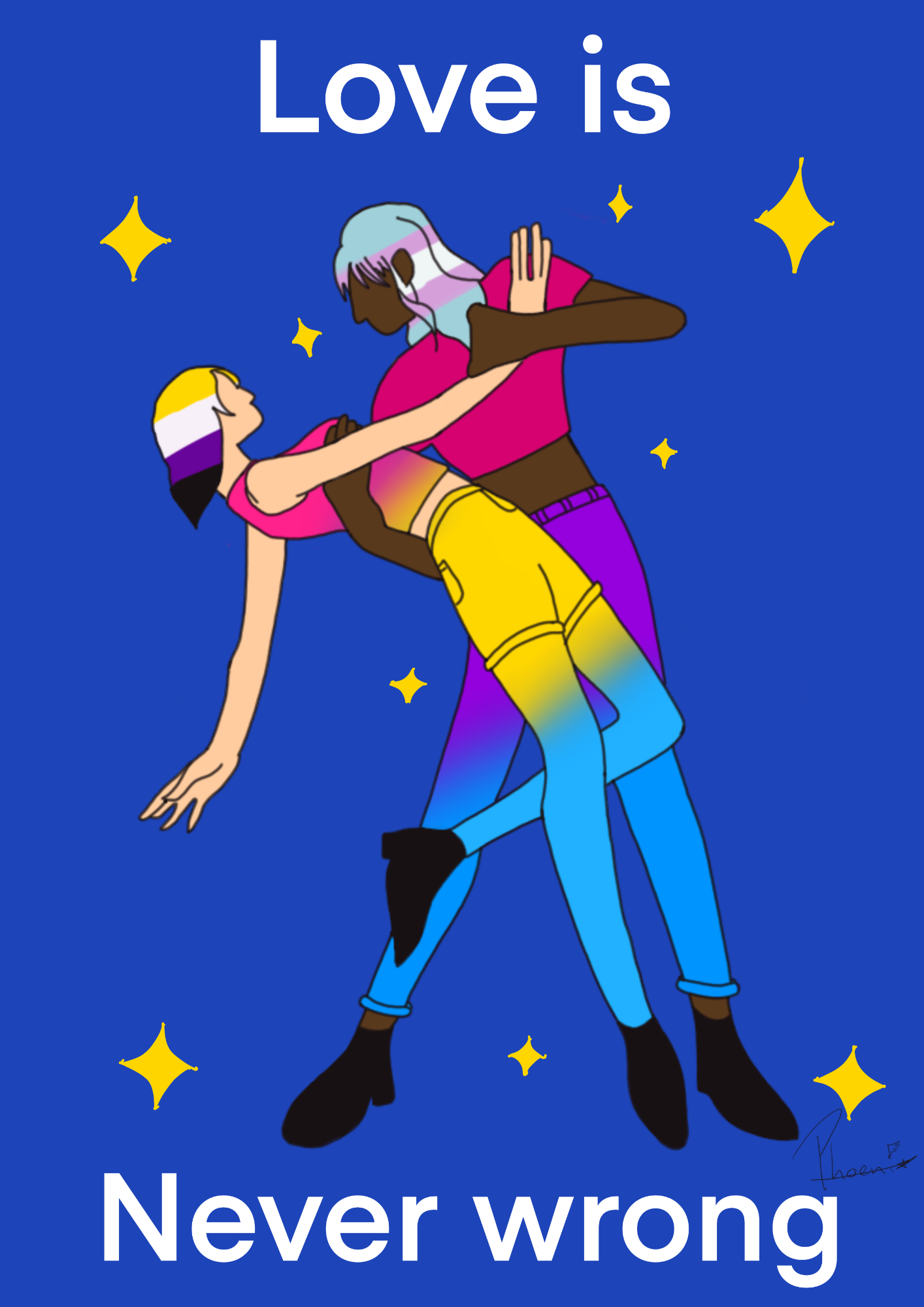 This is an illustration representing that you can love whoever you want no matter their race, religion and identity and that you should be free to love and choose your own future away from societies rules.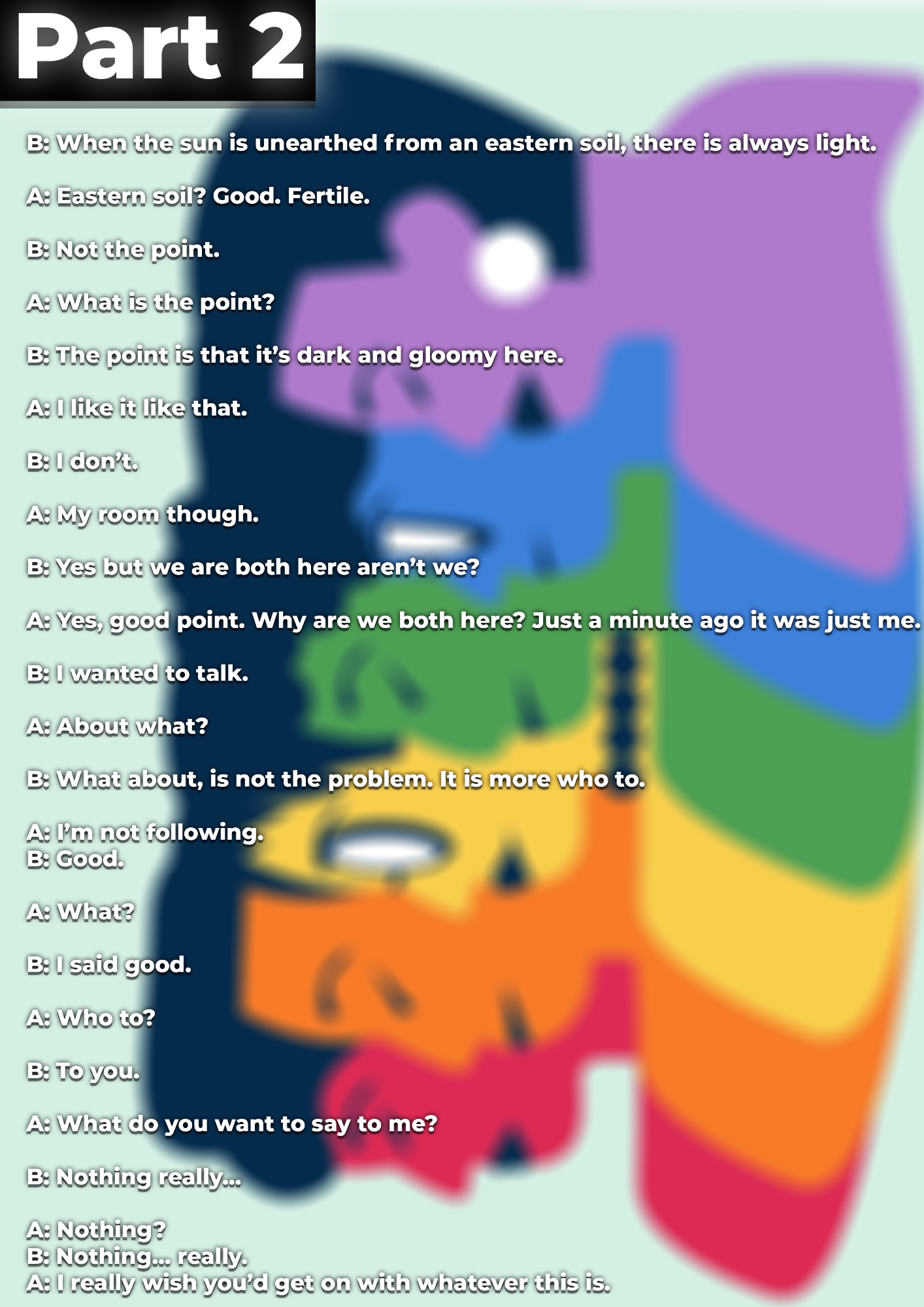 ---
LGBTQ+ Festival 2023 by Taki Levine Yr 11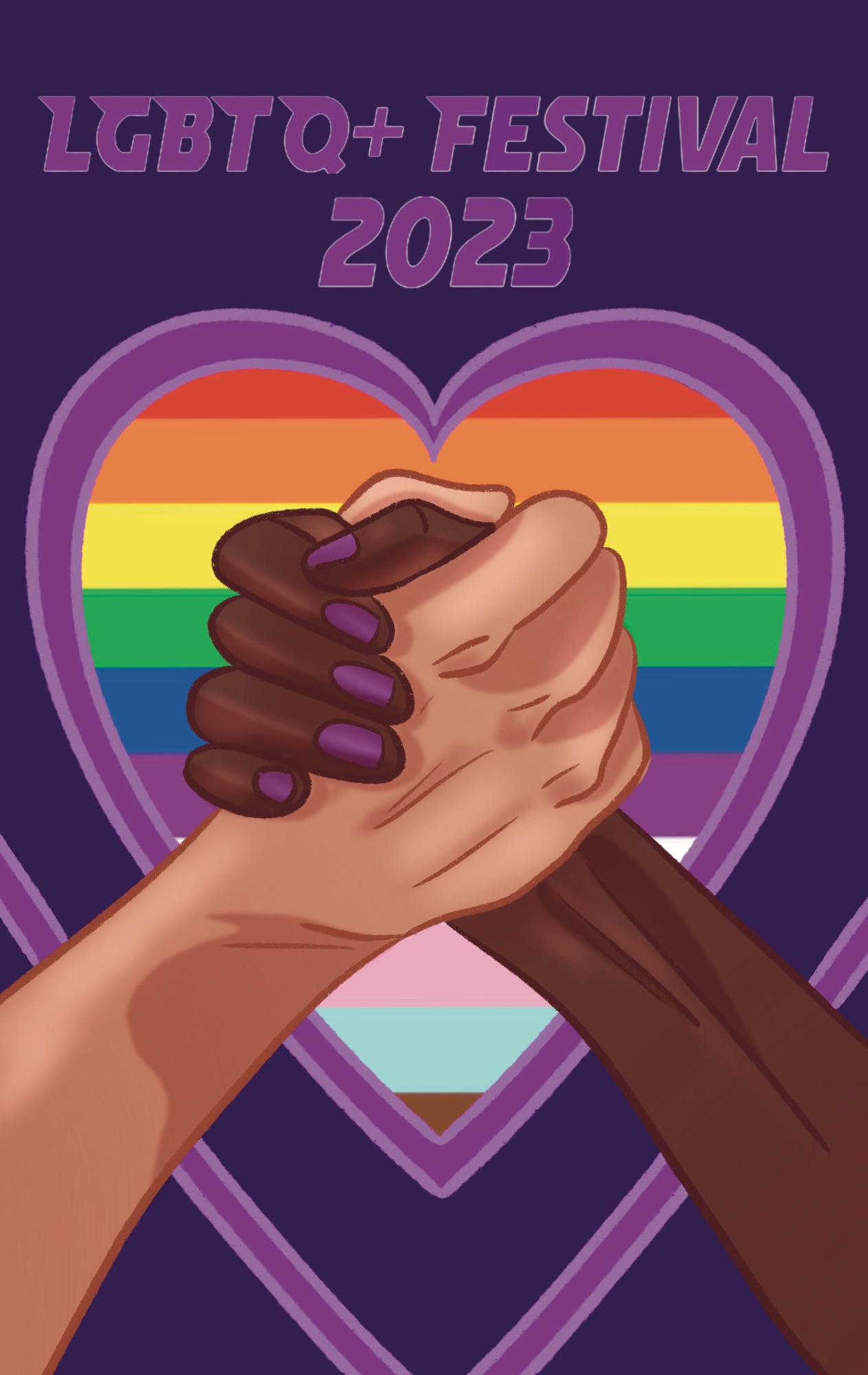 ---
LGBTQ+ Assembly Photography by Ebony Glasgow Yr 12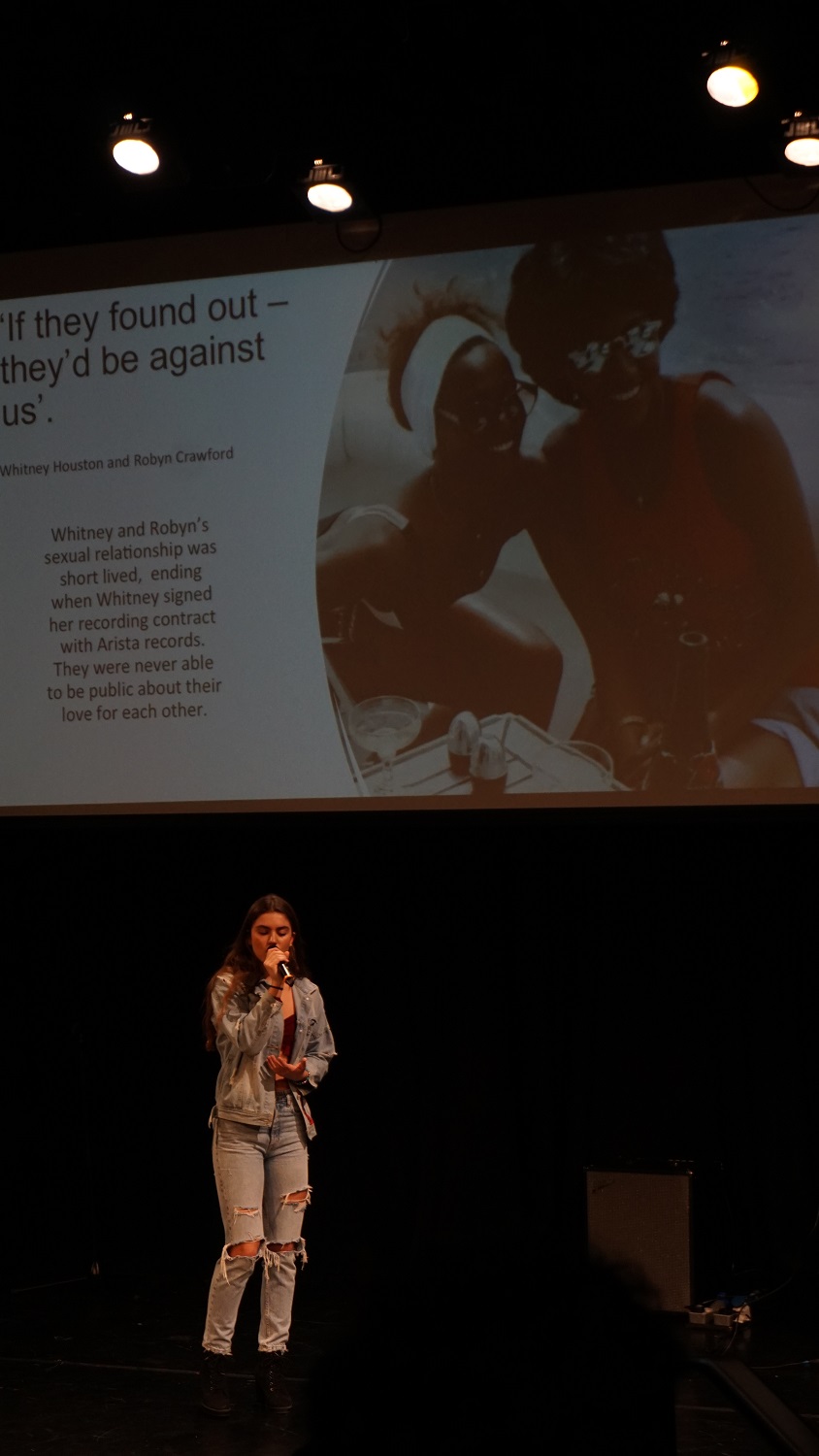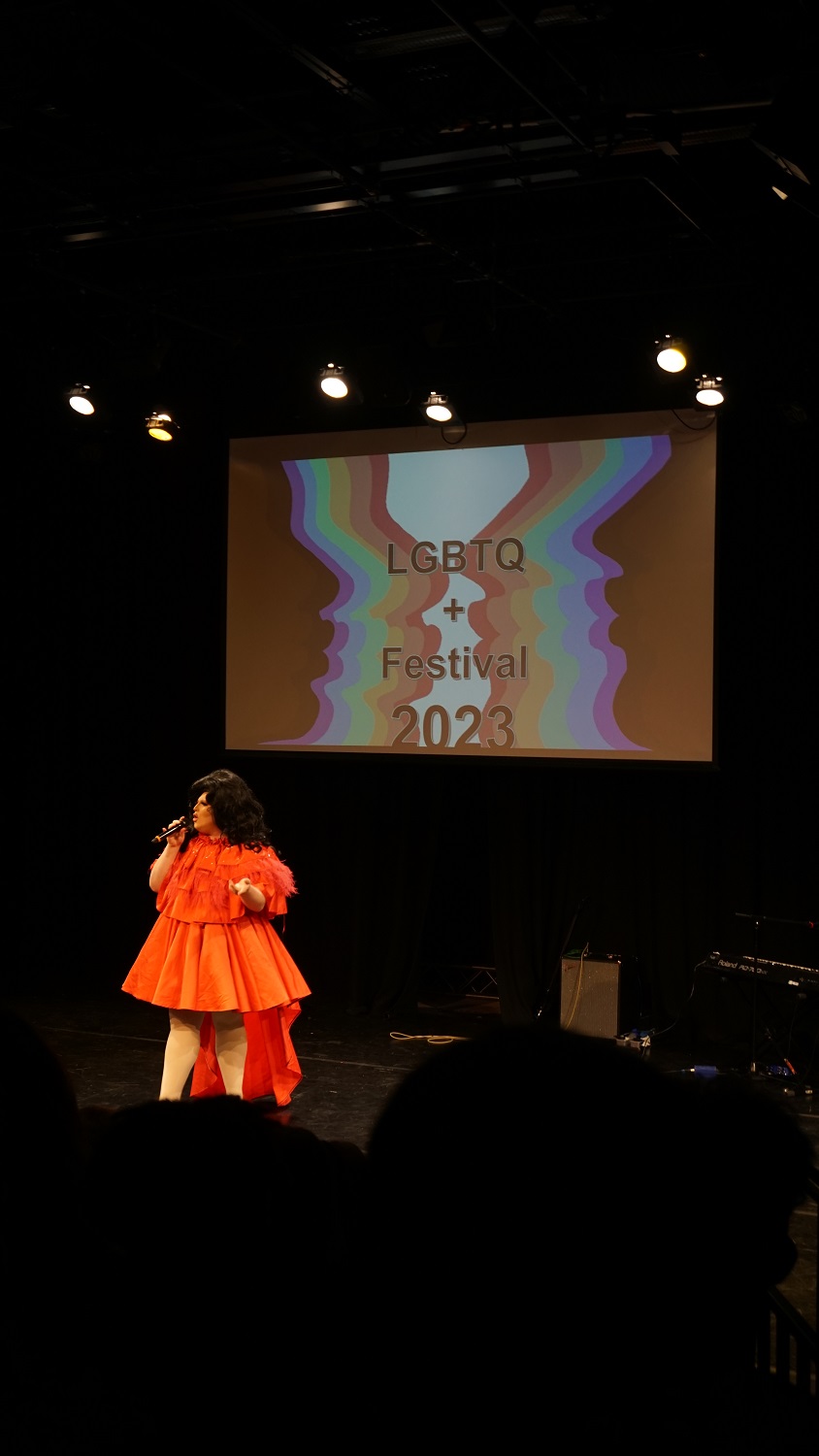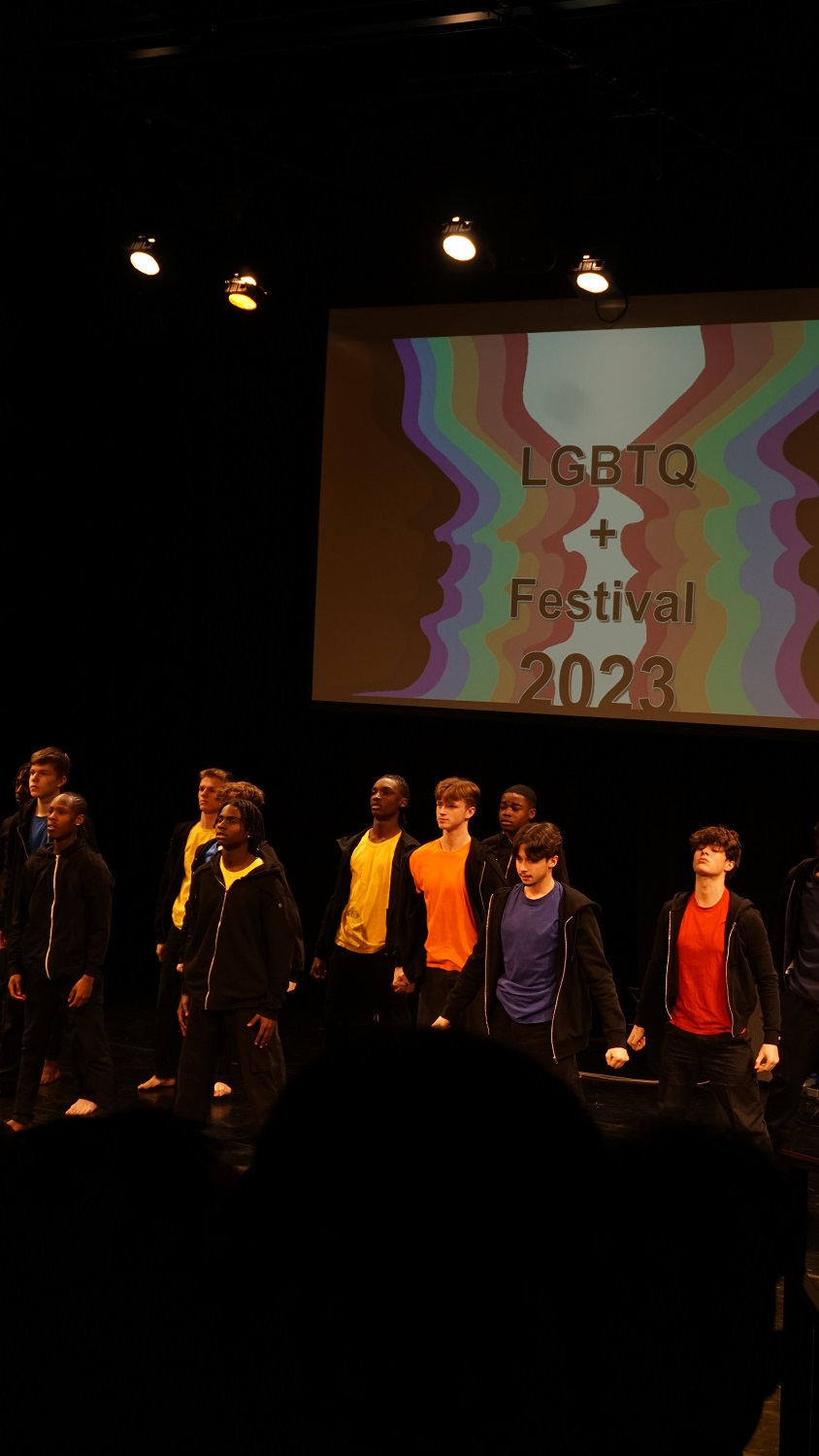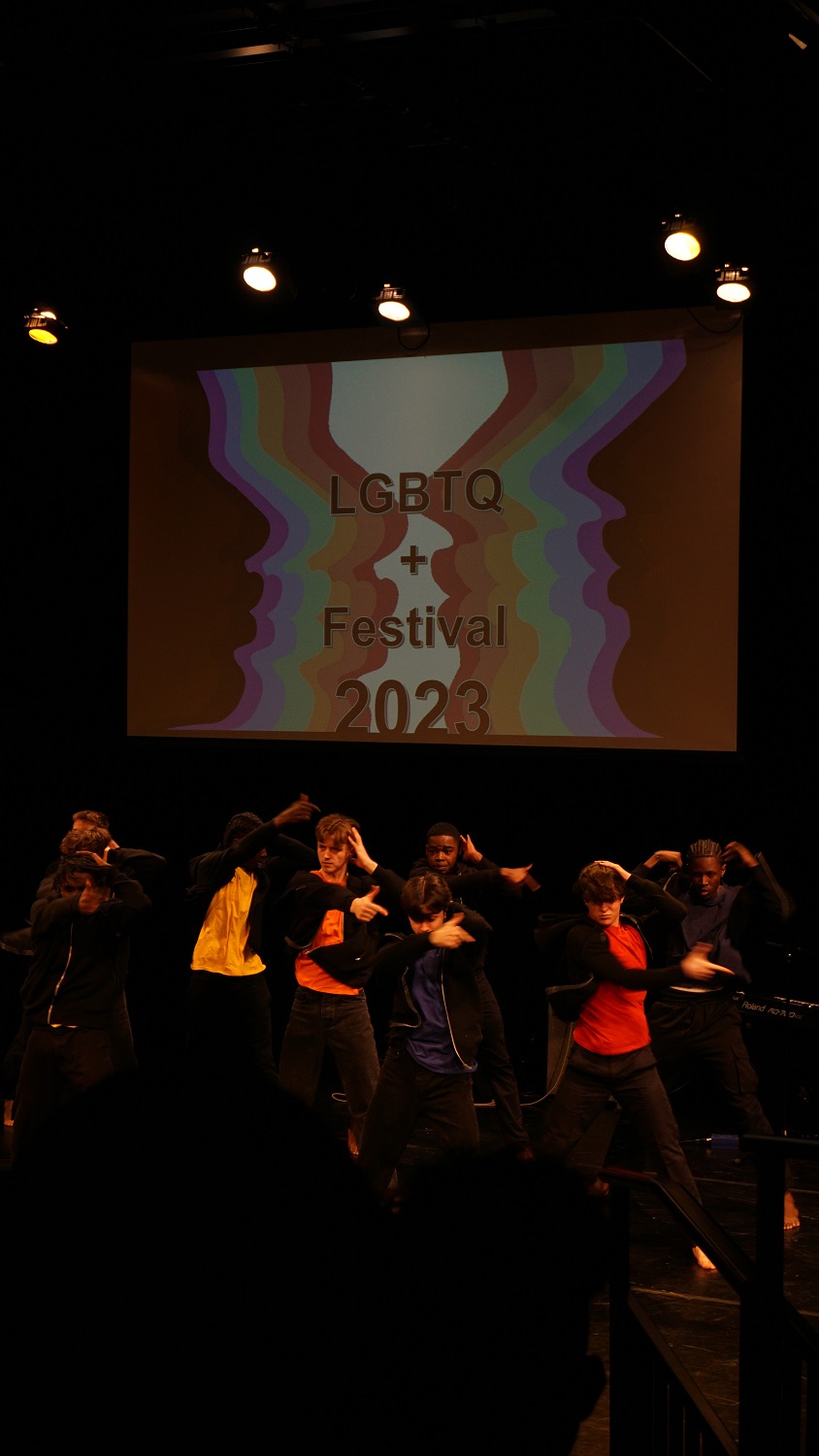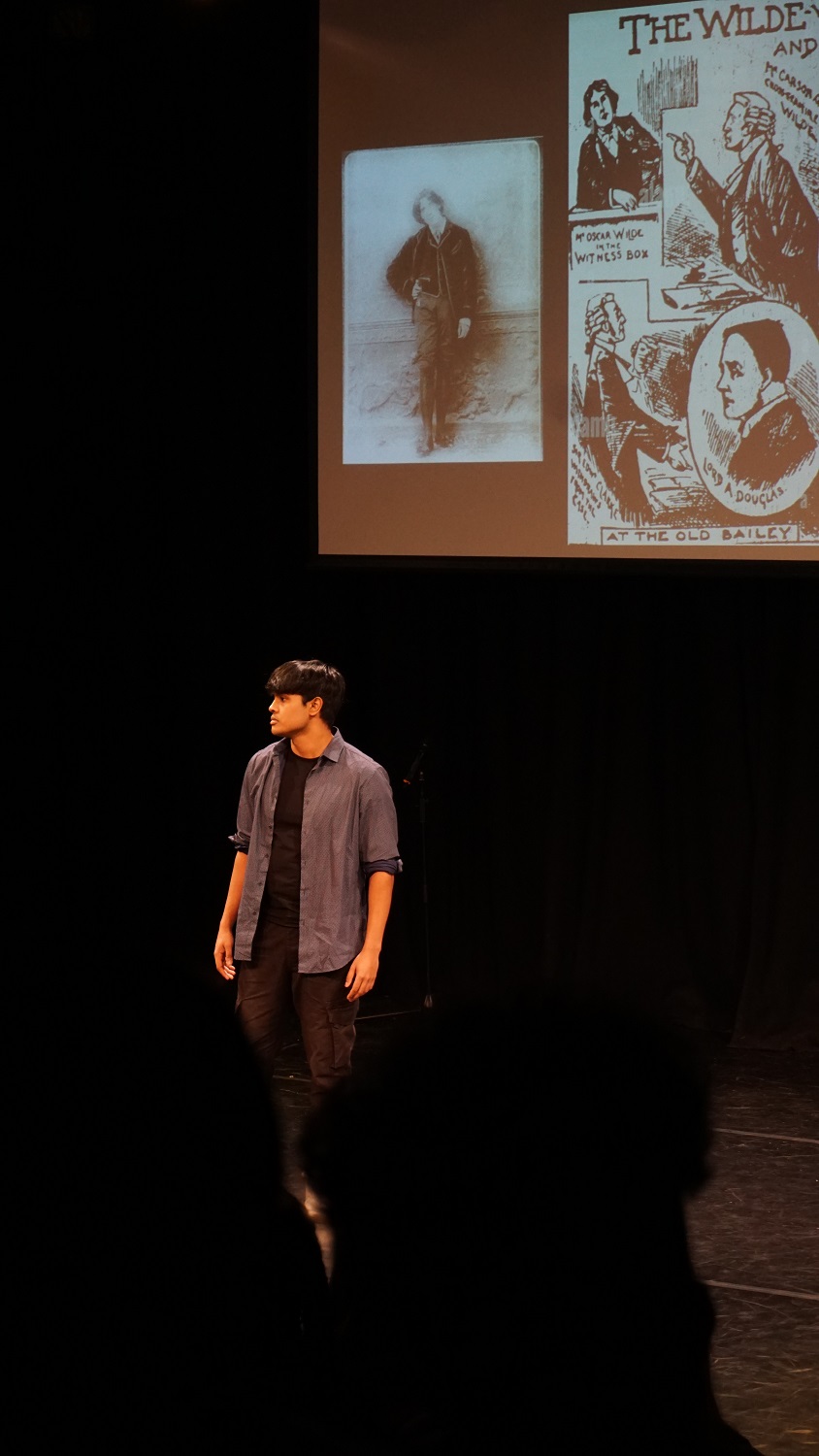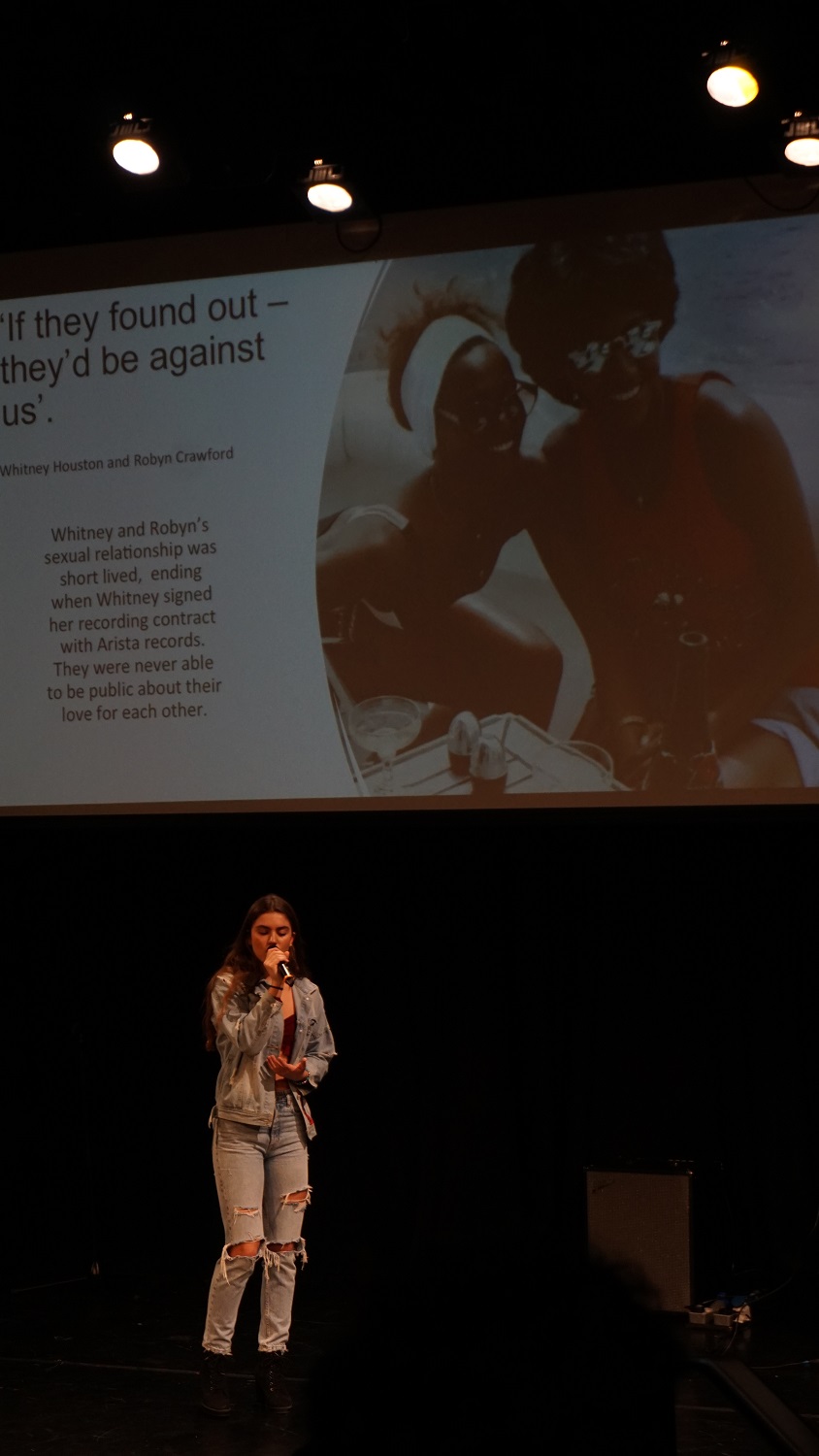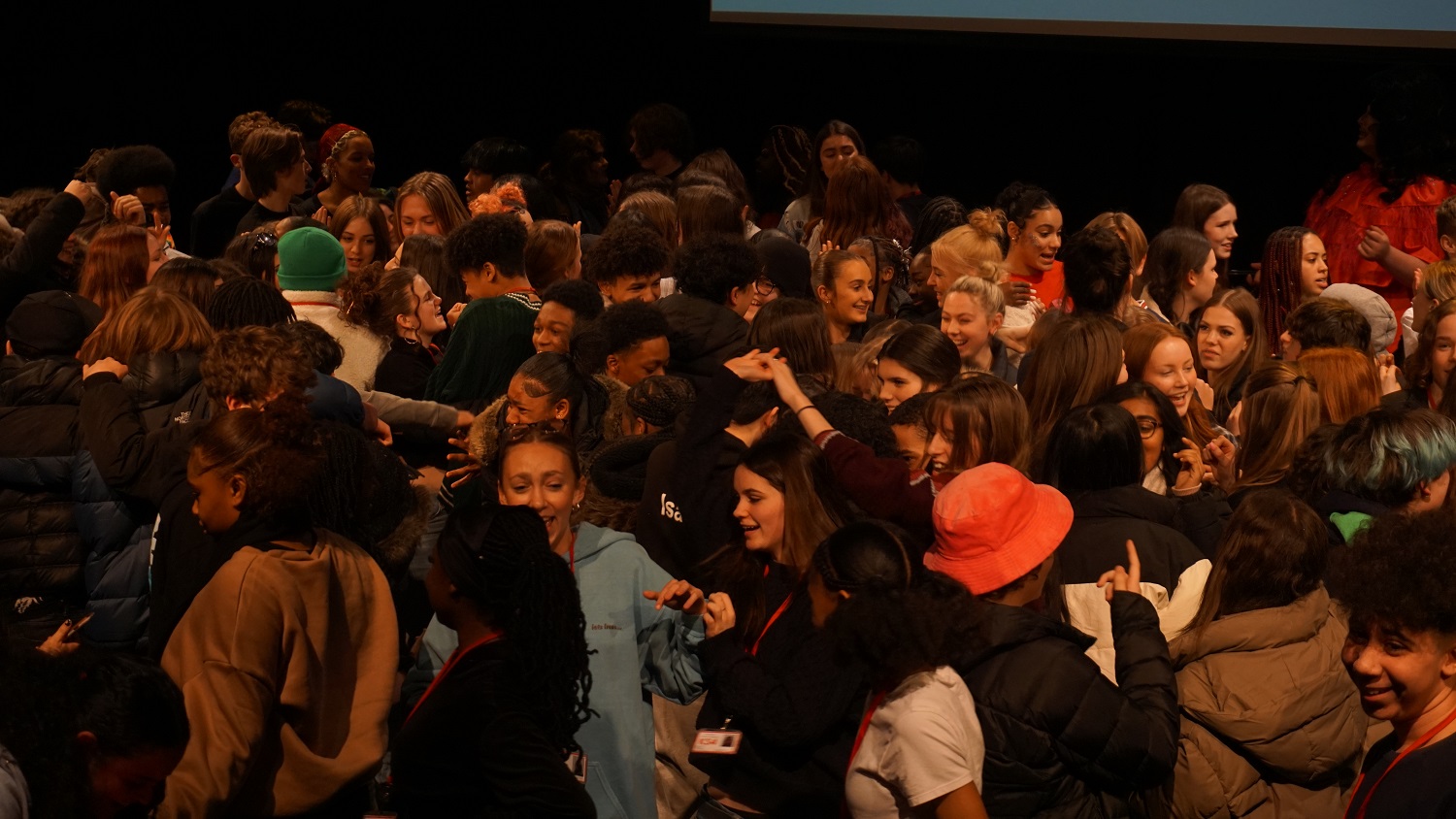 ---