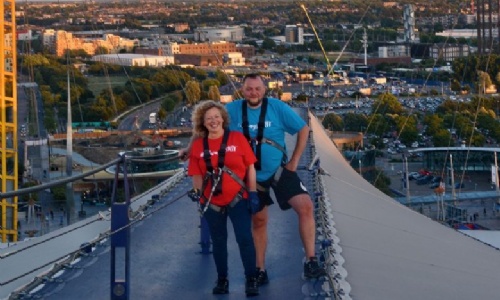 "As a member of staff, I have seen how budget cuts have affected the school I love. So when I was asked to support our fundraising campaign by doing a physical challenge involving multiple climbs of The O2, I didn't hesitate. Even though I'm not a fitness buff and not the greatest fan of heights, it never crossed my mind to say no."
"When you see closely the individual journeys of so many students who attend here, it would frighten me what would happen to them without the School. I often wonder what I would have done if I didn't get in to The BRIT School: I didn't like secondary school and I had terrible attendance apart from Drama and English Literature. I found out about BRIT, and the day I visited, I fell in love with it… and I was never late once! I then got a job here and I honestly can't imagine doing anything else.
By donating or fundraising for the School, you are not only giving your support to the next potential Musician, Performer, Designer, Radio Presenter or Director, but you will be helping to turn around so many students' lives who have been told elsewhere they will not succeed. As a former student, I know what BRIT does for students. So if you can afford to donate, then please do. And if you can't, why not do a fundraising challenge or event. Your money could change someone's life like it did for me."
Dan Clark, BRIT School alumnus (1999). Front of House Manager at The BRIT School.
Climbed The O2 14 times to raise funds for the School
Pictured with BRIT School colleague, Tina Williams, on top of The O2