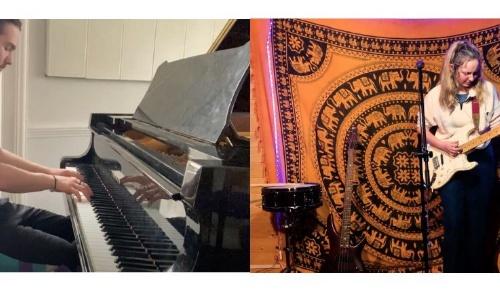 Accenture Prize for Live Performance
The panel judging the Accenture Prize for Live Performance met virtually the morning of Thursday 15 April to decide the winners for 2020.
Six Music students from Year 13 were shortlisted and their audition videos previewed in advance of the virtual panel meeting.
After extensive debate the First Prize was awarded to Ellison Hibberd Cook for his performance of Debussy on the piano. A popular choice with the panel, they described him as "rich in style" with "compelling technique".
The Second Prize was awarded to Nathalie De-Leuw who sang and played guitar on an original composition layered with jazzy textures. The panel agreed that Nathalie has a "great talent" which she showcased in her performance.
The Accenture bursary will help to fund the next step of their careers. Students have in the past purchased equipment and software to practice and record on, bought studio time or instruments, or used it towards future training fees.
Congratulations to all of the students who entered and a huge thank you to Alexa Cruickshank, Conor Doherty and Stuart Worden from the BRIT School, Gavin Mann and Stuart Green from Accenture for their continued support, and to the MITS committee members for their time and commitment.
JUDGING PANEL
Adam White
Caroline Henley
David Munns
Gavin Mann
Maggie Crowe
Paul Sexton
Stuart Green
Stuart Worden (BRIT School Principal)
Toby Leighton-Pope
Ellison Hibberd Cook and Nathalie De-Leuw pictured below