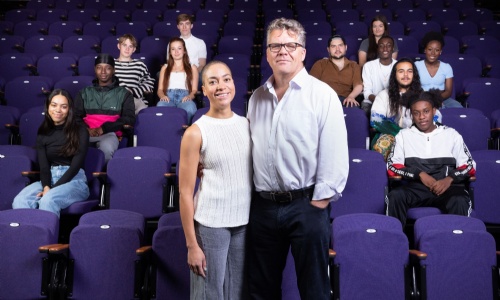 The BRIT School is delighted to announce award-winning actress and writer Cush Jumbo OBE has joined the board of trustees in its 30th Anniversary year.
6th September 2021
Former student Cush takes on the influential role at the performing and creative art school based in Croydon, South London, demonstrating her ongoing commitment to the school and enormous achievements since graduating in 2003.
Before gracing TV screens and theatres across the globe, Cush, born in South London, developed her outstanding talent at The BRIT School, studying Theatre, Media and History A Level between 1999-2003. Here, she learned with students from a wide variety of backgrounds thanks to the school's all-inclusive admissions approach. BRIT is the UK's first and leading free performing and creative arts state school and Cush has returned frequently since offering her expertise to the next generation of aspiring artists, giving students once in a lifetime opportunities including performing with her at 2019 The Evening Standard Awards (the opening of "Windy City").
Cush will have a specific role within the trustee board on the Curriculum and Student Welfare committee. This committee is at the heart of the school, focusing on student achievement and the celebration of the best possible curriculum. It asks questions of how students from all backgrounds are achieving in all subjects; academic and creative and focuses on their mental health, ensuring they have the best environment to flourish and thrive.
The BRIT School Principal – Stuart Worden says "Having been lucky to have known Cush since she was a Year 10 student at the school, it has been inspiring to see her ascent to being one of the most respected and admired artists of her generation. Cush is all things BRIT. Hard working, creative, polymathic, engaged with the world, a change maker and a serious talent and part of the international pipeline that is The BRIT School. We are very excited to have her join the Trustees and work closer with the students. As we celebrate our 30th anniversary year, this is a significant moment in our history".
Cush Jumbo OBE says 'It is a great honour and beyond thrilling to be appointed a trustee of not only one of the finest arts institutions in the UK but one that is so close to my heart. I can't wait to begin this new adventure with the board and whole team of The BRIT School.'
Since leaving The BRIT School, Cush has gone on to gain international fame on stage winning awards and recognition for her roles in As You Like It, an all-female cast of Julius Caesar and The River by Jez Butterworth. On screen, she is best known for her role as Lucca Quinn in legal drama The Good Wife and The Good Fight and more recently The Beast Must Die and Deadwater Fell. Cush is also the author of Josephine and I, a one-woman play about jazz singer Josephine Baker, which premiered at the Bush Theatre, London in 2013. She will play the title role in Hamlet at the Young Vic this September and star in Netflix thriller Stay Close later in the year.
Cush was recognised for her achievements and contribution to drama, receiving an OBE in 2019.
The announcement today is the first of many moments to mark The BRIT School's 30th celebration year, more details of which will follow over the course of the academic year. Since being established in 1991, it has taught over 10,000 young people and nurtured global superstars, including Adele, Tom Holland, Amy Winehouse, and many more.
This September we will also see the school launching BRIT Transforms, a £10 million campaign to transform the lives of young people from all backgrounds giving them the education, skills and opportunities for careers in the creative industries and beyond.
For more information:
The BRIT School 30
Jack Delaney || jack@number23.co
The BRIT School
Alexa Cruickshank || acruickshank@brit.croydon.sch.uk
NOTES TO EDITORS
The BRIT School
Original, responsible, ambitious and free
The BRIT School is the UK's first and leading free performing and creative arts school for 1,400 young people aged 14 to 19. The School – an exempt charity based in Croydon – invests in the future of the UK's cultural wealth by nurturing young artistic talent from all backgrounds and teaching the skills needed by the rapidly growing creative industries. We believe that young people of all backgrounds should be able to develop their creative talent and craft and make a powerful contribution to society. BRIT stands for the British Record Industry Trust. The BRIT Trust was founded in 1989 and received significant funds following the highly successful concert at Knebworth in 1990. Without the generosity of the record industry and funding from the BRIT Awards, the School would never have been built and its superb facilities would never have been installed.
The BRIT School is committed to providing a broad and balanced education that values the essential knowledge, skills and understanding within National Curriculum subjects as well as offering specialist training in the fields of broadcast media, digital design, community arts, music, technical and performing arts with over 90% of students going into higher education, training or employment on leaving school.
This year The BRIT School turns 30. In that time over 10,000 students have been educated there including, amongst many, Adele, Amy Winehouse, Jessie J, Katie Melua, Leona Lewis, Rex Orange County, Jade Bird, Freya Ridings and Kate Nash. In total, students from the School have been responsible for selling over 160m albums, billions of streams, won 12 BRIT Awards, 19 Grammys, 2 BAFTAS, 2 Oscars, a Laurence Olivier Award, a UK Theatre Award and a London Evening Standard Award. Acclaimed band black midi and artists Georgia, King Krule, Kae Tempest and Loyle Carner have all been nominated for the prestigious Mercury Music Prize. In addition, students including Cush Jumbo (The Good Wife), Ashley Thomas (24: Legacy) and Tom Holland (Spiderman) are among the many who have achieved enormous acclaim on stage and in film.
Dancers from the School are part of many of the world's leading modern dance companies including Akram Khan, Pina Bausch Wuppertal and Matthew Bourne.
We have graduates working at many prestigious organisations including: Apple, BBC, ITV, Warner Music, Sony, Britannia Row, White Light, PRG, Royal Albert Hall, Facebook, TikTok, Ralph Lauren, National Theatre and Sky as well as running their own businesses across the globe.
Cush Jumbo OBE
Cush Jumbo OBE is an actress, writer and alum of The BRIT School where she studied Theatre and took History A Level. She then went on to train on the BA (Hons) Acting course at Central School of Speech and Drama and in 2019 received an OBE for her contribution to drama.
Cush won the Ian Charleson Award for her role as Rosalind in As You Like It (2011) and received a Laurence Olivier Award nomination for her role as Mark Antony in an all-female cast of Julius Caesar (2012) at the Donmar Warehouse. Cush is the author of Josephine and I, a one-woman play about jazz singer Josephine Baker, which premiered at the Bush Theatre, London in 2013. She won an Emerging Talent Award at the London Evening Standard Theatre Awards in November 2013 for her performance and the show was developed for transfer and began previews in 2015 at The Public Theater in New York.
She made her Broadway debut in the autumn of 2014 when she appeared in the transfer of the Royal Court Theatre production of The River by Jez Butterworth, alongside Laura Donnelly and Hugh Jackman. Cush is now very well known for her starring role as attorney Lucca Quinn in the CBS legal drama series The Good Wife (2015–2016) The Good Fight (2017–2021). Recently she has starred on tv in a new thriller, The Beast Must Die (Britbox) and in Channel 4's gripping mini-series Deadwater Fell.
In 2021 Cush will play the title role in Hamlet at the Young Vic in London and star in Netflix thriller Stay Close. Also in 2021 she joined the Board of Trustees of The BRIT School.