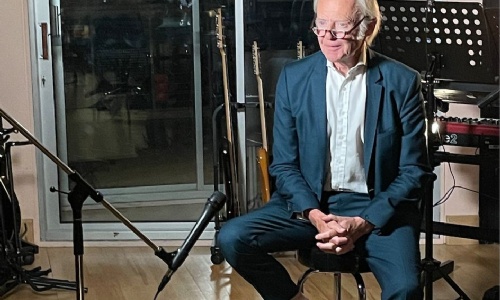 To conclude our 30th Year, we held a Homecoming event at BRIT to welcome back hundreds of our alumni and to raise vital funds for our BRIT Transforms Campaign. Here is a letter from long-standing BRIT Trustee Jonathan Morrish to explain how it all began and what we have to celebrate in the last 30 years.
Dear Alum
On Saturday 23rd July there was a sold-out gathering at Selhurst for nearly 1000 'homecomers' to celebrate the end of BRIT's thirtieth academic year. I am told it was the celebration that the event truly warranted. But, as it's important that as many as possible of the 10,000 alumni mark such an important occasion, I wanted to write you all a letter.
Once BRIT, Always BRIT. And it's you, after all, that have made the School what it is. You are an extraordinary collection of individuals. And this is really a thank you letter to all of you.
You won't know me. My name is Jonathan Morrish and I am a near fifty-year veteran of the UK music industry and therefore one of the more senior of the BRIT School Trustees. I am chair of the PR Committee.
I remember well the discussions back in the eighties when the dream of BRIT (incidentally the school's original working 'name' was London School For Performing Arts and Technology!) first arose. Following what felt like lengthy discussions and negotiations, building work started, as it became a hole in the ground. And, well, here we are all these years on…..
Some hole! Some set of foundations! Because really you filled it in and have done so much of the rest…. You built it and in a way still are…
*********
Memory has it that my first contact with what would become The BRIT School was in 1988 when the trade industry body, the BPI, had their offices in Regent Street.
It was handily placed from Sony Music's headquarters in Soho Square (where I worked), and my major labels' fellow Corporate PR Directors had been summoned by our bosses to discuss the idea, that had been proposed by Richard Branson, (at the time as owner and founder of Virgin Records) that the music industry needed to partner with government and build a unique secondary school.
Little did I know that for me that would be the beginning of a relationship – a love-affair almost! – that continues to this day, 34 years on and counting. It was an adventure where I, and many others, would have to fight, take knocks from government – but, wow, on a personal level I can only say that the pay-back has been, and still is, incredible. You have given me, and I know many Trustees also feel this, as much as we have given you. It's one of the reasons I wanted to write this 'letter' to you all – as a way of thanks as I have said - but, in doing, so I must acknowledge many friends and colleagues along the way.
I need to go back in time a bit. To 1977. Not that it was known as the BRIT Awards that year, but to mark the Queen's Jubilee, the music industry held an awards show called at the time The British Record Industry Britannia Centenary Awards and which is now recognised as the first 'BRIT' Awards show. [In fact, and I believe I am now the only person, but I have been to everyone, all 42 in fact and still going from strength to strength! The show that is!! And more of that later.]
Name change and a few years/shows later, it then needed another new name and, at this point I have to admit that I was the person that argued that 'BRIT' would make for a good one. This was in 1988 and I was a committee member. It had one-syllable punch; a sense of pride and power; a snappy catch-all moniker that had a nod to history with a sort of cultural tail-spin and attitude - and stood for something. Hey, I could almost be writing about what would become BRIT students a few years later! And, of course, little did I know that this would naturally then become the name of a school - a school that I would become so attached to….! And how great does 'Once BRIT, Always BRIT' sound!?
So the year after that first meeting, in 1989, the UK recorded music industry, through the BPI, specifically set up what was logically called the BRIT Trust, a charity to raise and channel funds for the school from the show (Trust mission statement appropriately: 'improving lives through the power of music and the creative arts.'). The BRIT brand family was beginning to grow…. and more of that later as well!
And then, the following year - 1990 - the hugely successful Knebworth Concert (featuring the likes of Eric Clapton, Phil Collins, Dire Straits, Genesis, Elton John, Paul McCartney, Pink Floyd amongst others) really helped raise more crucial funds and it's fair to say that without it, well without them, BRIT would be quite a different place.
And so to 1991 when BRIT officially opened its doors on Wednesday September 11. It was raining, the main building wasn't complete and the Principal, Anne Rumney had to take the first intake of students on a guided tour in her wellington boots. There was local opposition to the school from both residents and other local schools made worse by the negative perception that it was going to be a poor imitation of New York's Fame school.
In addition there was general scepticism about CTCs (City Technology Colleges) but specifically one that was (and a first) setting its stall out as specialising in teaching the performing arts. And finally none of this was helped by the fact that, on a political level, the Prime Minister, Margaret Thatcher, saw no reason to fund a school for 'out of work luvvies'!
So it wasn't a particularly auspicious start to an educational establishment whose now 10,000 plus alumni, that means you, have made such a vital contribution to the UK's culture, society and economy.
And here is just some of it because in fact, it's really impossible to fully quantify and measure. Former students, (who have sold well over 250 million albums and/or streaming equivalent albums) have won 15 BRIT Awards, 19 Grammys, 2 BAFTAs and 2 Oscars; in other areas of the arts and related technology, a Laurence Olivier Award, a UK Theatre Award and 2 London Evening Standard Awards. Stop and think back to Christmas 2021 and consider: this extraordinary establishment produced the talent that was delivering two of the entertainment blockbusters of the holiday period – Adele with her majestic album 30 and Tom Holland starring in the humorous and highly entertaining Spider-Man: No Way Home. All this adding significant weight to the UK's soft power and prestige! And ……all this from Selhurst!!
One of the things that makes me most proud when I talk about the BRIT School is the fact, that in 2021, the Arts Council gave BRIT over £250,000 NOT for its many educational qualities but in recognition of BRIT students' work and contribution to culture….. That is extraordinary. Tell me another school in the country, probably the world, where that has happened.
And it follows that this cultural role, this contribution to the arts by former students - singers, musicians, dancers, performers, actors (at the last recent count there were 49 alum performing nightly in London's West End), technicians, film-makers, designers, games-makers, set-makers, community arts practitioners, DJs, stuntmen, producers, authors and a whole cast more translates into cash, all, as I say, contributing to the wealth of the UK. Pre-pandemic the UK's Creative Industries' sector (it grew over 40% in the last decade and is the overall economy's fastest growing sector) was worth £116bn, accounting for 5.9% of the UK economy.
So, on the subject of finance and money, if there is one reason as to why BRIT is successful then, as the Principal Stuart Worden always says, it is because it is free. It is the most important thing about BRIT. No one pays to come to Selhurst and when arts education is free, everything becomes possible. So it then follows, and it is important to point out, that the School (last year alone there were around 200 productions) will always need outside funding, but that excellence, which starts with you and the staff, helps in attracting companies and businesses to BRIT.
And what is BRIT? Yes, there is the School, you, and the Awards, more of which below, but never forget where it starts - with the BRIT Trust (and remember the mission statement, 'improving lives through the power of music and the creative arts') whose funding is so critical. But then there is BRIT Kids (now online and available to anyone in the country), BRIT Apprenticeship Scheme, BRIT for Business, Classic BRITS and the repository for student work- BRIT Now.
What is BRIT? What has BRIT become in these thirty odd years? A sort of collective family with values and vision and, while others might suggest differently, I'd go for a nurturing, pioneering, supportive spirit….. from kid to career. [Never overlook the fact that on leaving BRIT nearly 100% either go on to higher education or into careers in the creative industries.]
And the BRIT Awards….after which you are named – and for reasons you now know! Well with that spirit it has now become probably the most forward thinking, socially aware, entertainment awards show in the world. There is no other that brings together such talent – and diversity, gender and with a charitable dimension. The 2022 show had more BRIT School students involved in its production than ever before – from artists performing, dancers dancing, presenters, tech support across all areas and not overlooking the 'good-vibes-in-the-pit' which has now become a staple of the Awards and which BRIT delivers in style! There is no other awards show, of any variety, in the world, that has this 'spirit' - which then brings me to the final element.
Mastercard, who have now sponsored the show for the last 24 years in what is now the longest ever music/brand sponsorship have constantly visited the School and recognised and embraced that nurturing, pioneering BRIT spirit. Cultivated by the fabulous alum Gemma Cairney, under the banner called ShoutOut, they, Mastercard, with their agency McCann and Big Group, had the imaginative vision to invite current students to re-interpret the Mastercard brand visually and sonically and then feature that work across the show (in the ad breaks) and across socials. It was an incredible undertaking to greenlight and is proof not just of their long term support of the Awards, and the School, BRIT, but also a very public display of the corporate 'trust' that they placed in BRIT students and their talent, your talent.
*********
The BRIT School has never stood still – the numbers have grown, buildings have been developed or adapted and the strands on offer have been either introduced and/or evolved to meet the changing demands of the creative industries that BRIT was serving. 400 students back in 1991 is now 1,400.
BRIT transforms lives and done so as it has transformed itself. But, in that thirty-year history, it has stayed constant to the Northern Star of its principles and values. What BRIT stands for is to challenge every student to consider his/her/their position at the School and also in society.
Yes, you have been taught facts but at the same time, and you know this and will appreciate it even more as you get older, have been given one of the great gifts. And that is the freedom to allow your minds to expand and express yourselves. As Einstein said, 'education is not the learning of facts but training the mind to think.'
There is no more powerful way of opening minds than through an education of, and engagement with, the arts; to be inquisitive, to be collaborative and to look at how plays, poems, paintings and more, and explore how they can be interpreted and re-interpreted – education, in the timeless way, to promote both an individual sense of justice as well as a broad social one.
Not many schools do that. Not many schools embrace the principles that BRIT does – holding dear to the fact that culture is a 'social' glue, promoting mobility, valuing the individual but sustaining the community at its heart. If there is one reason as to why BRIT is successful then, as I have said, it is because it is free.
Both the BRIT Trust and the BRIT School support the principle that the arts are important both in themselves and as a means to a social end.
Nothing will create a more open, equal society than the arts. They can play a critical part in a child's education and development, stimulating an interest in culture, help provide them, you, with invaluable skills - and lead to future career opportunities. What educationalists sometimes highlight, what BRIT gives you and what, in turn, are guiding principles for careers in and around the creative sector are: passion, curiosity, imagination, critical thinking, persistence. All this is so important and it will always stand you in great stead.
You inspire us. The staff inspires us. We, my fellow Trustees, are quite a mixed bunch. We know we have to be at the top of our game to match your energy and creativity and as we try to match you, and I hope we do, it then becomes a wonderful spiral of excellence that you and your fellow alum have set.
To be a trustee of BRIT is to wear a badge of honour. So thank you.
Jonathan Morrish
BRIT School Trustee, 1991-to present
*********