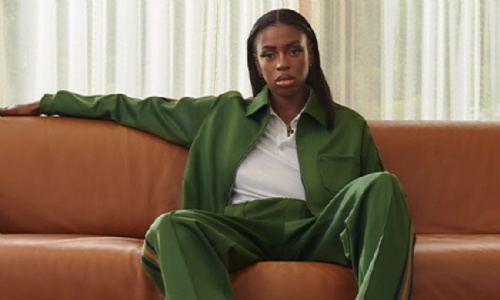 Cat Burns announced as Spotify's latest RADAR Global artist films back at The BRIT School
October 2022
Spotify announced Cat Burns, an emerging, platinum-certified singer-songwriter from South London, as the latest RADAR Global artist.
Hailing from the UK, Spotify's support of Cat Burns continues to grow. In August 2021, Cat was featured in Spotify's Notable songwriters program and in June of 2022, she was tapped as Spotify's UK RADAR Artist. As part of Spotify's marquee global emerging artist program, Cat Burns sat down for a special Spotify Singles session where she reworked a stripped back version of her current single "people pleaser" and recorded a cover of fellow Londoner Estelle's hit Grammy Award winning single, "American Boy".
Cat has been announced to support Sam Smith on the European Leg of their highly-anticipated 2023 GLORIA tour before reuniting with Ed Sheeran once more for his hotly-tipped 2023 US run of shows. Cat returned to the Sir George Martin Recording Studio located in the centre of The BRIT School, Croydon to record the single in the space where current students and global artists have created work.
Additionally, Cat Burns will be featured on the RADAR Global playlist as well as release special content on Spotify, including a mini-documentary and social content. In the mini-doc, Cat brought Spotify to the BRIT School where she spent her formative years crafting her musicianship and becoming the artist she is today. You can watch the mini-doc under embargo here.
Stuart Worden, Principal of The BRIT School said: "Cat is the real deal. Authentic, open, hard working, talented. A real BRIT School example. We're so proud of her."
Cat shared: "Being given the opportunity to do the Spotify Radar documentary was honestly so much fun. I felt so lucky and honoured that they wanted me and was excited to take a trip down memory lane. Everyone on the Spotify team and crew were so so lovely I really enjoyed filming! It helped me really put into perspective my career and what I've achieved and how hard I've worked. The process was so smooth and calm and I just felt at ease."
Cat Burns joins artists including The Kid LAROI, Nathy Peluso, Boza, Griff, and more than 500 others who have joined the program since its inception in 2020.
See the mini-documentary here: