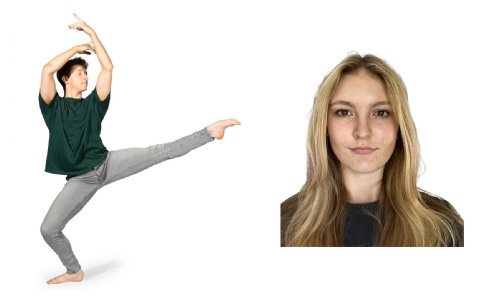 THE BRIT SCHOOL ANNOUNCE THE WINNERS OF THE 2023 ROYAL BANK OF CANADA (RBC) EMERGING ARTISTS PRIZE
In partnership with RBC's Emerging Artists Programme, The BRIT School announce that two talented Year 13 students have won the RBC Emerging Artists Prize.
The Prize is part of a partnership programme with RBC that supports a number of projects created by BRIT School's Final Year students as they prepare for the next stage of their creative journey. The BRIT School transforms the lives of young people who want creativity as part of their future. We encourage and nurture creative thinkers to have the confidence and skills for whatever route they wish to take in their lives and the Prize enables the recipients to continue to emerge as artists as they leave BRIT.
The 2023 Emerging Artists Prize has been awarded by a panel of judges including BRIT Principal Stuart Worden, BRIT Alumni Caleb Roberts (currently performing as Ike Turner in 'Tina: The Tina Turner Musical' the West End), and RBC's Senior Art Curator Corrie Jackson.
The two winning final year students (one from a Creative Arts Course, one from a Performing Arts Course) will each receive £2,000 enabling them to purchase much-needed kit and equipment for their onward journey as artists.
The winner of the Creative Arts prize is Lily Harrison, a Year 13 Visual Arts & Design/Fashion, Styling and Textiles student who said:
"I feel completely honoured not only to have been picked by the panel of judges from amongst such a talented pool of creatives/artists for this award but to have been part of The BRIT School. It is the most amazing way to finish my time at the School. A massive thank you to The School and RBC who have given me the opportunity to explore Fashion in ways I could only have dreamt of before I joined you. This award will not only help, assist and support me to continue with my future studies in Fashion and building my own brand but also gives me confidence and belief in my abilities."
The winner of the Performing Arts prize Max McIlvenny Year 13 Dance Student who said:
"I am honoured to be selected for this year's RBC Emerging Artist award winner. I would like to say a thank you to the panel for seeing my potential in doing what I love. Making my final memories of being a student at The BRIT School even more amazing. The honour of being recognised as a choreographer and dance artist is what I have strived to achieve during my time at BRIT.
I am grateful to the RBC for the prize of giving me the financial platform to access training programmes to enhance my artistry, which were out of my reach before being awarded with this prize. BRIT has given me the freedom to develop and showcase my works multiple times. The professional dance training, mentorship and unwavering support on a personal level and as a dancer has led me to create and move with no limitations. BRIT will always be core to who I am, I am proud to be able to call myself BRIT alumni #AlwaysBRIT"
Stuart Worden, Principal of The BRIT School, said:
"The RBC Emerging Artist at the BRIT School is a big deal for us. It's a life changer for the students. This year two superb artists have been awarded the prize. Both have studied at the school for 4 years and show our values of originality and ambition in equal measure.
Max is a brave artist. Dedicated to his art form of dance for many years he has worked and worked to perfect and develop his technique whilst developing his own dance language as an exciting and inspiring choreographer. His piece of ensemble contemporary dance that explores body image was both exciting and profoundly moving. He also designed the lights and costume with real flair.
Lily is extraordinary. The effort she goes to in order to push herself as designer and creative artist of costume, fashion and textile is profound. She will literally spend hours and hours working on her designs. And it shows. Her work could be made tomorrow and it would excite any catwalk. She, like Max, is also so good natured, gentle with her talent and is an exciting artist.
Max is the first Dancer to win the award. Lilly is the first Visual Artist to win the award.
This not only shows the wide range of talent at the school, it also shows RBC's deep and meaningful commitment to the talent pipeline which will keep this country and the world vibrant and exciting."
Corrie Jackson, RBC Senior Art Curator added:
"It was a true pleasure to see the talent, creativity and ingenuity coming from The BRIT School. The range and breadth of exceptional work brought forward reflects the student commitment to elevating their respective fields, and allowing the arts to be the central catalyst of experimentation and new perspectives. RBC's commitment to supporting emerging artists is anchored in the value these perspectives contribute to dynamic and robust communities and economies. Our sincere congratulations to Max, Lily, and all the students nominated by their faculty, we look forward to following your careers."
Caleb Roberts said:
"It was a pleasure and honour to be asked to be on the panel for this year's Emerging Artists Award. I am always amazed when being presented with Talent at BRIT. BRIT students are truly some of the most talented people around. All 10 nominees had a maturity and detail to their work and all 10 nominees have a very bright future. Max and Lily's portfolios were exceptional and years ahead of their time. Congratulations. I can't wait to see what the future has in store for you both!"