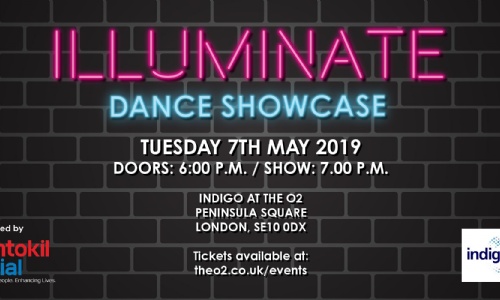 Rentokil Initial supporting Illuminate Dance Showcase to Indigo at The O2 on 7th May
Rentokil Initial plc today announces that it is supporting The BRIT School, the UK's leading school for performing and creative arts, as part of its commitment to support charities through its Rentokil Initial Cares programme.
The BRIT School provides a unique free education for more than 1,350 pupils from a range of backgrounds, aspirations and academic abilities. Notable alumni include Adele, Katy B, Jessie J, Loyle Carner and Kate Nash.
As part of its support, Rentokil Initial is sponsoring The BRIT School's annual dance showcase – which takes place at The O2, one of London's most iconic venues.
Illuminate is a high-energy showcase with students demonstrating their artistry and skill in various dance disciplines including Contemporary, Ballet, Tap, Jazz and Musical Theatre. There will be 25 performances from 150 students, in front of an audience of over 1,000 people. It will also include three new choreographic works where The BRIT School's dance alumni professionals have mentored four current year 13s to develop their creative work.
Over the last 12 months, Rentokil Initial has also brought its commercial expertise to The BRIT School with several senior managers working with the school to provide practical help and guidance in areas including project management, training and development, marketing and business transformation.
Andy Ransom, Chief Executive of Rentokil Initial plc, said:
"Rentokil Initial is proud to be supporting The BRIT School to help nurture the next generation of British creative and performing artists. It is incredibly rewarding to offer our collective expertise to help the school - particularly given its charitable status - as well as financial support for initiatives such as the brilliant Illuminate dance showcase."
David Carter, Chairman of The BRIT School, said:
"As a young performer there can be nothing more inspiring than performing at an iconic venue like The O2. We are incredibly grateful for Rentokil Initial's support for Illuminate and for their ongoing counsel. The advice which has been so generously given has been so clear and relevant with practical benefits."
Illuminate – The BRIT School's Dance Showcase will take place at Indigo at The O2 on 7 May.
For more information visit: https://www.theo2.co.uk/events/detail/brit-school-dance-showcase
ENDS
Notes
About Rentokil Initial plc
Rentokil Initial (FTSE100) is one of the largest business services companies in the world, operating in 75 countries. The Company is the global leader in Pest Control and Hygiene services, operating these and other route-based businesses through teams of local experts.
For further information, please visit www.rentokil-initial.com
About The BRIT School
The BRIT School is the UK's leading non-fee paying performing arts and technology school providing a unique free education for over 1,350 pupils aged between 14 and 19, from a wide range of backgrounds, aspirations and academic abilities. Students specialise in Film and Media Production, Applied Theatre, Dance, Interactive Digital Design, Music, Musical Theatre, Production Arts, Theatre or Visual Arts and Design, alongside the teaching of National Curriculum subjects at both GCSE and AS/A2 Level and BTEC vocational qualifications. Students can start either in Year 10 (aged 14) or Year 12 (aged 16). Notable alumni include Adele, Katy B, Loyle Carner, Imogen Heap, Tom Holland, Jessie J and Kate Nash.
For further information please contact:
Malcolm Padley
Rentokil Initial plc
07788 978 199