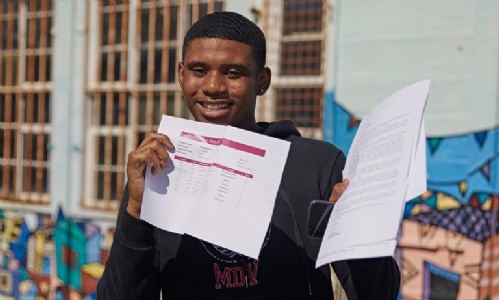 It has been a great exam season for The BRIT School. Congratulations to our Year 11 students who have received strong vocational and GCSE results today. After so many changes in qualifications, curriculum and how students are graded, we are delighted that BRIT School students can achieve so highly in all subjects. The BRIT School is continuing to narrow the attainment gap between disadvantaged and non- disadvantaged students and their GCSE grades.
40.3% of all entries are at 9-7 grades or the equivalent
91% of students achieved a grade 4 or above in GCSE English
77% of students achieved a grade 4 or above in GCSE Mathematics
We are very pleased that our results in Modern Foreign Languages and History are continuing to improve.
Our vocational results are again outstanding. 51% of our Tech Award students gaining a Distinction or Distinction *. We are however disappointed that Pearson's made the decision after the marking and moderation was completed to alter the grade boundaries for the Tech Award. This has led to a number of students being disappointed today and we have voiced our concerns about the way the awarding body made these significant changes without notification.
"We have always believed that regardless of their backgrounds and social circumstances our students can achieve and do amazing things. These results again prove that."

Stuart Worden, Principal
97% OF STUDENTS OVER LAST FIVE YEARS HAVE EITHER GONE ON TO FULL TIME EMPLOYMENT AND/OR HIGHER EDUCATION