About James
Having studied music and drama at University, and musical theatre at GSA, James has worked for many years as both an actor and a musical director, in the West end and on national and international tours. As a composer he has worked in regional and West End theatre, BBC radio and television
As a songwriter he has produced numerous commissions for one of the country's largest Dance class companies.
As well as having an established private practise in central London, James has been a voice teacher at The BRIT School for over ten years, specialising in Musical Theatre.
He draws on his experience, both in the profession, and as a permanent tutor at Guildford School of Acting, to help students who are hoping to proceed to vocational training.
His lessons ensure all students have a solid grounding in their singing technique, working on a variety of musical theatre repertoire appropriate for auditioning and performance.
Although Musical Theatre is James' speciality, pop music and jazz are other styles that are often explored.
Alongside his work as a voice teacher, James has over twenty years experience as a qualified piano teacher. Having worked as a consultant and composer for ABRSM, he offers lessons for pupils at all piano grades, preparing students for entry at exam centres, or submitting recordings for the digital exam which is now available.

James will cater to all capabilities. Where some may want to learn the basics from the beginning, others with exam experience may want to continue their achievements and progress to the next grade, and others still who play with skill by ear, may be looking to improve their improvisation or composition skills, or general playing skills in jazz, pop or whichever musical style appeals.
All can be accommodated. and he has a wealth of repertoire in which to engage and ensure progress.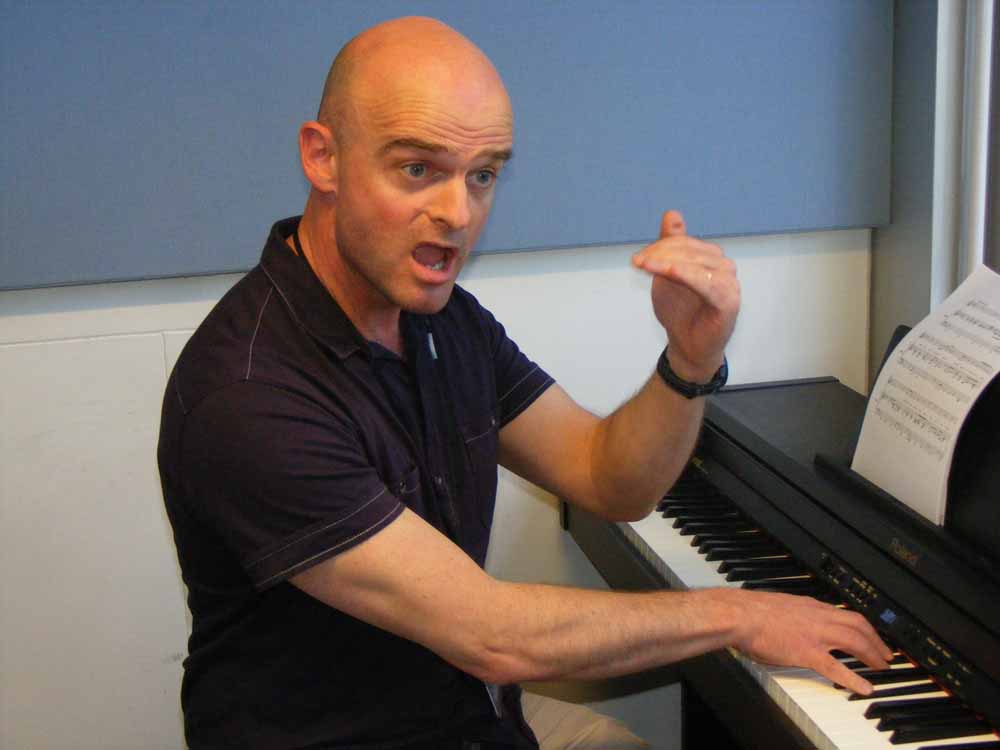 Course Content - Voice
Exercises
A series of exercises, introduced and tailored to each student every week, that
Improve posture and vocal set-up
Develop a sound breathing technique
Improve production of tone, strengthening resonance, as well implementing the use of twang and other voice effects
Extend the vocal range, working in each register and improving the transition between these areas ( passagio )
Repertoire
Introduce each student to a wide range of Musical Theatre Repertoire*, to put into practice the techniques developed in the vocal exercises.
Help students prepare for auditions at Vocational Institutions, by
Choosing appropriate and contrasting material
Ensuring the requirements are met, with regard to song length and adapted sheet music provided.
Coaching in performance (acting through song)
Enter students for LCM Musical Theatre Singing Examination (Grades 5-8 & Diploma level)
A way of validating an individual's progress throughout each year (examination taking place at the end of Term Four)
Course Content - Piano
After an initial appraisal of the individual student, courses can consist of the following:
A 10 step beginner's course in piano, with introduction to music theory.
Tutoring based around the exam structure of the ABRSM or Trinity Syllabus's, for those looking to take a graded exam
Improvisation and composition skills, taught either through notation or by ear, depending on the pupil's experience and preference.
Useful Links