The Key Stage 4 Study Programme is made up of three parts:
25 HOURS PER WEEK

with Tutor Time = 29 hours per week
1. Strand
This is the specialist creative area you have chosen to study at The BRIT School. Five hours a week is dedicated to the Strand time and there are additional activities, rehearsals, workshops, events and performances that make up the unique BRIT educational experience.
Strand Subjects at KS4, equivalent to one GCSE.
Film & Media Production
Dance
Interactive Digital Design
Music
Musical Theatre
Theatre
Visual Arts & Design
2. Core Curriculum
Core

Curriculum

English Language (1 GCSE)

English Literature (1 GCSE)

Mathematics

(1 GCSE)

Combined Science
(2 GCSEs)

Personal Professional Development - PPD

(not examined)
English Mission Statement:
The BRIT School English department aims to equip all students with the tools to become proficient writers and critics of English language and literature, promoting both a sense of confidence and pleasure in the subject, regardless of their background or previous experience of the subject. Students will be challenged to develop both their levels oracy and literacy, as they become more technically and critically aware of language, engaging with higher level concepts such as feminism, Marxism and ecocriticism. The department also aims to expose students to an inclusive, diverse and exciting range of writers and texts, expanding their knowledge of other cultures and traditions, as well as enhancing their social and political awareness. Their study of English will complement their Strand studies, encouraging them to present and sequence both verbal and written ideas appropriately for different audiences and forms, as well as preparing them for their future careers in the creative industries and/or higher education.
Reading Lists for Years 10, 11 and Post 16
English Language
GCSE English Language
GCSE English language provides the following range of experiences:
Spoken Language opportunities.
Reading, covering prose, poetry and drama texts, including a Shakespeare play and works from the English literary heritage; with a focus on Nineteenth Century texts.
Writing, in which students engage with a variety of forms and genres, including analysis, reviews and commentaries
Furthermore, students are asked to draw upon the range of texts as reading stimulus and to engage with creative as well as real and relevant contexts. Students are given opportunities to develop higher-order reading and critical thinking skills that encourage genuine enquiry into different topics and themes.
Through the work which is done in classes, students will be able to demonstrate a confident control of Standard English and write grammatically correct sentences, deploying figurative language and analysing texts.
For GCSE English Language students should:
read fluently, and with good understanding, a wide range of texts from the 19th, 20th and 21st centuries, including literature and literary non-fiction as well as other writing such as reviews and journalism
read and evaluate texts critically and make comparisons between texts
summarise and synthesise information or ideas from texts
use knowledge gained from wide reading to inform and improve their own writing
write effectively and coherently using Standard English appropriately
use grammar correctly and punctuate and spell accurately
acquire and apply a wide vocabulary, alongside a knowledge and understanding of grammatical terminology, and linguistic conventions for reading, writing and spoken language
listen to and understand spoken language and use spoken Standard English effectively.
Read our English Curriculum Map here.
English Literature
GCSE English Literature
This course encourages students to:
Explore their literary interests and reading skills
Understand and respond to a wide range of literary texts
Appreciate the ways, in which authors achieve their effects
Develop the skills necessary for literary study
The following texts are studied:
My Name is Leon by Kit de Waal
Macbeth by Shakespeare
The Strange Case of Dr Jekyll and Mr Hyde by Stevenson
GCSE English Literature Past and Present Poetry Anthology (The Power and Conflict Unit)
In addition, students develop their awareness of social, historical and cultural contexts and influences in the study of literature, as well as their ability to construct and convey meaning in speech and writing, matching style to audience and purpose.
A skills-based approach to the study of English literature is taken in the study of GCSE English Literature. This approach is consistent across the genres. The question papers and mark schemes allow students to get back to inspirational literature exploration and study. This approach allows students of all abilities to achieve their best on every question.
The GCSE English Literature course offers excellent preparation for AS and A-level English Literature, as well as provides students with a grounding in a wide variety of literature that will stay with them for life.
Reading Lists for Years 10, 11 and Post 16
Read our English Curriculum Map here.
Mathematics
The Mathematics department at BRIT strives for excellence so that the students achieve the highest GCSE grades whilst understanding mathematics in context of their BRIT strand and the wider world. We believe that mathematics is a creative subject that supports individuals academic achievements and prepares them for their vocational ambitions. Our student's enjoyment of Mathematics at BRIT is of paramount importance to their success. We understand the nuances of a creative BRIT student and dovetail every lesson to the individual's needs and aspirations.
Our highly skilled maths teachers support the BRIT students at every stage, however, we motivate them to think for themselves to become independent learners and develop their own problem-solving skills. We encourage all learners to have a very clear understanding of their own thinking and abilities and we use a variety of metacognition strategies to support this.
The average class size in the maths department is 17, with those who need extra support in classes as low as 6. We currently have 70% of students working towards the higher tier GCSE exam, with approximately 10% of students looking to achieve an additional qualification, Further Maths, to stretch the most able and prepare them for the potential to undertake Maths A level in Year 12. We work very closely with the BRIT's AEN department to support students at all levels.
Although BRIT is a specialist performing arts school, we do not believe that having a creative talent is an exclusive skill and our mission is for all students to love maths and aspire to be ambitious in their academic studies.
BRIT Curriculum
Year 10 Maths Curriculum Map link here.
Year 11 Maths Curriculum Map Link here.
The BRIT school GCSE curriculum works towards the AQA examination. This qualification is for those in KS4 and those students who are resitting their GCSE examinations in Year 12/13. Students must achieve a Level 4, pass, or higher, or they will be asked to retake their GCSE in Year 12.
In discussion with the learner, their parents/carers and their teacher, students will be entered for either the Foundation or Higher tier paper. In 2017, the examintion boards changed the grade denominations from letters, ABC etc… to numbers to allow for a higher level of maths to be taught at GCSE level to warrant a level 8 or 9 grade. A comparison of the two tiers can be seen below.a
We complete teaching the content of the AQA curriculum at the end of Term 2 (Christmas) in Year 11. This gives all students the opportunity to spend their time between their mock exams in January and their final exams in May to focus on bespoke learning plans, revision techniques and exam practice.
GCSE Assessment
Each GCSE student will take three, 90 minute examinations as set out below, as part of their final assessment. Students will be assessed throughout their time at BRIT with formal mock exams in Year 10 and 11 so students are extremely well prepared.
| | | | | | | |
| --- | --- | --- | --- | --- | --- | --- |
| Maths | Higher/Foundation | Paper 1 | 90 mins* | Non-Calculator | Written Exam | 33.33% |
| | Higher/Foundation | Paper 2 | 90 mins* | Calculator | Written Exam | 33.33% |
| | Higher/Foundation | Paper 3 | 90 mins* | Calculator | Written Exam | 33.33% |
*Access arrangements, incl extra time, for students will be identified and managed by our AEN department.
Grade descriptors can be found here
Resources
We use maths online websites and applications to help students learn in a variety of ways. These resources are used in lessons, as part of independent learning and have been extremely popular during home learning.
The BRIT school subscribes to the following sites.
MyMaths - www.mymaths.co.uk
Providing complete curriculum coverage from Key Stage 1 to A Level, MyMaths offers interactive lessons, "booster packs" for revision, and assignable homeworks and worksheets, along with a wealth of resources that will help you deliver your teaching in the classroom and at home to develop your students' confidence and fluency in maths.
Kerboodle - www.kerboodle.com
Kerboodle is an online version of the textbook we use which can be accessed remotely. Each topic has links to further resources.
GCSE Maths Past Papers
Past papers can be accessed through Maths Genie: https://www.mathsgenie.co.uk/AQApapers.html
Other useful resources:
https://www.jaggersmaths.co.uk/
Maths Tutor: https://www.youtube.com/channel/UCStPzCGyt5tlwdpDXffobxA
BRIT is a PiXL school, Partners in Excellence, which means we are part of a national network of more than 1500 secondary schools. Within this group, training opportunities and conferences are offered and school leaders collaborate to share resources. This supports BRIT to constantly review their maths department and to stay aware of current practises.
Science
Combined Science
Course description
At KS4 all BRIT students study AQA GCSE Combined Science - Trilogy 8464. a double award, equal to two GCSE's. This qualification is linear so students sit all their exams at the end of the 2 year course.
The GCSE in Combined Science should enable students to:
develop scientific knowledge and conceptual understanding through the specific disciplines of biology, chemistry and physics
develop understanding of the nature, processes and methods of science, through different types of scientific enquiries that help them to answer scientific questions about the world around them
develop and learn to apply observational, practical, modeling, enquiry and problem solving skills in the laboratory, in the field and in other learning environments
develop their ability to evaluate claims based on science through critical analysis of the methodology, evidence and conclusions, both qualitatively and quantitatively.
Assessment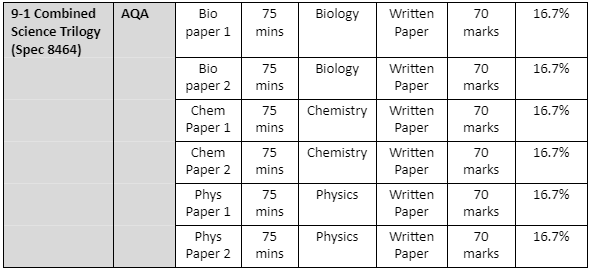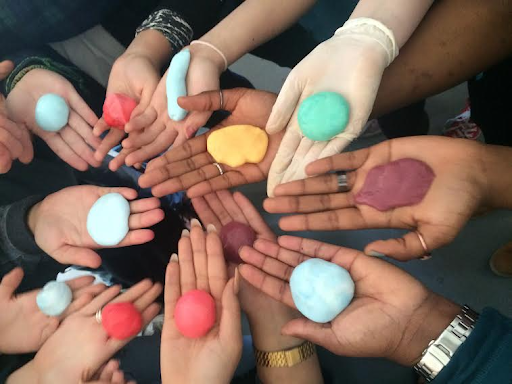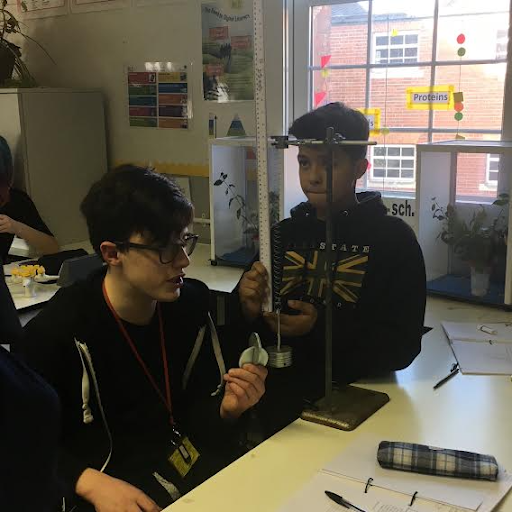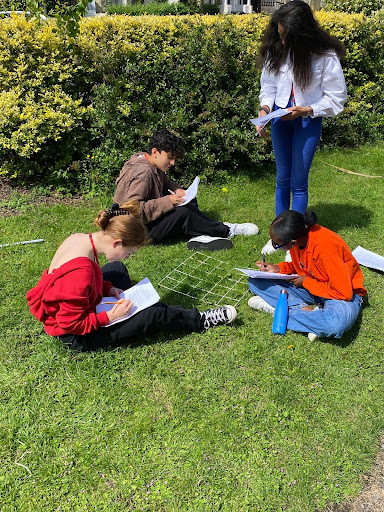 Read our Core Science Curriculum Map here.
Separate Sciences
Course description
Students selecting to study Separate Sciences as an option will achieve a triple award (x 3 GCSEs). Separate Science students cover the entire combined science content with an an additional 3 hours each week exclusively covering extra topics from all three science disciplines which provides them with the extra content that constitutes x 3 GCSEs in Biology, Chemistry and Physics. This qualification is linear, so students sit all their exams at the end of the two year course.
The three GCSE Science qualifications enable students to:
develop scientific knowledge and conceptual understanding through the specific disciplines of biology, chemistry and physics
develop understanding of the nature, processes and methods of science, through different types of scientific enquiries that help them to answer scientific questions about the world around them
develop and learn to apply observational, practical, modelling, enquiry and problem solving skills in the laboratory, in the field and in other learning environments
develop their ability to evaluate claims based on science through critical analysis
Assessment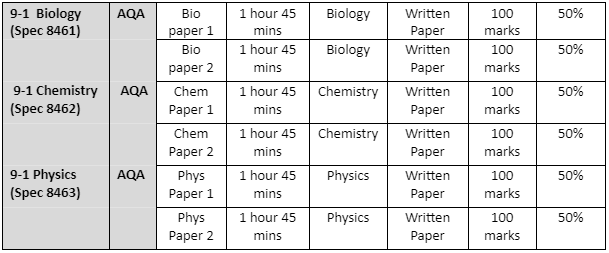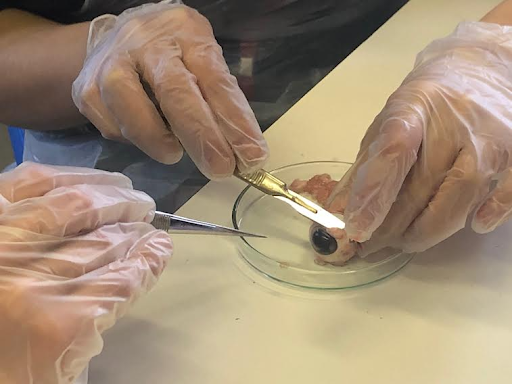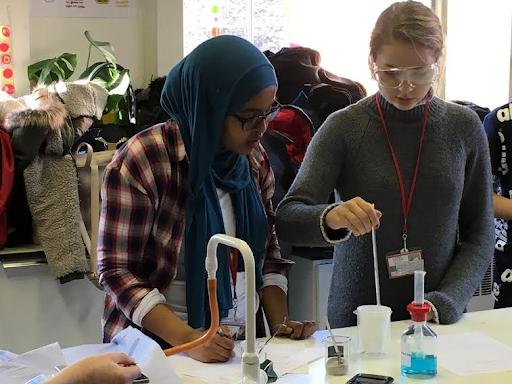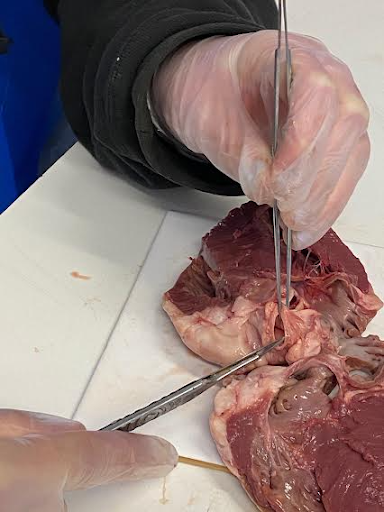 Read our Separate Science Curriculum Map here.
You can download a list of student text books, revision guides and workbooks here.
Online resources:
Cognito - tutorials, quizzes and exam questions topic specific or whole papers
Doddlelearn - quizzes / presentations / interactive activities; used for class and homework
Free science lessons - tutorials for all science qualifications
Kerboodle - student ebooks for all courses at GCSE and AS Level
Padlet.com - web papers with topic specific questions covering GCSE Science
Seneca learning - quizzes, exam style questions
The BRIT School is committed to providing a broad and balanced education that values the essential knowledge, skills and understanding within National Curriculum subjects.
3. Options
You select one preference in each of the three GCSE Option Blocks to complete your study programme at The BRIT School.
Please click here for the a full reading list for all options.
We currently offer the following:
| Block A | Block B | Block C |
| --- | --- | --- |
| Subject | Subject | Subject |
| Dance | Art & Design | Dance |
| Drama | Film | Drama |
| Film | French | History |
| History | History | Music |
| Graphic Design (Technical Award) | Photography | Separate Science |
| Sociology | Textiles | Sociology |
| Spanish | Sociology | Spanish |
| Business | | Business |
| Music Tech (Technical Award) | | |
Art and Design
*Please note that VAD strand students cannot apply for this option.
The Art and Design GCSE is a rigorous, broad based program of study that provides students with an exciting and wide experience of learning within a variety of mediums. Students are encouraged to develop their knowledge and understanding of the core skills. All project work is built around students creating independence and confidence.
Students are expected to be open minded and positive in their approach to making, challenging themselves through experimentation and dedicated commitment. All work will be assessed around four major areas: research, contextual analysis, experimentation and presenting a personal response.
Students experience a wide variety of materials & disciplines from paint, print, Graphics, 3-D, Photography and textiles. All students will develop their ability to draw and initiate projects through first-hand experiences. Students must research artists and use art history to extend their knowledge and understanding in order to support their own creative practice.
It is essential that students keep a sketchbook to document: ideas, drawings, experiences, photographs, collections, annotations and experimentations. These sketchbooks are a fundamental part of a student's portfolio work for the course. It is expected that students complete a sketchbook for each project they undertake
Students will have the opportunity to exhibit their own work with other students within Visual Art & Design and are expected to be committed with their time to homework each week. It is expected that students will spend approximately 3 hours per week on additional coursework.
Students applying for GCSE Art & Design should have experience in developing their drawing skills.
Business
GCSE Business is a comprehensive and relevant qualification that supports the pathways and future aspirations for many BRIT students. This course covers a wide variety of topics and underpins knowledge and expertise for those who become self-employed, start their own business or for students who have a thirst to understand more about the world around them.
The course content covers:
Business in the real world
Influences on business
Business Operations
Human Resources
Marketing
Finance
GCSE Business is assessed by two, 1 hour and 45 minute exams, which include shorter multiple choice questions and longer case studies where students have to analyse and evidence their answers.

Dance
*Please note that Dance strand students cannot apply for this option.
GCSE Dance offers students the chance to develop skills in performing, choreographing and appreciating a range of dance styles and broaden their understanding of this unique art form. Created and performed by outstanding international choreographers and dancers working in the UK, six professional works have been chosen for GCSE Dance to help develop students understanding of the dance and performing arts industry and to inspire their work.
Students learn challenging set movement phrases that will test their physical, expressive and technical skills as a soloist. They develop the skills needed to convey choreographic intent to an audience through performing in a duet or trio, which explores a range of different dance relationships.
Students create their own complete dance based on a chosen stimulus and learn the artistic skills needed to make successful choreography. Students select the number of dancers, aural setting (e.g., music) and develop original work that communicates to an audience. Students demonstrate the knowledge understanding and appreciation of performance, choreography and the professional dance works studied throughout the course.
Students must be committed to physically performing Contemporary Dance styles.
Drama
*Please note that Theatre strand students cannot apply for this option.
Over two years students explore and develop an understanding of theatre and drama techniques. The course offers a range of experiences including exciting and challenging opportunity to work collaboratively with others to explore a range of stimuli in order to create original performance pieces. Students will develop skills in group work, research and negotiation, while also developing creativity, performance and design skills. Students will consider the impact that they can make on an audience, as they develop the ideas that they want to communicate.
Students will demonstrate and use a wide range of acting and/or design skills to communicate their interpretation in performance. As theatre makers, students will be develop their knowledge and understanding of the ways in which drama can create meaning for an audience through performance.
Students will explore practically how a complete performance text might be interpreted and realised from 'page to stage'. This exploration will give students an insight into how texts may be brought to life for an audience and the creative roles within this process.
Students will also analyse and evaluate their experience of a live theatre performance as informed members of the audience. They will develop skills to recognise the meaning created in the theatre space in order to communicate ideas to an audience.
Film Studies
*Please note that FMP strand students cannot apply for this option
Film is an important part of many people's lives. Those who choose to study it characteristically bring with them a huge enthusiasm and excitement for film which constantly motivates them in their studies. The GCSE Film Studies is designed to draw on students' enthusiasm for film and introduce them to a wide variety of cinematic experiences through films which have been important in the development of film and film technology. Learners will develop their knowledge of US mainstream film by studying one film from the 1950s and one film from the later 70s and 80s, thus looking at two stages in Hollywood's development. In addition, they will be studying more recent films – a US independent film as well as films from Europe, including the UK, South Africa and Australia.
Production is an important part of this specification and is integral to learners' study of film. Studying a diverse range of films from several different contexts is designed to give learners the opportunity to apply their knowledge and understanding of how films are constructed to their own filmmaking. This is intended to support learners in producing creative films as well as enable their production work to provide an informed filmmaker's perspective on their own study of film. The academic study of film is now well established and the frameworks for its study are broadly similar whether at GCSE, AS, A level or at higher education institutions.
French / Spanish
Year 10 students can opt to study a full GCSE course in either French or Spanish.
Students will have the opportunity to consolidate their previous learning and extend their knowledge of their opted language to a GCSE level.
The 2 year course in French or Spanish is very engaging and motivating; it covers a variety of topics including family and culture, hobbies, interests, festivals, town and holidays, school and work ambitions as well as international events and environmental issues.
Grammar is also extensively covered in lessons where different tenses and various grammatical items are explained and adopted to help students achieve a high level of accuracy and confidence in their productive writing and speaking skills.
Students are assessed by the Edexcel exam board, at the end of year 11 in their 4 skills; Listening, Speaking, Reading and Writing. Each component has a value of 25% towards their final GCSE grade.
Our Students are supported with great lesson and revision resources accessible at all times and are also given access to 3 digital language sites to help complete their homework and /or practise independently to help develop their language skills and achieve their full potential.
Read our Modern Foreign Languages Map here
Graphic Design (Tech Award)
*Please note that IDD strand students cannot apply for this option.
Graphic design is a form of visual communication. It is the process by which visual information is given form and structure to communicate a message. Being a graphic designer is the profession of visual communication that combines images, words and ideas to convey information to an audience. It involves designing print or electronic forms of visual information for advertisement, publication or a website.
Graphic design should not be confused with art and design or product design. It is distinct from these subjects and should be treated as so. This qualification focuses on an applied study of the graphic design sector and learners will gain a broad understanding and knowledge of working in the sector.
Students studying this course will learn the principles of good design and apply these skills using professional Adobe design software. They will study units in digital design creating products that follow current industry trends; this work will be showcased in an online digital portfolio. It is also ideal for anyone else who really enjoys creating visuals on a computer.
Students need to have a level of competence in computing skills for this course.
History
History develops students critical thinking and analysis skills through Key Historical and concepts and perspectives, thereby enhancing BRIT students understanding of wider political, social and economic themes. These skills, such as independent research, empathy and critical analysis, are transferable to Creative and Performing Arts at BRIT and can be applied within the context of Performing and Creative Arts industries. We create an environment in which challenging and controversial subjects can be explored with empathy, sympathy and objectively, enabling students to form their own judgements.
This qualification is linear. GCSE History students must take assessments in both of the following papers in the same series:
Paper 1: Understanding the modern world
America, 1920–1973: Opportunity and inequality
This period study focuses on the development of the USA during a turbulent half century of change. It was a period of opportunity and inequality – when some Americans lived the 'American Dream' whilst others grappled with the nightmare of poverty, discrimination and prejudice.
Conflict and tension in Asia, 1950–1975
This wider world depth study enables students to understand the complex and diverse interests of different states and individuals and the ideologies they represented. It considers the role of nationalist movements in causing and sustaining conflict. It focuses on the causes and events of the Cold War in Asia and seeks to show how and why conflict occurred and why it proved difficult to resolve the tensions.
Paper 2: Shaping the nation
Migration, empires and the people: c790 to the present day
This thematic study will enable students to gain an understanding of how the identity of the people of Britain has been shaped by their interaction with the wider world. It will consider invasions and conquests. It will also study the country's relationship with Europe and the wider world. It will consider the ebb and flow of peoples into and out of Britain and evaluate their motives and achievements. It considers the causes, impact and legacy of Empire upon the ruled and the ruling in the context of Britain's acquisition and retreat from Empire.
Restoration England, 1660–1685
This option allows students to study in depth the restoration of the monarchy. The study will focus on the major aspects of Charles II's reign considered from economic, religious, political, social and cultural standpoints of this period and arising contemporary and historical controversies.
Websites that we use to aid independent learning;
GCSE Pod;
https://members.gcsepod.com/teachers/dashboard
Kerboodle;
https://www.kerboodle.com/app/courses/46789
Quizlet
Read our History Curriculum Map here
Music
*Please note that Music strand students cannot apply for this option.
This course offers students the opportunity to develop their musical skills not just as a performer, but also as a composer and as a rounded musician to appreciate and understand a large variety of musical styles and genres. An integrated approach highlights the importance of the relationship between composer, performer and audience.
The specification has three units based on the three skills of performing, composing and appraising. Students are required to perform and compose music using conventions, styles or idioms linked to at least one area of study and will also have the opportunity to follow their own musical interests in composition and performance.
Students develop knowledge and understanding of music through four interrelated areas of study:
1: Musical Forms and Devices
2: Music for Ensemble 3: Film Music
4: Popular Music.
Students must be able to perform to a high level on at least one instrument and have an understanding of Music theory.
Photography (Art and Design)
The Photography GCSE is an extremely focused course that provides students with a broad understanding of lens-based mediums. Students will experience using film, video, digital imaging, and analogue photography and developing processes. Students have the opportunity to develop work across the following areas in order to create a portfolio of coursework: Studio photography, location photography, experimental imagery, Installation, moving image, film, video and animation. Students are expected to be open minded, to work with the professionalism and develop a level of confidence that enables them to take photographs independently outside of the school environment.
Students will be expected to create a personal portfolio for the coursework. This consists of practical work, experiments, research and development, which will be relevant to a chosen theme(s), project(s) or task(s). This portfolio will be assessed and will be worth 60% of the final grade.
Students will be expected to conduct photo shoots outside of school hours as homework and develop sketchbook and blogs to support the progress of their project. All students will be expected to annotate their work on a regular basis and engage with critical and contextual language and illustrate their ideas through rudimental drawing techniques.
We encourage students to acquire their own equipment, however this is not an essential requirement. Student will be able to hire equipment when necessary.
Sociology
Sociology GCSE Option
Students follow a two-year course in Sociology, the study of British society. The main aim of the course is to increase students' knowledge and understanding of the social world, in which they live.
They study the following modules in Year 10:
'Sociological Approach' and 'Research Methods' – in these units students learn about the main concepts of the subject, the views and findings of key sociologists and evaluate the types of sociological research;
'The Family' – in this unit students learn about the diverse forms of family life in Britain; how and why the family has changed, and how far there is now equality in the home.
'Education' - in this unit students learn about the role of schools, factors that affect achievement and how Government policies have sought to raise achievement.
They study the following modules in Year 11:
'Crime and Deviance' - in this unit students learn about criminal and deviant behaviour and the justice system, explanations for crime and deviance and the key factors that different sociologists believe affect whether someone becomes deviant or criminal.
'Social Stratification' - gaining an understanding of the social class system and inequality, poverty and factors that affect a person's life chances, political power and power relationships.
Assessment of GCSE Sociology – TWO papers at the end of Year 11
Written paper 1 – Family and Education - 1 hour 45 minutes
Written paper 2 – Crime and Deviance and Social Stratification - 1 hour 45 minutes
Read our Sociology Curriculum Map here
Textile Design (Art and Design)
During their two-year Art Textile design course students experiment with a vast range of processes including applique, batik, machine embroidery, use of the heat press, surface pattern design and manipulation, pattern making and pattern adaptation. Students will learn how to construct garments using both hand sewing and sewing machines. Learning skills in textiles is only the starting point for many of our students, our facilities and equipment are available to students to extend their hours in the classroom, as we appreciate this is a time-consuming course to choose and requires practice and hard work. Textiles students can see the PA students creating costumes for performances with opportunities for peer learning across year groups.
Students explore the world of the Visual Arts to inspire and generate their own art practice. Students create a body of work throughout their two year course (60%) and sit a final 10 hour exam (40%) in year 11. As this is an Art and Design qualification, the students' projects will develop through contextual references, looking at a vast range of artists and imagery for inspiration. Students also produce own primary research in the form of own photos, drawings and mark making. Students will learn CAD to manipulate imagery and create repeat pattern work. Students have a theme for the starting point of each project and it develops with a range of workshops using the students own generated imagery to create a series of outcomes, these textiles experiments and mock ups are developed and refined through practical work, using designs and written reflections. The final outcome for the project combines processes learnt and could be in the form of a garment, or accessory with a range of surface manipulations and decorations, or a textiles artwork.
The class work created from the start of Year 10 can be submitted as part of the 60% Portfolio grade, in Year 11 students have approximately 16 weeks to do the 40% Exam Project which has the choice of 7 starting points set by AQA, this leads up to the final outcome created during the 10 hour exam.
---
Personal Professional Development (PPD)
Course Description
All KS4 students will follow a weekly, 30 minutes, timetabled rolling programme of PPD; this is where students have the opportunity to consider and reflect upon their personal values, beliefs and attitudes; they are challenged to explore their morality, to develop their political ideas and to grow into responsible citizens. Throughout the two years, students will engage in relationships education, sexuality and gender identity education, drugs and alcohol education, safety education, mental health awareness, citizenship education, finance education and healthy life-styles education. The will also experience a wide variety of assemblies including a Black History assembly and a LGBT assembly which celebrate our school ethos of tolerance and inclusion. Student achievement is affirmed; work is celebrated in assemblies; we hold termly certificate assemblies noting excellence and progress including attendance and punctuality.
The PPD Programme also supports professional development; tutors facilitate regular self-appraisal meetings where the onus is on students to take responsibility for their progress. Tutors also work closely with the Careers Department to deliver CEIAG focussed PPD sessions where students reflect on their skills and values and explore the diverse range of career options open to them. Tutors also work with the Careers Department to ensure all KS4 students have 1-1 Careers meetings, successful work placements, visits to universities and detailed information on P16 options.
Assessment - Non-Examined